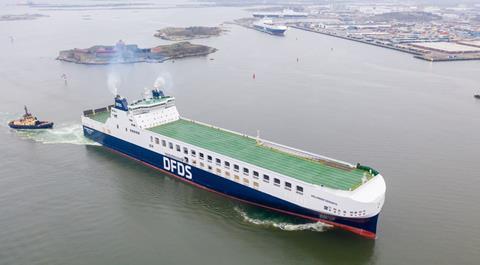 Danish shipping line DFDS is introducing the ro-ro vessel, Hollandia Seaways, to the Gothenburg-Ghent route, with Volvo set to be one of its customers.
The Swedish OEM uses DFDS' existing service to move automotive parts and finished vehicles between the port cities where it has car assembly plants, each producing a different range of models.
Vehicles produced in Gothenburg are shipped to Ghent in Belgium for the mainly central European market, while Ghent-produced carsare shipped to Gothenburg in Sweden for sale in the Scandinavian market, a Gothenburg port spokesman told Automotive Logistics.
Hollandia Seaways, newly built at Jinling shipyard in China, is 237.4 metres long and 33 metres wide. It can carry up to 450 trailers which would form a line 6.7 km long if parked end-to-end, Gothenburg's port authority points out.
The ship's capacity is 50% more than its predecessor, Petunia Seaways, and is more fuel-efficient overall, according to a company statement.
"Hollandia is part of the company's sustainable investment agenda aimed at easing pressure on extremely busy roads and reducing the impact of shipping on our oceans," said Morgan Olausson, DFDS Seaways' CEO.
The Gothenburg Port Authority says the new vessel will increase its capacity by more than 600 trailers a week and strengthen the port's offering to the intra-European ro-ro sector.