The Automotive Logistics Europe Awards, now in their second year, were presented at the Kesselhaus at Motorworld, as part of this year's AL Global Munich conference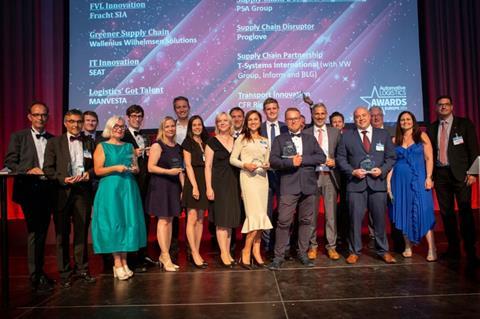 The winners of the 2019 Automotive Logistics Europe Awards were revealed yesterday in Munich, recognising supply chain and logistics excellence in ten categories in disciplines across the automotive supply chain.
The winners included vehicle manufacturers PSA Group, Ford and Seat, along with European logistics providers, IT companies and start-ups. A panel of 20 senior executives, academics and experts from across the European automotive logistics sector judged the entries through an independent and secure scoring system.
The Automotive Logistics Europe Awards, now in their second year, were presented during a ceremony at the Kesselhaus at Motorworld, which was part of the 2019 Automotive Logistics Global Munich conference.
The winners were as follows:
Better Visibility Award: Wega A
The Better Visibility award is for the company that has implemented technology and processes which have shown the biggest improvement in transparency or traceability across the automotive supply chain.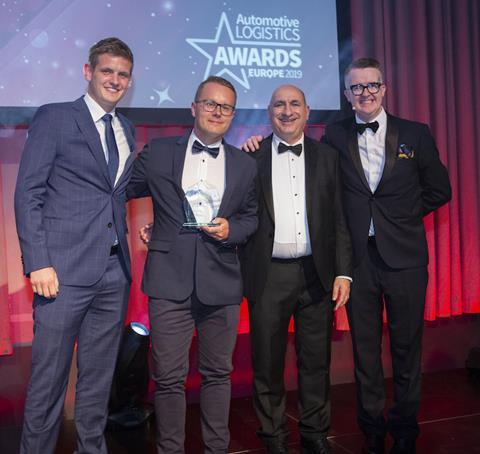 This year's winner was Poland-based vehicle logistics provider, Wega A, for its 'Bond' vehicle releasing and inventory management tool.
Bond is an in-house developed IT system to handle all of the services for vehicle releasing, tailored specifically to the Opel plant in Gliwice, Poland. Wega A uses the tool to capture visibility of units, improve load building and communicate with transporters for loading.
The project has dramatically improved the visibility of inventory, automated communication and paperwork, and reduced the time between a vehicle coming off the line and being dispatched. Wega A's team worked closed with Opel, Gefco 4PL and contracted carriers.
The judges were impressed by how Wega A developed the system to manage the full range of yard, releasing and transport operations, calling it a "simple but effective tool".
They were also impressed with the level of detail and data shown to prove its many benefits, calling it a "convincing project and set of benefits" for the supply chain.
FVL Innovation Award: Fracht SIA
This category is for companies who have demonstrated strong improvements in quality, cost and performance in outbound vehicle logistics.
The winner was Latvian IT firm, Fracht SIA, for its vehicle logistics optimisation system and freight network, the European Logistics Alliance, powered by the Automotive Logistics Control System (ALCS). The system connects a network of around 7,000 carriers to a total of 40 different telematics interfaces, helping to build a comprehensive map of vehicle locations, speed and delivery times.
The system covers a range of functions that include optimising loading and routes, electronic gate entry, real-time information exchange, and more.
The judges were impressed with the application of the system across stakeholders, calling it "a very good approach, thinking big and very welcome".
They also pointed to efficiency improvements and potential cost and sustainability benefits. They saw room for the technology to expand and be used further, "especially for used and mass market products to get scale and reduce capacity shortages".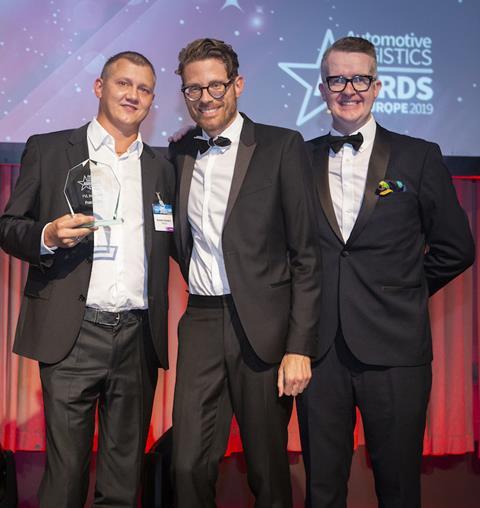 FVL Innovation Highly Commended: Bentley Motors and Degould
A highly commended award was given to Bentley and Degould for the implementation of a new imaging facility at the end of the production process in Crewe, UK. This facility, provided by Degould, captures high definition photographs of the vehicles just before exterior protection is fitted and before the vehicles are handed over to logistics for distribution worldwide. This helps to provide accurate information to facilitate quality improvements in production and helps ensure accurate damage claim adjudication.
Greener Supply Chain Award: Wallenius Wilhelmsen
This award recognises companies demonstrating the most significant commitment to reducing emissions, pollution and waste in the supply chain.
Wallenius Wilhelmsen took the top prize for a ship recycling initiative. Together with other carriers, it founded the Ship Recycling Transparency Initiative (SRTI) at the end of last year to combat a lack of standards and poor practices in the industry. The SRTI is an online platform for the disclosure or all relevant policies and practices relating to vessel recycling.
SRTI has now reached closed to 20 signatories, including large shipping lines like Maersk and Hapag-Lloyd, and vehicle manufacturers BMW Group and Scania.
The judges called this an excellent initiative, acknowledging that vessel recycling was acknowledged as an area with a history of poor working conditions and even a loss of life in some instances. "It's great to see such a premium provider taking this challenge on before legally having to," said one.
Others called it "an excellent basis for expanding activities and creating public pressure where there are no internationally binding standards".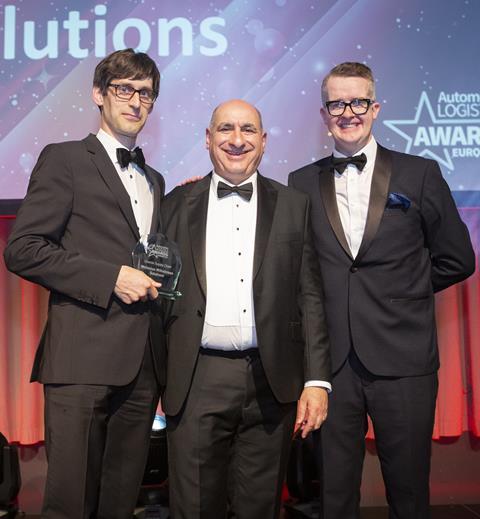 Greener Supply Chain Highly Commended: Kar-Tainer International
Kar-Tainer was recognised for devising a bespoke, reusable racking system for shipping semi-knocked down vehicle bodies from the UK to Brazil. The system eliminated all expendable wood packaging material and improved load factors, which reduced costs and emissions. According to the company, three years of operation have included the elimination of 2,433 tons of wooden packaging and millions of dollars in cost savings.
IT Innovation Award: Seat
This award is for the company which demonstrates new or improved IT implementation with measurable benefits in cost, productivity or performance in supply chain and logistics.
Seat took this award for its ongoing integration of an Internet-of-Things (IoT) based hardware and software system to improve data and visibility across the extended vehicle distribution process.
Building on RFID technology at its plant and port compound in Spain, the carmaker is installing licence plate readers for trucks at the factory entrance and exit that will allow for automated clearance and real-time data. The processes are being integrated with a new distribution management software and paperless management system.
Seat expects additional benefits from the full integration including higher process efficiency, faster loading and shipping, as well as more traceability across the supply chain.
The judges were impressed with the scope and use of IT and technology across multiple areas of Seat's plant, yard and distribution chain, successfully introducing new innovations and equipment.
They called it an "excellent and modular solution" with many applications, and an impressive "stepwise approach, with good improved results".
Logistics' Got Talent Award: Manvesta Logistics
This special award recognises innovative and successful human resource practices to obtain, train or retrain workers for the next generation of automotive logistics in Europe.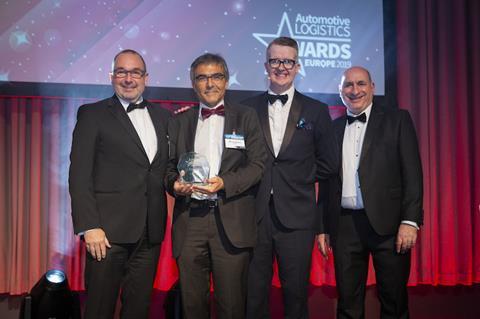 The winner was Lithuania-based finished vehicle carrier, Manvesta Logistics, for its Drivers' Academy. In the face of a growing driver shortage across Europe, the firm set up a comprehensive training programme to promote the recruitment and retention of drivers beyond its own company.
The one-year programme, which is aimed specifically at younger or potential new entrants to the market, includes professional accreditations and practical training in all areas of vehicle logistics. Drivers who complete the course have the opportunity to join Manvesta, while many also go on to work for other transport companies. The results of the academy, launched in 2013, show that a high percentage of those who complete the course go on to find jobs.
The judges said this was an excellent training and employee programme to help address a critical area of driver shortages for automotive and vehicle logistics. "An initiative that successfully addresses an urgent need of the industry," said one judge.
Another said: "An excellent solution to approach an industry wide problem."
Logistics' Got Talent Highly Commended: Gefco
Logistics specialist Gefco received special recognition in this category for its GEFCO University programme, a digital platform launched last year to accelerate the development and exchange of knowledge and skills across the company's global business. It includes a user-friendly online system to encourage self-learning, with open access to a large training portfolio. The programme includes online, classroom and community activities. The web-based system is available in 43 languages and across all countries where Gefco operates.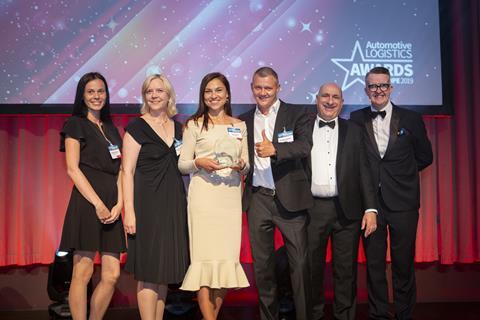 Packaging Innovation Award: Ford Motor Company
The award recognises the most creative and effective solutions to challenges in automotive packaging and container management.
In a tight race, Ford took home the prize for its specialised 'chocolate box' frame tray system for its Dagenham engine plant in the UK. This injection moulded packaging system is designed specifically for each component. The system is noteworthy for its potential impacts across the supply chain, including transport, handling and packaging cost.
Ford demonstrated millions of euros in cost saving across 30 engine parts on its Panther Engine programme, with potential for greater savings across larger engine systems. It also led to floor space savings in the plant, reducing vehicle movements to lineside and improving ergonomics.
The trays are fully recyclable. In 2018, Ford recycled 800,000kg of material, equating to 1.16m trays.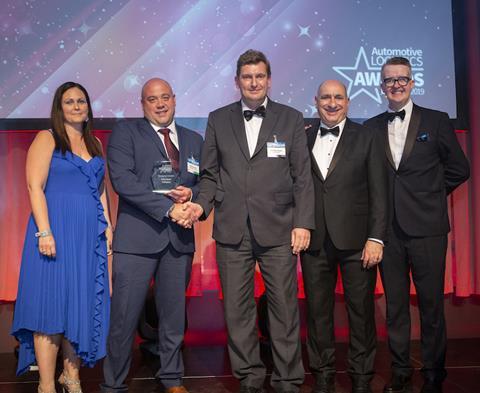 The judges were impressed by the volume of part numbers impacted and the large global potential to save cost, CO2, handling and space realisation.
One judge said: "This packaging improves multiple streams for facility, safety, ergonomics [and] environmental, with clear significant benefits."
The judges congratulated Ford engineers and its partners for the reuse of raw material for production, improved parts security, CO2 positive impact and zero repacking.
Packaging Innovation Highly Commended: Audi
Audi was recognised for the in-house development of a new, sustainable racking solution for car bodies for overseas container shipping. The rack concept can transport four instead of three car bodies in a container, which increases the usage of the container space significantly. The rack is reusable, dramatically reducing the use of wood in previous racking systems; 36 empty racks can fit in one container for return loops.
Supply Chain Design and Engineering Award: PSA Group
This award recognises companies who have made significant improvements in supply chain structure and operations through supply chain management, logistics design and engineering decisions.
PSA Group won this award for the implementation and access of its sales and operating planning (S&OP) function within the supply chain team, which now manages short, mid and long-term forecasts across all brands in the group globally. PSA developed a new function and set of tools within the supply chain division.
The implementation has led to a step-change in challenging and adjusting sales forecast based on actual data, which is then reflected across the supply chain, production and logistics. According to the carmaker, short-term forecast accuracy has increased by 5% and end-of-the-year inventories decreased by 35%, playing a major factor in the group's profit improvements.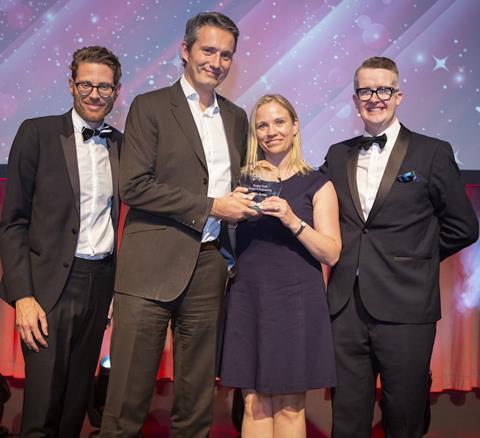 The judges remarked on how PSA made the transition to S&OP in a short time, and pointed to its global potential for such a large corporation. They liked the integrated approach "and that SCM is taking the lead".
The judges also called it "a major change program that was well managed" and "a great example of a good supply chain process design".
Supply Chain Design and Engineering Highly Commended: FCA Tofas
FCA Tofas was highly commended for the in-house development of software that calculates logistics costs of direct material or complete vehicles. The software helped the company to reduce office and management time in calculating costs by 50%, while increasing improving the speed of response to other departments requesting information on logistics costs. The software also helped to eliminate errors in calculation for logistics during the sourcing period for the supply chain.
Supply Chain Disruptor Award: ProGlove
This award is for those challenging the status quo in automotive logistics and supply chain with measurable impacts, whether a start-up, new market entrant or an established player that has transformed itself through new processes, products or technology.
The winner is industrial wearable provider ProGlove, a German start-up that develops production and logistics technology based around simplifying scanning processes. The company's smart gloves are used by a number of major automotive companies, notably BMW, where one of its founders used to work as a tour guide.
ProGlove has developed 22 patents for smart gloves that improve scanning and logistics processes with minimal installation requirements. The company has completed a second round of financing with investors DIVC, Intel Capital, Bayern Kapital and GettyLab.
The judges rated the company highly for its application, simplicity and impressive results. "A good example of improving performance while connecting people with objects," said one judge.
"A great design with functional example that improves many aspects of the pick face/worker environment" was another comment.
Supply Chain Partnership Award: T-Systems, with Volkswagen Group, BLG and Inform
This award is for two or more companies, whether customers and suppliers, or competitors, who have worked together in new ways to improve automotive supply chain performance.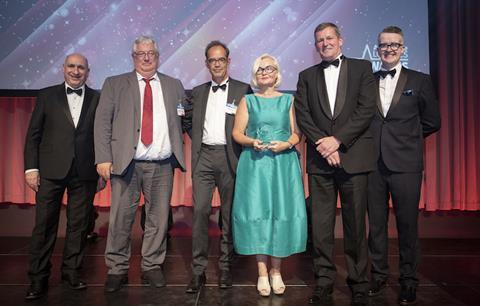 Axel Schmidt from ProGlove accepted the award for Supply Chain Disruptor
This year's award went to a vehicle logistics telematics solution, led by T-Systems, the technology and IT division of telecommunication giant, Deutsche Telekom. The company collaborated together with Volkswagen Group, logistics firm BLG and IT and software specialist, Inform.
The project aims to improve vehicle logistics data collection and visibility, which today mostly relies on scans. The telematics solution works with a Telekom OBD2 adapter and platform transmitting VIN, GPS coordinates, car battery voltage and other customised data. The information is then optimised through an API between Telekom and Inform, along with decision-supporting algorithms.
The project includes the handling of vehicles at BLG's vehicle terminal at the port of Bremerhaven, where the company receives data coming from vehicles, including VW Group, on multiple transport modes.
The results reveal improvements for visibility, costs, resilience, emissions, reduced scanning, improved battery monitoring and ETA information, and much more.
The judges praised the T-Systems project for its advanced use of technology and telematics, and especially the way processes and systems were shared across partners. "A good example of new tech and also one where we go really beyond a service offer between provider and one client," commented one judge.
"Very innovative and could be used for all type of vehicle transports in different industries," said another judge.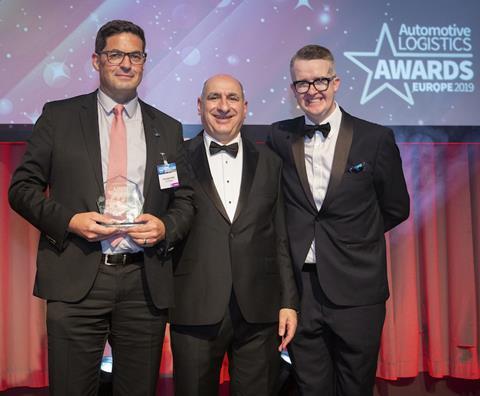 Transport Innovation Award: CFR Rinkens
This award recognises exceptionally innovative change, development or use of technology and equipment across any transport mode or material flow, with meaningful benefits to automotive logistics, production and the supply chain.
This year's Transport Innovation award went to freight forwarding company, CFR Rinkens. The company, which started as a shipping provider for classic cars and used vehicles out of the US, has significantly expanded its role in the global vehicle export market thanks to a specialist racking system that allows for up to five vehicles to be stacked per ocean containers.
The company, which made a name for itself by handling Tesla exports, has grown by 300% in the automotive industry in recent years. Its equipment to support exports for BMW to Brazil and Vietnam, electric vehicle start-ups from China, among others.
The judges liked the smart simplicity of the CFR Rinkens solution, as well as its cost, emission and efficiency benefits. One judge said that it should become best practice for moving vehicles. Others were impressed that a niche solution could create an innovation to "explore the total market".
The judges pointed to significant benefits across a number of areas both operational and commercial, and its potential as an interesting alternative in some cases to ro-ro shipping.