Spanish carmaker Seat is trialling the use of drones to move parts lineside at its Martorell plant near Barcelona. Lightweight components are being flown 2km from a warehouse in Abrera run by compatriot logistics company Grupo Sesé. The journey time is 15 minutes.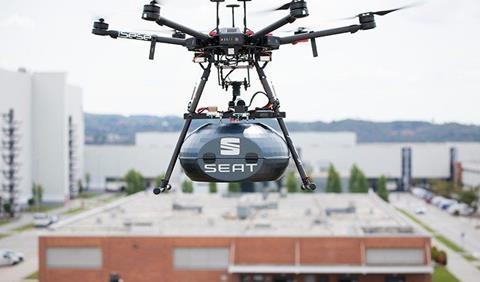 At this trial stage, being carried out under supervision of Spain's Aviation Safety and Security Agency, one drone is making a daily average of three deliveries, carrying steering wheels and airbags with a maximum payload weight of 5.5kg.
For now, the parts are being deposited at one point serving three production lines but Seat intends to define individual landing points for each line closer to the assembly operation, a company spokesperson told Automotive Logistics.
Additionally, Seat is conducting the trials to discover new applications and extend the use of drones to move other parts. "In the future, and as part of the experimental phase, we envisage operations with the supply of other pieces such as door handles or wing mirrors," she said.
Longer term, drones will be considered for any lightweight part, tool or replacement item with a time-critical delivery time to avoid assembly line stoppages. The maximum take-off weight of the drones Seat is using is 15.5kg, including the maximum payload of 5.5kg.
At 15 minutes, drone delivery is quicker from the Abrera warehouse than by road. Though the distance is only 2km, trucks take an average 90 minutes per journey. This is because of a range of factors, including the need to load and unload the vehicle, the fact the vehicles are transporting more parts, the route is more circuitous, and they have to go through access control before entering the factory's premises, the spokesperson explained.
Other advantages of drone delivery Seat is looking at is the reduction of ground traffic on crowded routes, lowering CO2 emissions and recharging the drone's batteries using renewable energy.
Vice-president for production and logistics, Christian Vollmer, described the flights as the first step in transforming the automotive industry's supply chain.
The innovation, making Martorell the first Spanish factory to receive components by drone according to Seat, is part of the company's commitment to the digital-focused Industry 4.0 revolution.
Seat already plans its supply chain with simulation tools, uses smart picking and autonomous navigation systems, as well as big data tools and artificial intelligence to monitor and control main facilities and infrastructure in real time.