Parts supplier Hyundai Mobis is building a $72m parts distribution centre (PDC) in Gyeongju, South Korea that will handle electric vehicle battery systems and service parts for distribution to Hyundai and Kia service centres throughout the country.
The new Yeongnam Integrated Logistics Center, which will open in late 2024, will consolidate activity carried out at three smaller PDCs in the North Gyeongsang province: at Oedong, Naengcheon and Gyeongsan. Construction on the new facility will start early next year.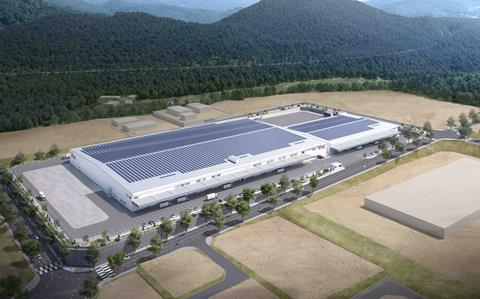 Hyundai Mobis said it expected to be able more efficiently supply aftersales parts to approximately 17.6m Hyundai-Kia customers in South Korea. The facility will manage parts from 270 tier suppliers, mainly in the Yeongnam region, and distribute them nationwide.
According to the company human labour will be supported by the latest robotics for handling parts.
"Hyundai Mobis plans to use an autonomous mobile robot (AMR) that carries small and medium-sized products within the integrated logistics centre," a spokesperson told Automotive Logistics. "Hyundai Mobis plans to expand and apply automation technology not only to transport products but also for logistics, storage, classification, and shipment."
Furthermore, the company plans to expand the application of autonomous robotics to its 59 logistics hubs around the world. Those hubs help distribution service parts to 59.6m Hyundai and Kia vehicles in operation globally, according to the company.
The Yeongnam PDC will be built with environmental credentials, including a solar power generation system covering the whole roof, the first such solar power system installed on a Mobis building. The company also plans to convert 100% of the electricity used at its domestic and overseas business sites to renewable energy by 2040.
Currently, Hyundai Mobis operates four distribution centres and 22 parts business offices in South Korea.
In other news, last month Hyundai Mobis began supplying Mercedes-Benz USA with chassis modules from its newly opened production facility in McCalla, Alabama. It is the first time the carmaker has used a non-European supplier for the steering, braking and suspension systems, which are being fitted to electric SUVs made at the carmaker's Vance plant.