Mitsubishi has expanded its parts distribution centre (PDC) in Mississauga, eastern Canada, to 15,200 sq.m in response to demand from its growing number of dealerships across the country.
Mitsubishi Motor Sales of Canada (MMSCAN) opened its original PDC in 2011, covering 9,000 sq.m, to supply a dealer network of 80. That number has now grown to 96 and the carmaker said it had resorted to "inefficient off-site storage use" because the original PDC was overflowing.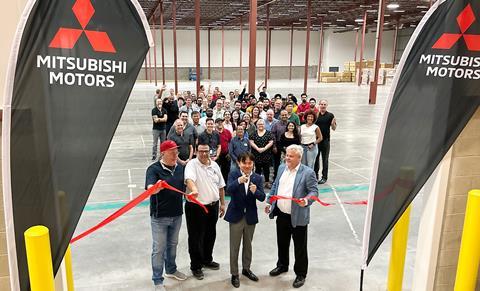 MMSCAN said it had committed to paying an additional $1m of annual rent, with approximately $500,000 of initial investment to get the new space operational. Further investment will be made to accommodate new product lines over the coming years on an ongoing basis, according to a spokesperson for the company.
The new 6,200 sq.m warehouse is joined to the original building with full access through the adjoining walls and the return of parts to a central location from off-site storage is bringing greater efficiency.
"We've had the PDC for 12 years, and in that time, we've seen the number of parts we ship from this building each day double," said Brian McGrath, director of aftersales for MMSCAN. "Moving forward, if we're going to continue at that cadence of business by adding more dealers and increasing the volume of vehicles in operation, we need more space. This is about improving our supply chain, which is a key part of our business."
The expanded PDC stocks 17,500 line items and the daily average throughput is 1,500. MMSCAN has expanded its existing warehouse management system and is using scanner technology to make parts control and distribution more efficient, said a spokesperson for the company. It is using a range of transport providers to move the parts to the dealer network including Morneau, Manitoulin, Purolator and Just Rush.
Mitsubishi also said that the expanded facility will enable it to reintroduce a number of dealer support programmes that had been put on hold because of a lack of space within the original PDC. For example, its Dealer Obsolescence Program will resume in November, which allows dealers to send back unsold parts for a credit, meaning fewer parts have to go to landfill in local communities.
"This expansion of our parts centre is a reflection of Mitsubishi Motors' growth in Canada," said MMSCAN president and CEO Kenji Harada. "We owe a debt of gratitude for the hard work and dedication of our entire MMSCAN team, from all of the workers in our parts warehouse to everyone working in our 96 dealerships across Canada."
The newly expanded PDC employs 48 people between the warehouse and front office.