The recent history of the Audi brand is written deeply into the company's supply chain and logistics, and can be read across the carmaker's expanding geography, plant and parts handling operations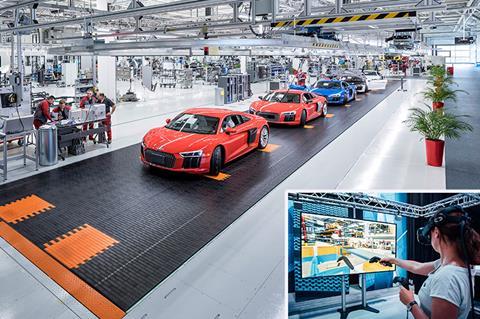 The recent history of the Audi brand is written deeply into the company's supply chain and logistics, and can be read across the carmaker's expanding geography, plant and parts handling operations.
It is here we see the complexity of Audi's production network, which continues to see significant investment and transformation. Today, it produces vehicles in its own or Volkswagen Group plants across Europe, Asia and the Americas, including the launch, in late 2016, of production of the new Audi Q5 in San José Chiapa, Mexico. The company is also in the midst of the most aggressive phase of new model launches in its history, from the 2016 start of Audi Q2 SUV production at its plant in Ingolstadt, at its headquarters in Bavaria, to the more recent launches of the flagship Audi A8 and the Audi A7, both in Neckarsulm, south-west Germany.
Next year, Audi is adding the Audi e-tron electric SUV to its plant in Brussels, Belgium, which is the start of a huge push to offer battery electric options across its range of vehicles.
This push includes plans to significantly increase output and electric vehicle production in China, where Volkswagen Group joint venture factories built around 550,000 Audi models in 2016; Audi plans to double its locally built model portfolio within the next five years, with five electric vehicles as well as another model powered by a combustion engine.
It is not just volume and distances that distinguish Audi's supply chain. Plants like Neckarsulm and Ingolstadt are especially notable for their highly diverse range of models and part numbers, which demand precise parts handling, packaging engineering, as well as IT and logistics process stability to manage under significant space constraints. A look inside these German plants reveals the extent to which the carmaker must engineer supermarket areas with multiple kitting and commissioning zones to pack and sequence tremendous parts variety in an efficient way.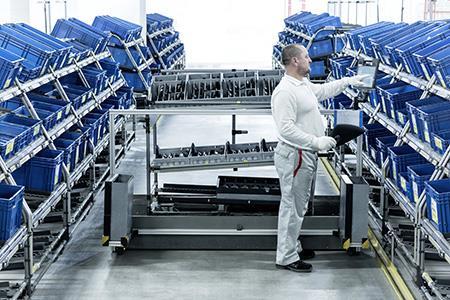 Dr Michael Hauf, head of Markenlogistik (brand logistics) at the carmaker since 2011, sees the management of this variety and complexity as one of the key success factors in Audi's expansion, which includes sales in 2017 likely to end up close to the record 1.87m sold in 2016, and a strong profit margin. Despite handling parts variety in excess of 50,000 at some plants, errors, measured in parts per million (PPM), remain exceptionally low, while stability and flexibility across the supply chain remain high, including the ability for customers to make changes to their orders up to seven days before vehicle assembly begins.
The supply chain is furthermore supported by a highly utilised and consolidated transport and returnable container network engineered and managed together with Volkswagen Konzernlogistik (group logistics), the carmaker's central logistics function, based in Wolfsburg.
What's more, such processes are proving effective across new locations. Audi's plant in Mexico will produce more than 150,000 vehicles in 2017, according to Hauf, on pace for its target. Meanwhile, the factory has also implemented processes mastered by the brand in Europe, including 'pearl chain' or long-distance sequencing for delivery, as well as pick-by-voice assistance in parts picking. Furthermore, it is using an RFID scanning system for returnable containers. Collaboration across Audi's brand logistics, group logistics and local teams in Mexico has helped manage the challenges of establishing new suppliers and infrastructure, ensuring good costs and reliability for logistics, adds Hauf.
"We have been able to use our combined experience to install a new network for transport, combining inbound supplier transport across Mexico and the US, moving from point-to-point connections into a true network of consolidated and group haulages," he states.
"We have been able to use our combined experience to install a new network for transport, combining inbound supplier transport across Mexico and the US, moving from point-to-point connections into a true network of consolidated and group haulages." - Dr Michael Hauf, Audi
A new, digital chapter
Such global expansion and rising complexity have been defining characteristics for Audi. However, as the company seeks to lead in connected vehicles, autonomous driving features and electro-mobility, its transport, material and vehicle logistics are once again helping to rewrite Audi's future.
Broadly, Audi's pursuit of the 'smart factory' – a digitalised, highly connected and automated production environment – is coming to life across its logistics, both in pilots and fully-fledged programmes in serial production. For example, Audi has been introducing advanced automated guided vehicles (AGVs) with uses expanded in a number of new supermarket concepts, as well as in finished vehicle handling.
The brand is also introducing new picking assistance programmes, such as pick by light, glove or tablet, with a view towards the potential of connected devices and augmented reality technology. Meanwhile, its production and logistics teams have introduced data analytics and visual tools, including those to better predict the flow of supply and assembly through to vehicle release. Recently, the company has held hackathons together with production teams, in which students are encouraged to work on new programmes, including for logistics.
Among the end goals of the smart factory is an increase in modular production, in which more assembly occurs simultaneously and flexibly across cells rather than sequentially along the assembly line. While Audi is currently far from abandoning the assembly line, its plant logistics are already making innovations in modular directions – including a new supermarket concept that automates the flow of inventory and kits between workers and which, among other benefits, frees up space where parts are picked.
Audi's push for electrification and sustainability will reverberate across the supply chain. The carmaker already announced two years ago that it would develop the battery for its pure electric SUV from cell modules from South Korea's LG Chem and Samsung SDI, which are in turn expanding factories in Europe (LG Chem is building Europe's largest battery cell factory in Poland, though Audi has yet to confirm where exactly the e-tron battery will be built). The need to transport lithium-ion cells, as well as handling heavy batteries and electric motors, will lead to new packaging, shipping and regulatory requirements.
Audi is furthermore introducing more sustainable freight transport processes. In Neckarsulm, it is already using biogas-powered trucks to deliver from a bodyshop supplier in nearby Heilbronn to the assembly plant every hour. It is also trialling several battery-electric trucks within its production plants, including those from the Terberg Group in Neckarsulm.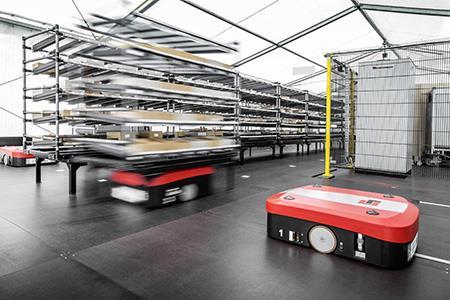 "We still face the challenge of the range of these kinds of trucks [being limited] but we are planning to enlarge our battery electric vehicle fleet," says Johannes Marschall, head of plant logistics at Neckarsulm.
While Audi looks to all of its plants to develop innovations, those in Ingolstadt and Neckarsulm often lead the way in new logistics concepts and technology applications. Regardless of origin, these processes and technologies are then extended to other factories, with implications for suppliers, logistics carriers, dealers and end customers. Audi's logistics teams have visions of connecting more parts, trucks, packaging and finished vehicles seamlessly into Audi's IT systems to offer maximum visibility across the supply chain, for example.
"We are really on the way towards digitalisation of the entire supply chain, and it is happening in a bigger and faster way than previously thought," says Simon Motter, head of plant logistics at Ingolstadt.
"The next big step we are moving towards is higher automation of logistics, perhaps on the path to using artificial intelligence," agrees Marschall. "Today, with driverless transport systems, part handling and supermarket automation, we are seeing continuous change."
Advanced types of AGVs
Audi has worked with equipment specialists to implement new kinds of AGVs, while also developing its own technology through its Technical Centre for Production Assistance, a department dedicated to new production technologies that support employees, from new materials handling equipment to 'cobots' in production cells.
There are two main types of AGV that Audi is currently developing. The Audi Laser Tracking System can recognise and guide a group of driverless transport vehicles, similar to the way truck platooning works. A central computer on a mobile unit locates the other transporters by means of their reflectors using a laser scanner, and then gives them transport commands by radio to create an autonomous tugger train.
"At today's level of development, the central computer can control the transport robots within a radius of 18 metres – individually or in trains," says Michael Hauf. "To cover a large hall, it would be necessary to have either several laser scanners or a computer with a laser scanner as a mobile unit that drives through the hall, guiding a group of driverless vehicles."
The technical centre's second type of AGVs, called Audi AGVs, are even more advanced. This equipment uses intelligent navigation software developed by Audi on the basis of automotive software used for autonomous driving. The AGVs can thus supply goods from the warehouses to the assembly line freely and autonomously, recognising and reacting to traffic situations. They do not require magnetic strips as older generations of AGVs have.
Simon Motter points out that this equipment is especially significant as it has machine-learning capabilities. The Audi AGV can be programmed to drive along a defined route, or it can learn a route on a manually controlled drive and store it. "On the basis of this map, it moves freely within its radius and, according to the principle of machine learning, it always searches for the optimal route," he says.
Audi is using similar equipment in Hall B of the plant's logistics centre in Ingolstadt, where driverless floor conveyors supply the cockpit pre-assembly area in series production with about 25 different parts for each vehicle. With 16 currently in operation, these conveyors provide the benefit of performing transport more efficiently and reducing the risk of both accidents and damage to parts, according to Simon Motter. An eShooter on the back of the tractor also improves the precision of loading and unloading.
"These are working very well, with high rates of availability, and [they] integrate well alongside a number of manual trucks in the area as well," Motter says. "The driverless floor conveyors are bringing materials and then returning with empty packaging, automating the returns process."
Other types of self-navigating AGVs from other firms have also been increased at Neckarsulm across a number of areas, says Johannes Marschall. For production of the new Audi A8 at the plant, the assembly line is linked to a parts supermarket via automatic lifts; 35 AGVs move material for 29 part families from the supermarket to the lift, signalling it to go up or down to the production cells upon arrival. The AGV retrieves empty containers from the assembly line and returns them to the supermarket.
At the new bodyshop for the Audi A6, meanwhile, Marschall points to the use of an older but still effective type of AGV that blurs the line between production robots and materials handling. Eleven AGVs deliver material from the receiving area to the production cells, moving between parts from body-in-white robots and empty containers and requiring no manual labour. "It is a complete blending and matching between logistics and production," he says.
AGVs also move car bodies for production of the Audi R8 at Neckarsulm's offsite assembly and logistics area in Böllinger Höfe, Heilbronn, where batteries and wiring harnesses are among the parts delivered automatically to the point of use on the assembly line.
"We are now at a similar point with logistics in some areas as we were with body-in-white automation 15-20 years ago, when we first started to use a lot of robots," says Marschall.
While many carmakers had previously installed older generations of AGVs dependent on magnetic strips, Audi had used very little of this technology; most of its existing AGVs are in body-in-white production on fixed routes. As a result, the new AGVs are typically replacing forklift trucks, lifters and other man-driven or pushed equipment.
"We don't have many legacy AGV systems to replace. However, in several years we may have to look at replacing the body-in-white system" says Marschall.
While Audi is developing its own technology for AGVs, it continues to work with equipment suppliers on the market. However, Hauf points to a challenge for carmakers in using multiple providers of such specialist equipment: currently each provider tends to use its own control system, which may not be compatible with other control systems.
To be able to link more seamlessly across different types and brands of equipment, including its own, Audi is working on an interface system that could work as a 'plug and play' across AGVs.
"Suppliers are not interested in such interfaces, which other carmakers are also developing, so this will become a challenge," says Hauf. "However, we will continue to develop this to keep the market open and flexible."
Automotive vehicle handling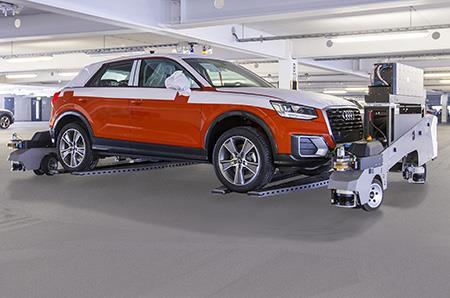 One of Audi's most unique uses of AGVs occurs in the vehicle logistics area as part of processes that have rarely seen much automation. At its Ingolstadt 'Process House' – a multi-storey centre for handling and storing vehicles built ahead of dispatch from the plant – the carmaker has expanded the use of the Ray robot, a six-by three-metre AGV that automatically sorts vehicles for rail shipment according to their destinations.
The robots, provided by Bavaria-based startup Serva, help to reduce labour and walking requirements in the Process House. After clearing the assembly line, vehicles move by lift to the first floor of the facility, where the AGVs sort them according to destination, using laser sensors to adjust their forks to the appropriate length and width of the vehicle. The equipment also uses laser sensors within the Process House to move autonomously.
While Hauf acknowledges that such robots may be something of a stopgap technology until vehicles reach higher levels of autonomous driving, they are already having a significant impact. The project has been expanded to 12 Rays, which are able to move up to 2,000 vehicles per day.
While the Ray robots are currently used for finished vehicles, Michael Hauf says similar technology can have other applications, including moving containers or large parts, such as large lithium-ion batteries. Audi is currently working with Serva on a number of projects, including for transporting electric motors during assembly.
New supermarket technology
The use of advanced AGVs is also heralding a number of important new processes with wider implications for production in the Audi 'Smart Factory' strategy.
For example, Audi's use of supermarkets in its production for parts picking, kitting and sequencing is among the carmaker's most complex operations, as it depends on accurate parts handling and systems, ergonomic and well-designed packaging, and sufficient space at plants. While work of such variation has made operations difficult to automate, Audi has recently made breakthroughs in improving overall processes thanks in part to AGV innovations, as well as new kinds of parts-picking technology. Specifically at Ingolstadt, following a successful trial, Simon Motter is overseeing the rollout to serial production of what Audi calls its 'supermarket 2.0' concept.
As Motter explains, traditional parts supermarkets have sequencers who walk through zones pushing stillages in a 'man-to-goods' process to pick and sequence parts. Now, following similar advances by other industries, such as in e-commerce fulfilment centres, Audi is changing the process towards a 'goods-to-man' process. In such supermarkets, an AGV brings the stillage and the shelf of parts to the picker, who then uses assistance systems, such as pick-by-voice or by light, to help him pick parts more accurately.
"Supermarket 2.0 avoids the walking and is more ergonomic for the sequencer because he doesn't have to push," says Motter. "It also requires less space, as you have freed up the wasted space that would be between the shelves, and have instead only the dedicated space for the AGVs."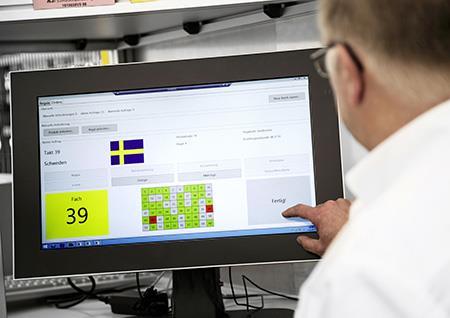 A pilot has already been running at Ingolstadt for distributing the paperwork inside vehicles, such as owner's manuals, and will now be rolled out in serial production at the plant. "This was a very nice project and it proved that the new supermarket concept works," says Michael Hauf. "Now, putting it into serial production requires several more dimensions."
Audi's supermarket 2.0 depends on AGV technology and effective picking-assistance programmes. In either case, there is no one-size-fits-all solution, as demonstrated by the variety of AGV types Audi is currently testing and deploying.
The carmaker is also considering a similar or even greater variety of systems for its various picking processes. At its German plants, Audi has parts-commissioning zones that use almost all types of picking systems available, including pick-by-light, pick-by-voice, pick-by-beam, pick-by-motion and pick-by-tablet processes.
According to Marschall and Motter, the type of picking system depends on the commodity, sequencing and kitting process. Smaller parts, for example, might be better suited to a system like pick-by-light, while a voice-based system is often more effective for larger parts.
"In Ingolstadt, we use pick-by-voice systems for 88% of our sequencing, which has had positive results and a low PPM ratio," Motter says. "However, we still decide which system to use on a case-by-case basis for each part or sequencing zone."
For some commodities, especially in the completely knocked-down area at Ingolstadt, where parts are packed for overseas shipment, Audi uses the ProGlove scanner, a glove with a built-in scanner that the user can trigger by pressing the thumb and forefinger together. The device allows workers to keep two hands free for picking, which helps them to move more freely within the picking zone.
However, glove scanners are not right for every type of part and picking situation.
"ProGlove is a very good technology if you have to scan every part to make sure it is the right part, as you don't need to take the scanner in your hands" says Motter. "However, that requires time to scan and not every kitting process requires scanning of every single part."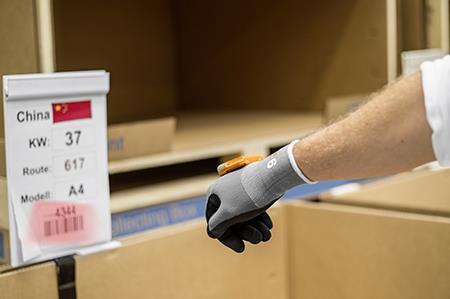 Other wearables, such as smart glasses, are also regularly tested for application. Though Audi does not currently use them in its logistics supermarkets, it does deploy smart glasses in other areas of production, while it has also expanded its use of augmented and virtual reality in various tasks, including logistics. A VR programme is now used for training for parts handling and logistics, for example; workers in Germany can use the system to train for the production and logistics environments in other plants, such as in Mexico.
Motter emphasises that ultimately the type of technology is less important than achieving the result that is most productive and user-friendly for workers. As such, Audi has a strict process of trials and pilot before launching them.
Digitalising inbound deliveryAudi's ambitions for automating and digitalising logistics processes are not limited to within factory or warehouse walls, but also extend to goods transport and delivery. One of the most effective delivery tools for the carmaker over the past several years, for example, has been an automated check-in process for inbound direct supplier truck deliveries.
Known as 'Quick Check-in (QCI)', and supported by technology from German IT provider Inform, trucks approaching the plant register by smartphone via a geofence, and are thus verified and gain automatic entry to the plant without stopping at the gate and signing in, while also receiving a digital allocation to a delivery bay at the plant or logistics centre.
QCI started as a pilot in 2014 at Ingolstadt – the year it won a Volkswagen Group Logistics innovation prize – and then expanded to additional inbound transport companies. It has since also been implemented at Audi's plant in Neckarsulm.
"Despite the conditions of model launches and the phase-out of old models, we were able to maintain the number of QCI transports," says Michael Hauf. "During these phases, we were able to solve all technical and organisational issues."
The next stage of the project is the development of an app that will make QCI independent of any specific smartphone device, which was set to be ready by the end of 2017. "That will give us more flexibility and allow us to set the QCI process as the standard for the majority of direct supplier deliveries," says Hauf.
"ProGlove is a very good technology if you have to scan every part to make sure it is the right part. [However] not every kitting process requires scanning of every single part." - Simon Motter, Audi
Seeing everything HERE
Audi has wider ambitions for the digital supply chain. It has already introduced RFID tracking in some plants to verify parts, for example. In Mexico, where it has had to build up a new returnable container network with suppliers, Audi now tracks all load carriers and returns via RFID. While the project is less applicable in Europe, where it is part of a network of more than 20m containers managed and steered by Konzernlogistik, it nevertheless reveals the potential of having automated location data for packaging and parts.
Michael Hauf suggests it is not far-fetched to assume that in the near future all vehicle parts, or at least critical ones, could have their own IP address, making them fully traceable throughout the supply chain. Along with parts, containers, racks, forklifts and AGVs will also have internet addresses, as well as finished vehicles, which can be further identified by in-vehicle telematics systems.
While, in some cases, tracking groups of goods or vehicles – such as a trainload or a ship – may be more effective than tracking individual items, both Hauf and Simon Motter agree that the industry should not exclude the possibility that tracking almost everything has value. For example, by gathering data on all parts, Audi will be able to better track and forecast production and delivery times, identify bottlenecks in the supply chain and provide real-time updates to dealers and customers.
"In future, I think we will track more individual parts. We will need to know where the material is so that we can carry out big data analysis and calculations to optimise flows and reduce inventory," says Motter. "The more data we gain, the more robust we can make our processes and forecasts."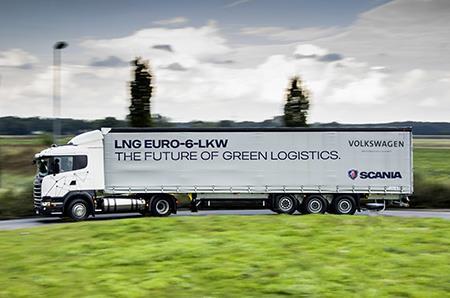 "It can indeed be worth tracking the individual parts," agrees Hauf. "If you were to tag every part, or at least major parts, you could verify a finished vehicle at the end of the assembly line or elsewhere in the supply chain just by reading the tags. In this way, we can get value out of tracking every part, rather than just a container ship or a truck."
Audi is currently working with Germany's Fraunhofer Institute, a technology research centre, on a project to increase transparency across the supply chain, from suppliers through to end customers.
Again, the challenge here is not really technology. In pre-series logistics, Audi already uses internet-based tracking for critical parts. For example, every engine for pre-series models built at the carmaker's powertrain plant in Györ, Hungary, has a GPS tag that allows it to be tracked during transport. Working with HERE, a developer and provider of cloud-based mapping services, in which Audi holds a stake along with other German carmakers and technology partners, the logistics team monitors the real-time location of each engine.
"There is a clear business case, since the first batch of models and engines are very expensive, and it is worth controlling them individually," says Hauf.
Realising the potential of such visibility won't just be a matter of plugging in a system and watching the benefits roll in. Drastically increasing the amount of data in the supply chain will mean that logistics planners must master predictive analytics, for example, if the data is to be properly used. Likewise, both supply chain analysts and logistics providers will need to learn to look much wider than their current responsibilities in the delivery chain. A current example can be seen at Neckarsulm, where Audi is using big data processes to provide advance information to outbound truck carriers, who in turn must use that information to optimise their own pick-up and delivery processes.
"We have to bring a new expanded point of view across supply chain operators," says Hauf. "Currently a logistics planner or a logistics provider looks at perhaps just one section of the whole material and delivery process – but in future they must think about what is happening at suppliers, on the shopfloor and at the logistics providers. We have to enlarge our view of the supply chain."
Learning to fly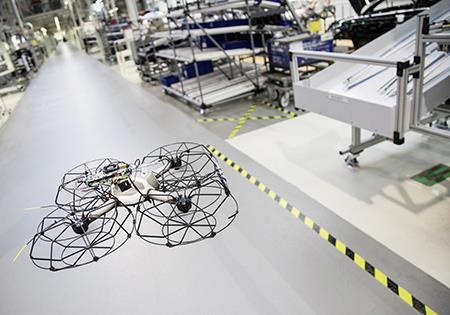 Few technologies have excited as much hype in the logistics space as drones, which companies such as Amazon have heralded as a potential solution for last-mile delivery. Up to now, companies have also turned to drones for operations such as inventory counts in large container or finished vehicle yards, or of goods stored in high-bay racking.
Audi's logistics department, though wary of hype, has also been exploring drone potential. The company ran a pilot to verify whether drone technology would be able to handle parts deliveries, for example.
"We wanted to identify what problems such deliveries would pose," explains Johannes Marschall. "We tested how the equipment would fly carrying parts, what sort of orientation it would have, and whether it could have a type of 'electric eye' that would allow it to move fluidly within a plant or outside of it."
The pilot was carried out with a start-up company based in Munich, which uses equipment built by Intel. Audi declines to give much detail about the test results so far, but Marschall says that they were positive, although there are still many limits, such as battery life and the fact that drones can't handle heavy parts like engines or other large components.
Michael Hauf points in particular to technology on the market that can carry out inventory counts, including one such device under development at the Fraunhofer Institute. But he does not yet see an application for series production.
"At the moment, we are not pursuing further the plan to use drones in our production. The current legal framework [in Germany] does not allow to use drones in closed surroundings, such as a production hall. If the regulations were changed, we could think about reviving this project," he says.
Audi's logistics part 1: Prepared for a new reality
1

Currently reading

Audi's logistics part 1: Prepared for a new reality

2