Since it was first announced by China's president Xi Jinping in 2013, the comprehensive international trade and infrastructure plan now known as the Belt and Road Initiative has quickly crossed a number of milestones in its development of services by land and sea. Currently around 65 countries are involved (152 are targeted) and, according to China's Ministry of Commerce, more than $1.3 trillion of trade was conducted with countries via the initiative last year.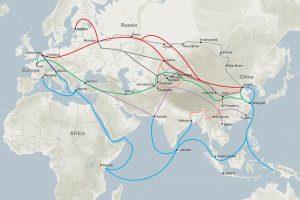 Long distance rail connections are central to this trade and, at the Automotive Logistics Global Shanghai conference last week, speakers from China Railway International and Beijing Changjiu Logistics discussed the latest developments for vehicle and parts shipments on the China Railway Express (CR Express) between China and Europe.
The rail route follows the old Silk Road trading route and forms part of an overland interconnecting infrastructure called the Silk Road Economic Belt (sea routes are organised under The 21st Century Maritime Silk Road).
"Over 2,000 years ago the Silk Road generated a huge amount of the wealth for the countries and regions around it, and now that wealth will reach a new high; this is a historic opportunity," said Yang Wieje, vice-president of Beijing Changjiu Logistics. He added that for the automotive industry, which is based on stable and regular supply of inbound parts, there were particular advantages for using rail to feed production.
"Using the train system couples the automotive industry in China well with Europe. It ensures just-in-time delivery of inventory and clearance of stocks rapidly," said Yang. "There is highly planned production to ensure stable supply, and the high value of goods means it can bear relatively high logistics costs; in other words, its tolerance is good."
Yang went on to say that rail specifically supported short cycle times and the demand for high efficiency in delivery, providing services not only to OEMs but to tier one suppliers. Beijing Changjiu Logistics, which is one of the largest third-party providers serving the automotive sector in China, both for handling parts and finished vehicles, moved 2,000 containers of parts last year, according to Yang.
CR Express by numbers
68 routes connecting China with 49 cities in 15 countries
5,800 CR Express dedicated containers
46 container storage yards (or stack fields) outside China for efficient return of empties
13,000 trains deployed as part of CR Express initiative
20-day delivery time between China to Germany on the 11,000km western corridor
32 members in the CR Express transport coordination committee
Express development
The first express rail service was set up in 2011 between Chongqing and Duisburg, in Germany. That marked the beginning of the CR Express, described by Wang Hao of China Railway International Multimodal Transport (CRIMT), as "an initiative sponsored by national and international rail companies to execute regular train services along participating Belt and Road countries for the transport of containerised goods by rail".
Wang is deputy manager of the China-Europe Container Block Trains Department at CRIMT. He said that since the first service was set up in 2011 things have progressed rapidly and there are now 68 routes connecting China with 49 cities in 15 other countries as part of the CR Express initiative (up from 39 in 2016). As services have proliferated over the last three years, Wang said a lot has been done to standardise practices.
"We are working with many other bodies concerned to vigorously push ahead quality and quantity of products," he said, and he pointed to some examples that have been put in place since 2016. They included the establishment of an international container logistics company in Almaty, Kazakhstan, which is being followed by similar subsidiaries in Russia and Germany.
"We have also established a joint transport platform – 95306 – through which CR Express provides customers with transport and communications on a common platform," said Wang.
In addition, at the Belt and Road Forum for International Cooperation, held in Beijing in May 2017, it was agreed that the container companies participating in the CR Express services would set up a transport coordination committee, and by the end of 2018 there were 32 participants from around the world involved.
Milestones on the Silk Road Economic Belt
The results of these initiatives are that CR Express has consolidated the channels though which parts and finished vehicles are moved in and out of China, speeding up the flow of goods. In fact, according to Wang, from a 20-day delivery time between China to Germany on the 11,000km western corridor just a couple of years ago it is now possible to move goods on that route in 14 days, with an even shorter, 12-day service expected soon. That is helped by well-coordinated route planning on existing corridors in China and its trading partners.
"Germany's neighbours in central and eastern Europe have the natural advantage of being on the block train routes," said Yang. "Most of the China-Europe stops are located here and they are the same places that have long voyages by sea."
Wang added: "Our roadmaps [correspond] very effectively with the roadmaps of other countries along the line and this enhances the efficiency of operations," said Wang.
CR Express is also using a second route that is attracting commodity shipments from northern and central China west to via Mongolia, Russia and Belarus. It has also added an eastern 13,000km route from Manchuria through Russia and Belarus into Europe.
That has accelerated the volume of goods being moved and by the end of last year 13,000 separate trains had been moved by CR Express, with 60% accounted for by China-EU routes, according to Yang.
Advantages for finished vehicle deliveries
Rail offers certain advantages for the transport of finished vehicles (both new and used), especially as cross-border capacity increases. Delegates at the Shanghai conference repeated the point that rail is around one-third the price of air freight and takes a quarter of the delivery time compared with ocean routes between China and Europe. Wang said that fixed routes, times and prices combined with the convenience meant that rail was immune to fluctuation and therefore a stable mode for customers.
Furthermore, he said it was possible to more accurately monitor the processing and condition of vehicles when transported by rail. Containerised vehicle shipment of luxury brands, as seen with the Porsche shipments that began last month between Duisburg and Chongqing, also guarantees quality.
For inland cities that are not well connected to ocean routes, rail is the only choice, Wang pointed out, especially as it shortens delivery time and reduces costs compared with ocean-road combinations.
China has lowered the import tax on cars and by the end of 2018 there were more than 31 ports in China that could handle vehicle volumes, with 15 directly accessible by rail.
Beijng Changjiu Logistics has an 85% market share of finished vehicle rail services between China and Europe, according to Yang, with a general lead time of between 22-24 days. Yang said that the company had a 100% completion rate and a damage rate of less than 8% per 10,000 vehicles moved. As well as its westbound route between Daqing and Zeebrugge, Changjiu has services from Chengdu via Moscow to Ghent and an eastbound route between Ghent and Xi'an (also carrying Volvos).
Changjiu has developed its own vehicle racks for loading the vehicles into the CR Express containers, which Yang said have withstood the test of time.
"We also supply one-stop-shop supply chain solutions to ensure best lead time best on components transport so we hope to diversify businesses and services to generate more value along the chain," he said. "Changjiu is also hoping to cooperate on ventures with partners in China and Europe for logistics growth, because we have our own strength respectively and can explore structured growth together."