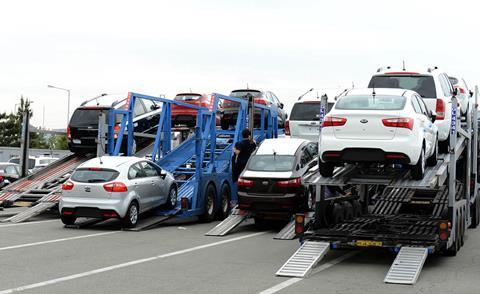 Furthermore, outsourcing supply chain functions to a reliable partner is going to be essential as the automotive industry transforms to become electrified and connected.
Vehicle manufacturers faced with inbound parts shortages or outbound delivery delays are looking to those with logistics expertise and network insight to solve problems that occur on a daily basis.
"You want to find a true partner, someone who is going to work with you and use their experience and connections, and leverage that for you to your advantage," said Eva Ames, director of logistics at Mahindra Automotive North America.
Mahindra is somewhat of a niche player in North America and insources a lot of its business to remain agile in the face of sudden changes in supply and demand. However, Ames recognises the value in giving outsourced logistics providers a greater degree of responsibility because they have a broader perspective of the logistics network and can advise on more efficient strategies.
"There is tremendous value in partnering with a supplier who can offer stability right now, one who is willing to take on some of the burden, and … bring some perspective and a larger spend because they have other customers," said Ames. "Especially now during the pandemic. This is the best time to be reaching out."
According to Ames, Mahindra has a good example in the haulier it uses for finished vehicle deliveries in the US.
"They understand how customisable the vehicles are and that there is no forecasting, even without the pandemic," she said. "Over the years they have come back to us several times with examples of efficiencies that they have found in their network and have passed the savings on to us."
Stability through partnership
Glovis America is a good example of a logistics provider with the scale required to take on more responsibility for its customers when normal flows are disrupted. David Boatright, chief business development officer at the company, explained how its reach enabled Glovis to provide spot prioritisations on road and rail for its customers. He recognised that OEMs were placing more value on logistics providers that had greater scope and scale to deal with the huge variability that was currently in the market. He also recognised that it was an opportunity for Glovis America.
"We are seeing that it might be an opportunity for us as our customers look to scale back and focus on the things that are directly impacting their customers and making sure they can deliver products to [them]. As they look at scaling back their logistics or direct value functions we can come in as a partner and provide stability."
Strong partnerships are essential for the transformation the automotive industry is going through now and the technology required for the mass production of electric vehicles. Tier one supply chain expert, Matt Pohlman, looked at the technological changes underway to support EVs and the growth of start-up companies making them. He said that having accurate information and being flexible enough to adjust to the latest technology was important.
"There are so many new things coming that are going to be great opportunities to partner with new people," said Pohlman. "Maybe they have more expertise because it is not your core competency. I see more outsourcing coming in the next few years because of the changes. The pendulum will swing to more outsourcing because of the many new suppliers and technology."
Boatright said that it was not conceivable given the proliferation of EV start-ups funded by tech firm investors that each would want to build their own vertical supply chains, not least because of the cost involved.
"I think it will call for more outsourcing because they have to get to market quickly [and] they don't have time to build each one, it is all about speed," he said.
Regional approach
One other important thing to recognise when outsourcing logistics is the fact that it is often regionally focused. While carmakers take a global platform approach to manufacturing that does not always fit for the logistics providers.
"The global approach of one supplier fits all and is a jack of all trades is a myth," said Ames. "You have to have a regional approach."
Part of the reason for that is the cultural barriers that exist, something Mahindra Automotive North America is aware as a division of Indian vehicle maker Mahindra and Mahindra.
"In India there are all kinds of compliance laws that we do not understand," she admitted. "We need someone on the ground in India that has a counterpart in the US who can help to translate and work through the time zones.
The importance of a regional approach was also something Matt Pohlman noted while acknowledging it was a struggle to find a provider in one region that would be willing to operate in another.
"It works really well regionally, like a lot of logistics things do, but when you try to globalise it you can really screw it up…[.]" said Pohlman. "There is a want to make it global, which I think is easier when sourcing products and material but [logistics] service is more difficult."
Boatright agreed that a regional approach was important and admitted that, even with the scope it had, Glovis was stronger in certain regions that it was in others, something it was working on with local partners.
"We try to be in essence a control tower from a business development standpoint but we will always try to have local people helping," he said. "We are looking at where we need to strengthen both a global perspective and drive services and products locally."
Looking ahead, Pohlman said the next five years were going to be revolutionary as EVs change everything and bring new suppliers and producers into the automotive market. That offers a great opportunity for companies old and new to establish partnerships, in part to take the risk out of selecting the new technology needed for EV production and supply.
"There is a tremendous opportunity for us to learn and grow over the next few years – the change is going to be significant," he said.
Nearer-term and looking ahead to 2021, Ames said the industry was rounding the corner and looking for a more stable situation after the disruption of the last year. However, she also sees the value of the disruption on working practices.
"Everybody wants to be able to step back and take a breath but there are aspects of partnerships which have come to light now," she said. "You have seen who your real friends are, and who is going be creative and there for you when all seems lost. This has been a blessing in disguise."