In a bid to save what is left of its automotive industry, Russia is taking measures to establish new supply chains and logistics networks following the breakdown caused by the international sanctions applied in the wake of the Ukraine war.
Those sanctions have technically broken the entire logistics system, according to Vitaly Saveliev, Russian transport minister, who was speaking at a press conference on May 21. He said the country had to look for new logistics routes to source much-needed equipment and commodities from other markets.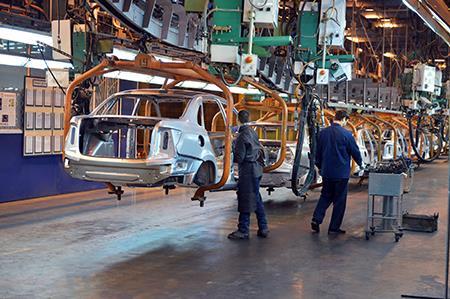 Russia is working on redirecting trade flows from Europe to Asia, but that requires solving several logistics problems, said Maxim Reshetnikov, the Russian economic development minister
"The logistics channels we currently have are only fit for trading oil and grain," said Reshetnikov last week in a government publication. He added that when it came to more complex logistics, things looked rather bad.
To overcome the current crisis, Russia is scaling up work on developing the International North-South Transport Corridor - a 7,200-km-long multimode network of ship, rail and road routes running from India, Iran, Afghanistan, and the Caspian region to Europe.
"Also, we have an opportunity to use Eurasian infrastructure [and] the potential of our neighbours as transit countries," Reshetnikov said.
Brakes on production
Solving the logistics crunch is essential to prevent the Russian automotive industry from complete disintegration. Almost all the leading foreign carmakers in Russia have stopped production there, including BMW, Ford, Hyundai, Mercedes-Benz, Renault, Volkswagen and Volvo. Only Russian vehicle makers Avtovaz, Gaz and Kamaz are still running operations, though they are dealing with components shortages.
The conflict has resulted in a dramatic shortage of parts imports from Europe. For example, in March of 2021 Russia imported parts worth €305.5m ($327m) from Germany, according to the Russian Business Consulting agency. In March this year that figure had dropped to just €19.4m worth of parts.
Against this background, Russian vehicle production in April dropped by 78.5% year-on-year to just 32,700 vehicles, according to the Russian Association of European Businesses.
Nationalising foreign plants
In March, the Russian government threatened carmakers who suspended operations in Russia with forced nationalisation of their assets. In May, Moscow's mayor, Sergey Sobyanin, announced that the authorities had nationalised a major factory that belonged to Renault and intended to use it to revive the famous Soviet-era Moskvitch car.
Renault Group said it was selling all of its shares in Renault Russia to Moscow City and its 68% interest in AvtoVaz to the state-run Central Research and Development Automobile and Engine Institute (Nami).
"The foreign owner has decided to close the Moscow Renault factory, said Sobyanin. "This is their right. However, we cannot allow the several thousand strong workforce to find themselves unemployed."
The production of the iconic Moskvitch was stopped after 75 years of production back in 2006 when the company was declared bankrupt.
The Russian authorities hope to resume production by late summer this year but it remains unclear where the parts for it are going to be made. All Moscow has promised is that the Moskvitch will be a fully Russian car with no imported components. However, the Russian newspaper Vedomosti reported that government officials were in talks with JAC and one other unnamed Chinese automotive company to begin assembling vehicles under the Moskvitch brand with the use of Chinese parts.
The scenario in which China comes to the rescue of car production in Moscow could be a test case for whether there is any sense in nationalising any other vehicle production locations in Russia.
Parallel imports
In the meantime, demand for cars could be met by the import of vehicles and parts. On May 6, the Russian government published a list of goods that were subject to parallel import rules and which involved a broad range automotive parts and finished vehicles. The mechanism allows a Russian company to buy goods from any company outside Russia, including from the country of origin.
However, according to Alexey Guliev, deputy general director of the Russian auto importer GK Avilon, it is still not clear how significant a role parallel imports will play in solving the production shortfall in Russia and it could lead to counterfeit parts moving into the market.
"It will take some time for the industry to develop a strategy for working with these [parallel import] channels, and all aspects of such a scheme need to be evaluated," he said. "We still do not know the details of the implementation of the parallel imports." Guliev added that the imports certainly raised the problem of counterfeit products coming onto the market.
"Bear in mind that grey [unauthorised] products will also go to the market through parallel channels," Guliev said. Automotive components of dubious quality risk the operation and safety of the vehicles in which they are placed and can incur tremendous losses to customers.
Costs and consequences
Parallel imports could be a risky business for all parties involved. A source in the Russian automotive industry who wished not to be named said that these supplies would not go unnoticed.
"If an Asian country was buying components off some auto brand for let's say 100 roubles and suddenly began to import them for 150 or 180 roubles, then it is obvious to everyone that the components are being resold and secondary sanctions may follow," the source said.
The source also disclosed that the government had sent a clear signal to importers that they could only import brands that publicly announced their decision to pull out of the Russian market. However, many of the foreign carmakers in Russia have not actually left the market but only suspended operations, meaning imports of their products would be illegal.
There is little doubt that the parallel imports of automotive components and finished vehicles to Russia, even if established, would incur higher logistics cost. Andrey Terluchevich, general director of the Russian auto dealership Autospetchcenter, explained that parallel imports would involve a chain of intermediaries, and consequently, the logistics costs are likely to be several times higher than they were previously.
"Most likely, the parallel import will run through Turkey, Kazakhstan, China and Armenia," Terluchevich said, but he added that even that would not help Russia avoid a shortage of supply in the domestic automotive market.