Things are changing fast in the automotive industry. The Covid pandemic set off a chain of disruptive events that forced many into crisis management they are still living. There have been more changes in the last two years than there probably have been in the previous 20.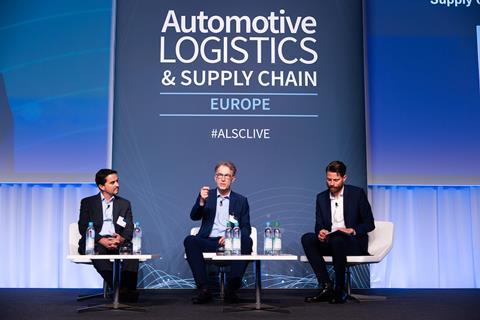 However, there are other changes happening in the automotive industry that also demand the accelerated delivery of products and faster-paced logistics operations and planning. Electrification, the vertical integration of lithium battery production, and greater overarching supply chain sustainability goals are just three.
That acceleration in the manufacturing and delivery of cleaner, more connected cars, in turn, requires a greater degree of standardisation across processes and earlier collaboration both internally at the carmakers but also between them and their logistics partners.
Speaking at last week's Automotive Logistics and Supply Chain Europe conference in Munich, Germany, Dieter Braun, head of supply chain at Audi, said that production planning, which was previously done on a monthly basis, was now being done weekly. The semiconductor crisis, to take one of the current pressures, requires a taxing level of attention. Braun said designating a semiconductor across Audi's eight plants, 13 lines, and 45 models means considering 11 trillion alternative uses.
That is driving a faster adoption of digital tools and better data handling.
"We have a lot of data available," said Braun. "If we… combine it to get a deeper understanding and use it to exceed customer expectation, to improve our processes and to make our supply chain more resilient, [and do so] on a stable and sustainable basis by 2030, it would be a good achievement and a strategic advantage."
Watch the full debate on why supply chain management is a competitive advantage with Volvo Cars' Sean Bricknell and Dieter Braun at Audi
Vital collaboration at Volvo
Sean Bricknell, global head of inbound logistics and packaging at Volvo Cars, said the company was moving faster in its development programme.
"What we are moving is different to what we have moved historically, and we have to adjust for that, but, in general, it is more of the same but faster and more flexible," he said.
Bricknell added that to keep pace with the changes, early contact within the organisation is essential to ensure the right decisions are made. Logistics efficiency and cost were factored into the design of the products that are being turned out faster. The need for collaboration, whether within the company or with logistics partners, was definitely something that has made a difference at Volvo, according to Bricknell.
"It is vital for us to be part of the strategy right up front," he said, adding that it was important to know right from the start from whom and where the material was being purchased. "We design the part for logistics as well, and we make sure there are not specific design elements that drive up logistics costs and CO2."
Bricknell said that logistics had to be part of the process from the beginning to define the best end-to-end costs, something that was key to the carmaker's success going forward.
The same is true at Audi. According to Dieter Braun, the supply chain organisation forms part of the development team for every new product.
"We are strongly interacting with the purchasing department to think about sourcing and localisation," he told delegates, adding that it was an important consideration for cost-competitive sourcing and the reduction of supply chain emissions.
Closer ties at Audi
Audi sits within the wider VW Group, and together the brands are interacting more closely to find logistics efficiencies.
"We [have] had a good collaboration with VW Group Logistics, with a clear definition of who was doing what," said Braun, providing the example that Audi was able to find synergies in group-wide container management, which proved cost-effective.
That collaboration is now going further, with several of the brands working off shared vehicle platforms, a trend that will increase, according to Braun. A good example is the VW Zwickau plant in Germany, which makes VW's ID.3, ID.4 and ID.5, and the Audi Q4 Sportback and Q4 e-tron Cupra Born.
"What we are implementing is the one-for-all principle," said Braun. "At Zwikau, VW has done all of the logistics planning and is operating the whole logistics process, whether for Audi or VW."
Audi is also planning to make a Cupra model at its Győr plant in Hungary, and in that case, it will be responsible for all logistics planning and operations.
"These are two plants with two different decisions on the products, but from the logistics point of view, it should be the same for optimisation and planning," said Braun.
Audi is also building a new plant in China with a joint venture partner, but it will have a majority share in the project, and Braun said that means a greater responsibility for logistics planning.
"There, the interaction from the very first day was that not only product design but also plant construction," he said. "We changed the plant layout because we had an agreement with purchasing, and that had a big impact on the plant design, but a very cost-effective one."
At the same time, Audi has close ties with Bentley and Lamborghini and has standardised inbound logistics for all three brands, with a greater effort being made to use rail in Europe.
"If you map the Audi and Bentley plants in Europe, you can see a corridor from Crewe to Brussels and to Neckarsulm and Ingolstadt," Braun pointed out. "We are trying to bring in a train solution for this corridor that will allow us to improve inbound synergies."
Lamborghini is also directly connected in terms of the logistics network with Audi's Neckarsulm plant in Germany, and Audi provides transport planning for the Italian brand.
Faster decision making
Volvo has also been working on building up and integrating its planning and operations team into the rest of the business, and Bricknell said that had provided better global visibility. The shared decision making means logistics experts at the company have been able to feed in critical information on time-sensitive decisions.
"It has enabled us to be fast and make the right decisions to achieve the results that we need," he said. "That has been very beneficial and is certainly working for us."
According to Bricknell, it has also helped the carmaker standardise its packaging, an area this still needs more work.
"Like some other global OEMs, we don't have always have a standard packaging solution across the different regions," he said. "There are different things available, such as different truck sizes, but we try to at least have the same standard processes in place. It is an area that we will be focusing on in the future."