Supply chains need to become more sustainable but you can't change what you can't see. Logistics experts at the recent Automotive Logistics and Supply Chain Europe Live conference agreed that better tools and partnerships are needed to identify emissions in complex supply chains as a means to start reducing them.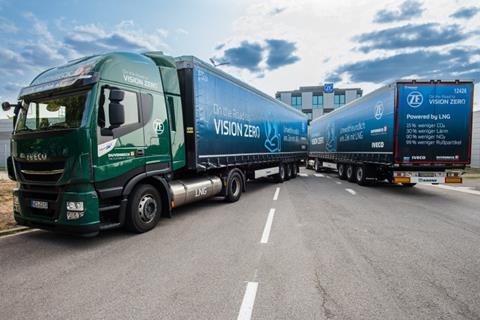 It starts within companies, with internal tools and strategies, but the successes need to be shared.
Peter Bedow, commodity manager of freight in Europe at ZF Group, said a mindset change is needed in all departments.
"Supply chain management touches everything about production. [Everyone] needs to accept that there are new targets now, that we're not just running for money or performance targets, and that it will stay that way."
Bedow said the industry needed to develop a "CO2 currency" that it could use when making supply chain decisions.
On a practical level, ZF has introduced a tool to join up thinking inside the company and make better use of the containers it uses. The goal is to avoid unnecessary journeys and cleaning.
Such visibility tools are essential. "The big task that we're working on now is to instal the proper reporting mechanisms," said Bedow. "The philosophy is that what you can't measure, you can't work on. Then we can really start the discussion and set up rules within the company about how we take decisions in future."
Visibility beyond the direct suppliers
The true extent of a supply chain's carbon footprint is obscured by the complexity of that supply chain. Jana Wignell, vice-president quality and environment at Volvo Trucks, said that to really make a difference in sustainability, there needs to be accurate data. It is not enough to just look within your own company; OEMs need to examine the whole value chain. She added, however, that data was not easy to get hold of.
Tobias Rydin, director supply networks at rival truckmaker Scania, has experienced the same difficulties and said: "It is really tricky to measure and to influence everything, but at least we need to do what we can from a logistical point of view, so we are so we are measuring everything from the tier one suppliers up to our gates."
Bedow confirmed that the extent of OEM visibility of the supply chain usually stops at the tier one level. However, that is just the tip of the iceberg and the emissions at the lower levels need to be understood. ZF organises logistics and transport from its direct suppliers but doesn't have any direct control of those suppliers' logistics arrangements beyond that.
Bedow said it was therefore essential that all participants in the supply chain were on the same page and conformed to same sustainability programme because it cannot be controlled centrally by any one party. It also needs used to allocate new business: "Those who are not able to show their programme and decarbonisation roadmap very soon will not get new business anymore," he added.
Sustainability has become a priority when tendering for Scania, said Rydin, adding that it is always trying to work with the biggest carriers to find the most sustainable solution when tendering in Europe.
Follow the packaging
Another way to drive sustainability into the supply chain is through the packaging used to contain the parts and materials. Using the same packaging or container throughout the delivery process, reducing the weight of that packaging and cutting journey times all bring gains.
Rodney Salmon, vice-president of automotive for the EMEA region at packaging provider IPL Macro, said it is time to ask lead logistics providers (LLPs) how they can help to offer a reduction of packaging weight throughout the supply chain. According to Salmon they need to reflect on savings that could be made:
"I'm carrying a huge amount of metal stillage every day in my in my trailers. If I was able to save the weight of each trip by 5,000-10,000kg, what saving could I give to my customers? And what saving could I give actually to myself?"
The answer lies with those companies that touch multiple links in the supply chain. Salmon said that poolers are essential in making packaging more sustainable throughout the supply chain, as companies, such as Chep, hold a lot of information.
Sanjiv Takyar, head of innovation, solutioning and strategic marketing at Chep, said: "I think mindsets are definitely changing and moving forward in the right direction but not quickly enough. Within individual businesses they have their own sustainability goals and they have projects running. What we need to do is take this to the next level, which is how companies such as Chep can collaborate with a number of different businesses to bring them together."
To that end, Chep worked with market research company IDC to develop a lifecycle analysis tool. Users can enter information about their supply chains and use of packaging. The tool will then calculate the environmental cost in terms of CO2, waste, raw material usage, water and energy consumption. It includes all transport through the different suppliers to the end of its useful life and potential recycling.