The European logistics sector is undergoing unprecedented change. Britain's exit from the EU and the red tape of regulation are among its biggest challenges, delegates heard at the Automotive Logistics Global Munich conference last week.
The European logistics sector is undergoing unprecedented change. Britain's exit from the EU and the red tape of regulation are among its biggest challenges, delegates heard at the Automotive Logistics Global Munich conference last week.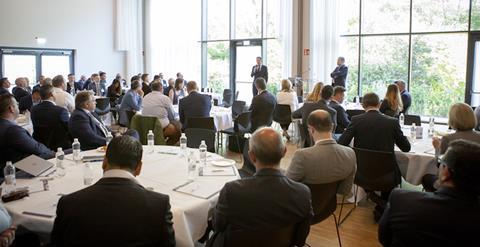 Christoph Stürmer Autofacts global lead analyst PWC revealed that vehicle production in the UK is down 21% year-to-date, with sales down 3%, backing up the point that Brexit uncertainty has stifled investment in the automotive sector over the last couple of years.
"The UK was a hub for Europe, but that hub will become a spoke," added Wolfgang Lehmacher, senior supply chain strategist and independent advisor. "People put hubs where volume is, and post Brexit that can't be in the UK anymore."
Of course, trade and tariffs are not just linked to Brexit. For many global OEMs, the Chinese market has become more complicated over the past two years, with impacts on how logistics and exports are organised.
The trade war has certainly been making things difficult for OEMs. However, Mike Yang, vice-president at Chinese third party logistics provider Changjiu Logistics, told delegates that the European automotive and vehicle logistics industry had reasons to remain optimistic.
"BMW, for example, is taking a majority stake in its Chinese joint venture. And lower tariffs for vehicles and electric vehicles could also benefit European supply chains," said Yang.
Electric revolution
OEMs are investing billions of euros to develop, produce and distribute electric and alternative-powered vehicles.
Seen as one of the originators of mass-market electric vehicles (EVs), the RNM Alliance (which includes an EV joint venture with Dongfeng Motor in China) is expected to produce 12 new models by 2022 and 30% of total volumes to be electrified.
However, senior vice president of industrial strategy and supply chain management at the Renault-Nissan-Mitsubishi (RNM) Alliance, Mark Sutcliffe, told delegates the industry was facing an "exponential level of change", which was causing a shift in the dynamic of the supply base but also within the OEMs.
"We have to get used to having far more ability to react and be flexible than in the past," said Sutcliffe. "We don't have the ability to nail down the variable today," he said, adding that ambiguity, uncertainty and volatility were the three watchwords for today's supply chain.
OEMs take stock
In finished vehicle logistics and distribution, disruptions and changes in the supply chain often lead to higher costs and bottlenecks, including stock pile-ups and imbalances in transport capacity.
Stagnant vehicle shipments, rising regulatory costs and sinking vessel utilisation are all affecting the ocean transport sector, according to data from Drewry Shipping Consultants.
"Compared to 2007, carrier utilisation today per car equivalent unit (CEU) is 35% lower," said Drewry's Tom Ossieur. "At the same time, costs are increasing thanks to shipping and fuel regulations, but the volumes per ship are decreasing."
PSA's Xavier Peroutka, who leads flow engineering for inbound and outbound logistics at PSA Group, explained how a major push to improve control across the supply chain has been in its development of a sales and operations planning (S&OP) function over the past two years, to develop forecasts, production and distribution plans.
Driven by data
Data and its interpretation is arguably one of the most effective tools to be used to optimise automotive supply chains and improve performance, cost and competitiveness. However, delegates heard that the automotive sector must work together to keep up.
Anita Pieper, VP of vehicle distribution and vehicle distribution centres, BMW Group, explained that the group is already collaborating with Microsoft on its cloud manufacturing platform. She said that together the companies were trying to link information and processes together to improve visibility.
"For us the key to this new technology and to building more sustainable logistics is to define and develop standards," said Pieper. "It makes no sense for us to develop something as just 4% of the market, and then for Mercedes and Audi and the others to do the same."
Peter Koltai, senior director of international logistics, Audi suggested telematics was "definitely the right way", stating that the company needed many data interfaces with logistics service providers, agreeing that OEMs needed to find standards to work together.
Delegates also heard from Daimler's Monica Schmickler and Groupe PSA's senior VP of supply chain, Francesca Gamboni, on the importance of data. Gamboni explained that the industry needed more real-time and shared visibility in the supply chain to be able to react faster, adding that it could not afford to work in siloes anymore.
Referring to data, Gamboni warned that this will be the battlefield where competition is played out in the future in the automotive industry, a point echoed by Mark Sutcliffe at the RNM Alliance.
Transforming technology
The data battleground is one part of an information technology landscape that is changing at an alarming rate. Industry 4.0 and the Internet of Things, driverless transport systems, self-learning algorithms, robots and augmented reality are already here.
Marco Pruglmeier, head of innovation and industry 4.0 in logistics, BMW Group explained BMW's use of robots in logistics, including an autonomous tugger train, and pickbot for ordering and sequencing as reported by Automotive Logistics at the group's innovation day last year.
The OEM is reusing existing technology for cars in its transport vehicles, including i3 batteries.
In terms of predictive data, Javier Morales, supply chain manager at Seat, mentioned the carmaker's predictive supply chain control tower. "Only through use cases will we get the real use of data and this will be very important for our group," he said. Morales also suggested that OEMs "need more innovation and collaboration with logistic service providers".
Sustainable supply chains
Delegates in Munich also heard that manufacturers in Europe were now more focused on reducing carbon emissions, pollution and waste from their supply chain and production processes.
BMW's Thomas Irrenhauser and Benedikt Anderhofstadt, explained more about the group's green logistics policy, including battery, electric, natural gas trucks and hydrogen technology.
Battery electric trucks are mainly for short distances of between 50-200 km, however Irrenhauser stated the infrastructure is currently insufficient because of the lack of public charging stations.
Anderhofstadt revealed that liquified natural gas vehicles can drive up to 1,600 km. The group currently has nine battery-electric trucks in operation.
Despite the raft of regulations, political precariousness and trending technology, the role of new entrants and the level of collaboration look set to be key influencing factors on the future of the European supply chain.
Tariffs, trade and technology: A new era for European automotive industry
1

Currently reading

Tariffs, trade and technology drive European supply chain into new era

2

3

4

5

6