Vehicle assembly has resumed in Ukraine and sales show signs of recovery but the ongoing Russian hostilities in the country continue to threaten production and supply, with the production of key materials and components severely constrained.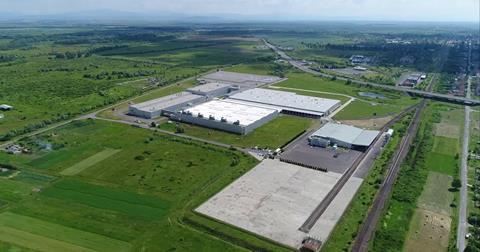 Eurocar's plant in Solomonovo, western Ukraine, which makes vehicles for Skoda, partly resumed operations in early July. The plant received an initial delivery of 80 knockdown vehicle kits of the Skoda Kodiaq and Karoq from Europe.
The Solomonovo plant actually has a designed annual production capacity of 80,000 vehicles but operations were suspended in early March after Russian troops crossed the Ukrainian border. It was used to house Ukrainian citizens that were internally displaced, which it continues to do.
Eurocar said it could not plan for a definite ramp up in production again because that depended on the ongoing military situation and the demand for its vehicles from the domestic market.
The current scale of operations does not allow the plant to generate a profit but secures employment for 200 workers, the company added.
Recovering sales
According to estimates by AutoConsulting, a Kiev-based think tank, in the first half of 2022, vehicle sales in Ukraine totalled 18,700 units, -62% down compared to the same period in the previous year. However, there are some signs of recovery. Vehicle sales for June reached just over 3,100 units, +16% more than in the previous month.
Ukraine also imports finished vehicles by land from Europe. Those imports ground to a halt in March and April but have been gradually recovering in the past few months, which is likely to be reflected in the July and August sales results, according to AutoConsulting.
Since February 24, Ukraine's seaports have been either seized by Russian forces or are currently under siege.
Out like a light
The Ukrainian crisis continues to hit the global automotive industry. In March this year, the Ukrainian factories, Cryoin and Ingas, were forced to suspend operations. Those plants synthesise about half of the world's neon, a gas used in the production of semiconductors.
The dearth of Ukrainian neon exports has caused sharp price fluctuations in the past few months. The average wholesale price of industrial-grade neon in China reportedly shot up to $2,500 per cubic metre in March, skyrocketing by +800% in a few weeks, according to Chinese commodity traders. The price of neon also soared in other key markets.
Prior to the invasion of Ukraine Ingas produced between 15,000 and 20,000 cu.m of neon monthly, supplying it to various customers in Taiwan, South Korea, China, the US and Germany. The company estimates that about 75% of the neon it shipped was used in the production of microcircuits. Ingas is based in Mariupol, a city that was devastated during the conflict between March and May.
Cryoin is based in Odessa and produces between 10,000 and 15,000 cu.m per month. The company said it had suspended operations at the beginning of the conflict and there is no information on when the production may be resumed.
Down to the wire
Ukraine was also one of the main suppliers of cable harnesses for global automotive production. Leading suppliers based in the country include Fujikura, Leoni, PEKM Kabeltechnik and Yazaki.
Skoda was hit by a shortage in supply of cable harnesses following the invasion of Ukraine and was forced to suspend production of the all-electric Enyaq iV for eight weeks from March 3 this year. In response it worked with its suppliers to relocate production. Skoda provided its supplier PEKM Kabeltechnik with space at its plant in Mladá Boleslav in the Czech Republic. PEKM installed the necessary production equipment and was able to gradually increase production from April.
Skoda also secured additional capacity from its supplier Kromberg & Schubert at the company's Moroccan plant in Kenitra, while at the same time, Kromberg & Schubert was able to increase cable harnesses manufacturing capacity at its Ukrainian plant in Zhytomyr. Skoda has also duplicated the production of high-voltage cable harnesses required to charge EVs in Romania as of the end of June this year.
Meanwhile, Leoni has been gradually increasing production again at its western Ukrainian plants at Stryl and Kolomaya, which were closed after Russia's invasion.