Carmakers and their suppliers of parts and logistics services are making some sizeable investments in Mexico following two years of Covid disruption. Those investments are essential to build flexibility and resilience into the supply chain for the future of the Mexican car industry, including producing electric vehicles.
At last week's Automotive Logistics and Supply Chain Mexico conference, Peter Koltai, senior director of production control and logistics at Volkswagen de México, admitted that production at the VW plant in Puebla (the carmaker's biggest plant globally after Wolfsburg in Germany) had suffered big losses because of Covid and the consequent semiconductor disruption. More specifically, the plant lost several tens of thousand units of production between 2020 and 2022 and that accounted for 20% of its production plan last year.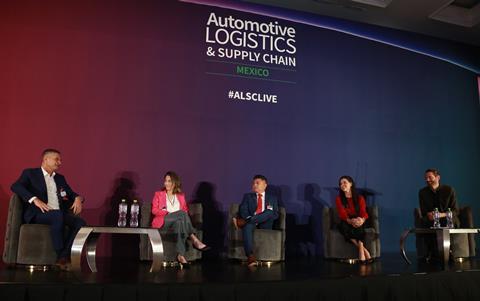 The last two years of disruption also put a lot of VW's suppliers in a bad shape, which continues to affect production. Koltai said 20% of suppliers in the wider North America region were on a warning list, meaning production could stop with hardly a day's notice.
Disruption to the inbound supply of parts has to be curtailed where possible and VW Mexico is tracking signals from its suppliers on a daily basis, including available stock and transport waiting times. VW is also sending signals in the other direction, to alert suppliers to the impact any parts shortages will have on vehicle assembly.
"All of the signals from the supplier are critical for us," said Koltai. "We are trying not to make a lot of programme changes. We signify to the supplier the level of impacts their parts shortages can cause."
Koltai said there were between 15-20 potential impacts on a daily basis that could cause problems for its production in Mexico.
Port improvements
It is well known that Mexico suffers from disruption on its road and rail network, and there are often problems at the ports. There are currently major capacity restrictions on road and rail.
Crime is contributor to that. Mexico and truck hijackings have increased, regularly limiting delivery services. Added to which, drivers will not load for routes to the US on a Friday because they do not want to drive and park over night fearing for their own safety.
However, with regard to the ports, Koltai said that container shipments through the port of Veracruz had stabilised nicely on a 24/7 basis, which was helping smooth the inbound flow of materials.
Smoothing that flow from port to inland destination is something that AP Moller-Maersk is prioritising as part of its move from exclusively a provider of maritime logistics services to more of an integrated logistics services provider, a journey that started four years ago. Investment in infrastructure, product development and IT are the main focus areas for Maersk in Mexico, according to Patricia Pérez, the company's managing director of Middle America.
Maersk's APM Terminals division has operations at the ports of Lazaro Cardenas and Yucatan but Pérez said Maersk needed to expand port operations and ensure that international transport is fully matched with adequate domestic logistics in Mexico.
"We want to contribute with accessorial services alongside port operations, make those connections and provide those efficiencies," said Pérez.
Maersk is also expanding its warehousing footprint in Mexico, with the addition of 150,000 sq.m facility and a focus in the north of the country on crossdock services to ensure cross-border operations are smoother.
In terms of product development, Maersk has recently acquired two companies: Pilot Freight Services, which is a last mile company, and Senator International, which provides airfreight services.
"Connecting with air transportation it is critical for us," said Pérez. "This will complement the automotive vertical."
Flexible for electric
The VW Group has a new strategy to transform its products and processes for the electric age and Mexico is central to those plans. The carmaker is investing $740m in the Puebla plant up to 2030 to support EV production (part of that investment is also going into a new paintshop). That will have an impact on the inbound logistics processes feeding EV production.
"With EVs, it's a game changer for logistics," said Koltai. "We have new challenges and we have to prepare ourselves to transport and handle high-voltage batteries, which are completely different to what we have in a combustion engine vehicle."
Rather than simplifying inbound parts logistics because of the fewer parts required in an EV, it is actually more complex, according to Koltai, and VW is investing in a new factory layout and processes to manage that complexity.
That requires more transparency in the supply chain and an early warning system. VW is in the early stages of establishing a control tower in Mexico that will give it more visibility in the supply of parts and enable the company to predict changes and adjust proactively.
Control towers
What the transformation in Mexico also demands is greater flexibility. That already goes for the vehicles Puebla is producing at the moment, including the Jetta, Taos and Tiguan. Volkswagen Group is making the vehicles it can based on the shortages of materials and parts, including microchips, rather than building what was in demand from the customer.
"We have to prove the buildability and which parts are available," said Koltai. "Then we change the programmes and get production out of it."
That can include setting up new routes without having the security plan behind it for the sake of maintaining production at the plant.
Maersk is helping support greater visibility in logistics services by setting up its own control tower, part of its investment into digital tools that also includes blockchain technology.
"We are heavily investing in Mexico and that is going to be our Northstar for the next five years in the country," she said.
Local parts investment
Another global trend that Mexico finds itself part of in reaction to the risk exposed by the Covid disruption is greater localised production, and that is a big factor in the investment going into Mexico over the next decade.
Tier one parts supplier Continental announced in July that it was investing $40m in a hydraulic hose production facility located in San Luis Potosi, supporting production in Mexico and wider North America.
Roberta Palacio, head of supply chain for North America at Continental told delegates at last week's conference that supply chain and logistics are essential for the success of that expansion and its implementation.
Success also depends on the sharing of data with both OEM customer and logistics, and a better collective analysis of information that could provide transparency to all parties. Improving the communication on the availability and location of parts, as well as the production requirements enabled each party to absorb unforeseen changes or the long term changes that are coming with electrification. More importantly, that digitally informed communication and analysis of data would help growth in the Mexican automotive industry.
"We have been speaking about digitalisation for years and… we are flooded with data but we need to get transparency and a clear message out of that data," said Koltai. "Together with our suppliers and LSPs, this is the most important future target and if we can work together on it that will be much more interesting."
VW partners for strong logistics in Mexico
Watch this exclusive interview with Peter Koltai, senior director for production control and logistics at Volkswagen de Mexico, about how the carmaker has adapted to disruption in Mexico's supply chain and what it requires from its logistics partners to prepare for electric vehicle production in Mexico
Coverage from Automotive Logistics and Supply Chain Mexico 2022
1

2

Currently reading

Volkswagen strives for strong logistics for a stronger future in Mexico

3

4