Volkswagen Group has begun a pilot project aimed at gaining greater transparency in its materials supply chain through the use of blockchain technology.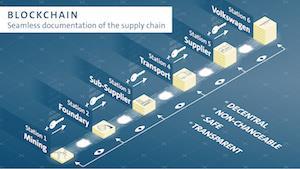 Blockchain creates a distributed electronic ledger, allowing those involved in the supply chain to view, share and update critical documents. Carmakers are adopting the technology as a means to check whether their suppliers are meeting contractual obligations on such things as working conditions, human rights, environmental protection, safety, business ethics and compliance within the supply chain.
VW began collaborating with blockchain specialist Minespider this month (April) on a pilot project designed to trace the supply of the lead it uses in its car batteries from the point of origin (whether mine or recycling point) to the factory. According to the carmaker the pilot will involve suppliers and sub-suppliers that deliver more than two thirds of the VW Group's total lead starter battery requirements.
Minespider has built a proprietary protocol on a public blockchain composed of three layers. The first contains generally accessible information, the second contains the private data blocks which cannot subsequently be changed, and the third is the encryption layer.
VW said the advantage of using a public rather than a private blockchain was that everyone involved in the supply chain worked on the same system. That included the suppliers and sub-suppliers as well as those directly responsible for mining or recycling the raw material.
"Digitalisation provides important technological instruments that enable us to track the path of minerals and raw materials in cross-border supply chains in ever greater detail," said Marco Philippi, head of strategy group procurement at VW Group. "Together with Minespider we will use the blockchain technology to make our processes more transparent and secure."
VW and Minespider are using the pilot project as the first step into a broader collaboration and a planned expansion of the blockchain to monitor other raw material supply chains.
"We are witnessing a transformation of global supply chains," said Nathan Williams, CEO of Minespider. "Companies have the right to know that their suppliers are operating responsibly and with blockchain we finally have the tools to prove it."
The ability to track goods, including parts and materials, along global supply routes has been an issue for OEMs, shippers and transport companies for years. However, new auto-identification technology can trace shipments, despite the mode of transit. Blockchain technology promises to complement and enhance track-and-trace, visibility and security as applications are unveiled.
According to VW the initial collaboration came out of a "Hackathon for Supply Chain Transparency" held in 2018, which Minespider won. The hackathon series continues in 2019.