There is a major disconnect between sustainability pledges and action in the automotive industry according to the findings of new study carried out by Kuehne + Nagel. Ilkhan Ozsevim talks to the logistics providers head of business development in Automotive + New Mobility, Achim Glass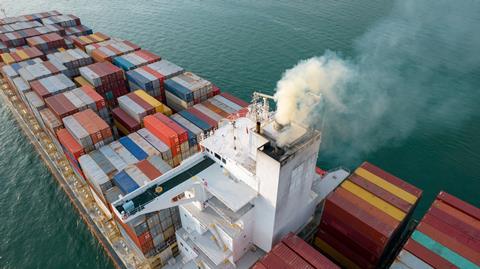 All things considered, the automotive logistics industry remains inherently carbon heavy. Despite the apparent efforts of carmakers and tier suppliers to reduce their carbon footprints, manufacturing vehicles is still resource-intensive business producing substantial greenhouse gas (GHG) emissions. That also goes for the logistics supporting inbound parts deliveries and finished vehicle movements.
According to the Massachusetts Institute of Technology (MIT), while nearly 75% of the world's cargo is carried by ocean-going ships, road vehicles such as trucks and vans make up the majority (65%) of freight emissions.
GHG emissions are classified into three 'scopes' (see boxout), first introduced under the GHG Protocol, a partnership between World Resources Institute (WRI) and the World Business Council for Sustainable Development (WBCSD).
Scope 1: Direct emissions that a company generates while carrying out its business
Scope 2: Indirect emissions from purchased energy
Scope 3: Indirect emissions in the wider value chain
The nature of the scope system draws automotive manufacturing and logistics together under a single, unified environment, as the sustainability efforts of OEMs and suppliers are aptly viewed through a wider lens. In other words, an automotive company's extended carbon footprint in logistics, cannot be considered as separate from its activities in production. This is sustainability 101.
Then there are companies that oversee their activities across the entire value chain, the nature of which grants them privileged insight into their end-to-end logistics activities.
Logistics research
Kuehne + Nagel (K+N) provides sea, air, road and rail logistics services for the automotive industry, and sustainability is one of its driving tenets. For example, the company aims to achieve complete carbon neutrality for its sea freight shipments by 2030 through its sustainability activities.
Having a panoramic view of this relationship between sustainability and the automotive logistics industry, K+N recently embarked on a revealing sustainability analysis project. Spanning nearly a year of investigation between 2022 and 2023, a team led by Achim Glass, head of global business development for the company's Automotive + New Mobility service, analysed 50 leading companies operating in the sector.
Glass recognises that despite the intricate global sourcing of automotive parts and components, little attention has been paid to emissions generated during transport and throughout the wider supply chain (scope 3 emissions). In response to the pressing need to combat climate change, major car manufacturers have publicly recognised their responsibility and committed to initiatives outlined in the GHG Protocol, but Glass and his team wanted to dig deeper.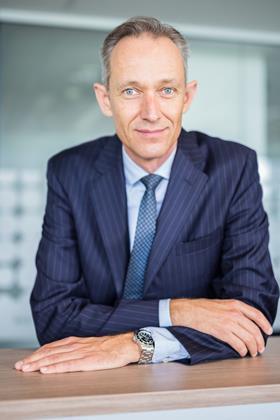 "We wanted to find out the reality of the industry's sustainability implementation goals and I believe these research findings will serve as a wake-up call for the industry so that they can see where they really stand," he tells Automotive Logistics. "Because despite their disclosures of wanting to be green, our research reveals a very different picture."
Project parameters
To get to the reality of the situation, Glass set out on the project by posing three objectives in the form of value-adding questions:
What are the key sustainability priorities for customers in the global automotive industry?
How do these priorities currently manifest themselves in their procurement of logistics services?
How can K+N support customers to reduce scope 3 emissions and how can we best benefit from that trend?
The challenge was that no historical data was available on the subject and these exact parameters had never been analysed before, according to K+N. The scope of the research included key customers from automotive verticals, the priorities for reducing transport emissions across the modes among K+N's top 40 key customers (which have since grown to near 50), and the most prominent automotive OEMs and tier one suppliers.
"The project looked at the 'who's who' of the global automotive industry. We have some 10,000 people working across our workflows every day, so these research findings are very important to our organisation. And because the study deals with global, and not just regional customers, we believe that the results are of greatest interest to the entire world" – Achim Glass, Kuehne + Nagel
"First, we performed desk research, because coming from outside of the [vehicle manufacturing] industry, it was important to familiarise ourselves with it," says research team member, Christina Heggemann, Europe manager in the Air Logistics Pharma and Healthcare division at K+N.
This level of distance has its merits. "None of those who carried out the survey actually come from the automotive industry, the advantage of which is a neutral stance," she says. "We also needed to use industry experts as sources, and so of course, Automotive Logistics was an asset at this stage.
"As part of the research initiative, we then reviewed and analysed the importance of sustainability in our customer's requests for quotations (RFQs) with our sales community, and interviewed key account managers across global, regional and national levels."
Self-reporting can lead to biases and tends to have its shortcomings (especially when it comes to sustainability data). However, account managers, who have close professional relationships to movers and shakers in the industry, also have enough critical distance in regard of the companies being analysed for their scope 3 emissions.
Those account managers also met with more than 100 industry experts.
"We did not speak directly to the customers," says Glass. "We spoke to the people that know their customers' requirements better than the customers do themselves." This yielded some interesting results.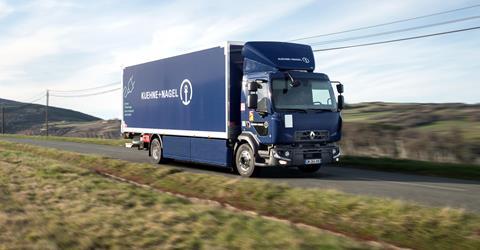 Findings and forecasts
The response rate across 22 weighted and pointed questions was an exceptional 94%, with all customers covered. The survey revealed that in terms of their sustainability budgets, only 9% of those analysed have any kind of budget in place, with 91% having no concrete sustainability budget information at all. In terms of scope 3 emission targets, 53% were found to be 'not defined', with 47% having defined only short-term targets (until 2030 maximum).
The research also found that reducing scope 3 emissions "is not a priority in the global automotive industry". The results gleaned that for global automotive industry customers key sustainability priorities only go as far as including scope 1 and 2 emissions (including CO2 emission reduction, plastic waste reduction and renewable energy) at the expense of scope 3 objectives, which account for carbon emissions across the wider supply chain.
With automotive production, supply chain and logistics playing such a prominent role in the global scope 3 footprints, RFQs and similar pre-contract requests for information are central in assessing a company's sustainability efforts.
K+N's analysis found that sustainability considerations "are not taken into account in the majority of RFQs from OEM and tier suppliers." Owing to its carbon-heavy footprint, this is a significant problem for the automotive industry. The findings also reveal that logistics service providers (LSPs) are challenged with sustainability questions only "in very rare cases," and that whether these responses will have an impact on a business award "remains unknown."
To derive a serviceable picture of maturity levels as part of the scope 3 emissions survey, K+N then segmented its customers into four distinct groups drawn from their sustainability activities – or lack thereof. They found that only 5% of customers qualified as best-in-class.
The remaining 37% were found to be 'accelerating', with 42% 'advancing', and 16% merely 'starting' on their scope 3 emissions journeys.
More action needed
K+N's findings show that the automotive industry needs to do more to reduce its scope 3 emissions. According to the WRI, scope 3 accounts for an average of 75% of a company's GHG and World Economic Forum (WEF) findings show eight supply chains account for more than 50% of global emissions. One of those is the automotive supply chain. As Glass says, "in the automotive industry, many businesses pose as being very green, when in fact this is clearly not the case."
Regarding the research, one of the target group project participants said that "with the help of the maturity matrix we can finally speak to facts rather than feelings," with a KAM from Automotive + New Mobility vertical adding: "The project outcome will enable best practice sharing between different customers."
The K+N project underscores the pivotal role of confronting pressing scope 3 sustainability issues across the automotive industry. Their discoveries and recommendations lay the foundation for impactful initiatives that not only have the potential to support customers, but to contribute to a more sustainable automotive logistics industry.
Achim Glass recently featured as an expert panelist at Automotive Logistics & Supply Chain (ALSC) Global 2023, Detroit, on the subject of 'regaining capacity, stability and confidence in North America's supply chain'. Click here for the ALSC Global Recap