Grimaldi Group and Finnish technology group Wärtsilä have announced a new system promising to help cleanse the world's oceans of microplastic pollution.
The Italian shipowner has developed and patented a system that filters out microplastics from the water taken in by on-board abatement equipment, or scrubbers, used to wash sulphur dioxide (SO2) out of ship exhaust gases. The filtration system traps the plastic particles contained in the water used to wash out the SO2 before it is returned to the ocean.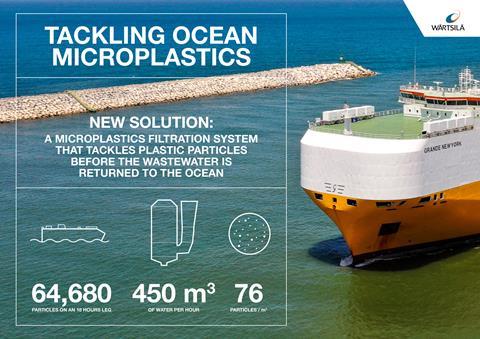 Scrubbers are being used across the maritime industry as one method of lowering emissions in line with regulations established by the International Maritime Organization (IMO). Grimaldi has the technology installed on dozens of its vessels and they suck in enormous quantities of water every day to wash out the sulphur in the marine gas used. Grimaldi said the system effectively makes its vessels "vacuum cleaners for the sea".
"We have already completed pilot testing of this system onboard one of our vessels deployed between Civitavecchia and Barcelona," said Emanuele Grimaldi, managing director of the Grimaldi Group. "The results are promising, with 64,680 microplastic particles collected on a single voyage between these two ports. We are glad that Wärtsilä also recognises the potential of this system, and we look forward to further collaboration to tackle microplastics in our oceans."
Wärtsilä is bringing its expertise in the manufacturing and servicing of equipment in the marine and energy markets and will be using the filtration system on all of its future wash-water treatment systems.
The new system requires few changes to onboard procedures and exploits the working capabilities of an open-loop scrubber to support ocean cleaning during each voyage.
Currently, a 10 MWh-engine will process approximately 450 cb.m of water an hour, which promises to capture significant amounts of microplastics from seawater.
According to early test results, the filtration system efficiently captures particles smaller than 10µm, and the captured concentration by volume equals around 76 particles/cb.m.
The announcement by Grimaldi and Wärtsilä follows a recent move by the European Investment Bank (EIB), the Agence Française de Développement (AFD) and Germany bank KfW, acting on behalf of the German Federal Government. They have committed to double the target of the Clean Oceans Initiative, which aims to reduce plastic waste in oceans. The Clean Oceans Initiative identifies projects that fight plastic waste in rivers, seas and on land. The goal is to finance €2 billion in public and private sector projects by 2023
The forthcoming spring edition of Automotive Logistics, which is published next month, will feature a special focus on sustainable shipping