Renault Group's mid-term and long-term carbon reduction targets will be a challenge for supply chain and logistics, but the carmaker is working actively on projects for alternative fuels, transport innovations and new partnerships in the circular economy.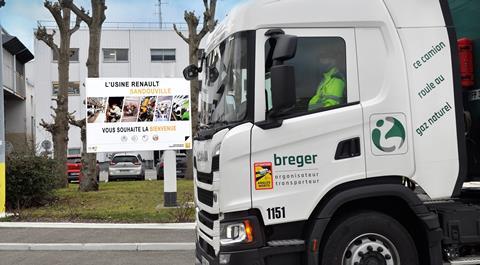 In spring this year, Renault Group chief executive officer Luca de Meo revealed accelerated targets for reducing carbon emissions across its business. The carmaker aims to reach carbon neutrality in Europe by 2040, ten years ahead of a global commitment of 2050. With that goal comes stricter targets for electric and hybrid vehicles (including reaching 65% of European sales by 2025 and 90% by 2030).
But just as ambitious are Renault's objectives for sustainability and decarbonisation in its supply chain, such as for materials, freight and logistics.
For example, Renault will focus on reducing emissions across six materials that account for the lion's share of its industrial carbon footprint – steel, aluminium, polymers, electronics, tyres, and glass. It will employ measures including lightweighting, localisation, alternatives and carbon trading. It plans to achieve carbon neutrality for French factories by 2025, and other European locations by 2030.
Renault is also targeting lower emissions and more sustainable sourcing for lithium-ion batteries and has already established partnerships to use more recycled metals for cobalt, lithium and nickel.
For freight and logistics, Renault has been reducing carbon emissions over the past decade, including a 9% reduction in logistics emission between 2010 and 2016, and a further 9% cut forecasted between 2016 and the end of this year, according to Jean-François Salles, Renault Group global vice-president for supply chain. As with the rest of the organisation, Renault will aim for zero emissions in logistics by 2040 in Europe, with an interim goal of reducing emissions by 30% by 2030 (compared to 2019 levels, see infographic below).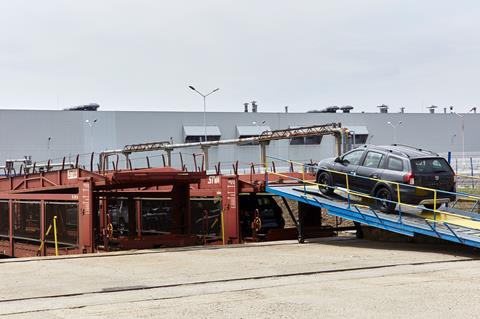 Salles admits that the mid-term objective will be difficult, especially as the wider freight and logistics market has limited zero-emission technology and is unlikely to have much equipment at scale this decade. Network and route engineering, such as improving truck filling ratios to reduce empty carriage and kilometres, will be important for lowering emissions across the alliance. But such optimisations won't be enough.
"We know that we cannot reach our targets through kaizen activities alone," admits Salles.
Renault's roadmap for reducing emissions includes making more use of alternative fuels, investing and partnering in low-carbon freight technology, as well as making better use of multimodal transport where possible. Along with rising costs and risks in the supply chain, Salles expects emission factors in logistics to have more influence in manufacturing and purchasing decisions across the value chain.
Renault will also take a more direct approach to circular economy activities, with logistics and supply chain functions steering these shifts in business model, including managing flows for material and vehicle restoration and reuse cycles.
Alternatives on the road
Renault has been active in transitioning to freight flows that use alternative fuels, especially to diesel. By 2025, the carmaker aims for 25% of road freight to move on trucks using alternatives to diesel, according to Salles. The carmaker is focusing initially on biogas; together with partners, it has established a small fleet and aims to have 15 trucks running by the end of 2021, which will be in addition to 12 LNG trucks, between suppliers and French plants.
"This is quite modest, but we are pushing hard to develop biogas with our logistics partners, as it is the most virtuous and accessible of current fuel alternatives to limit emissions," he says.
The amount of emission reduction possible using biogas depends on fuel type and production processes. According to ADEME, the French Environment and Energy Management Agency, biogas vehicles emit up to 80% fewer CO2 emissions compared to diesel-based vehicles (0.61kg CO2 per kilometre for biogas compared to 3.16kg CO2 per kilometre for diesel). While such technology is a transition on the path to carbon elimination, Salles notes that it is the only viable current alternative at scale for 40-tonne trucks.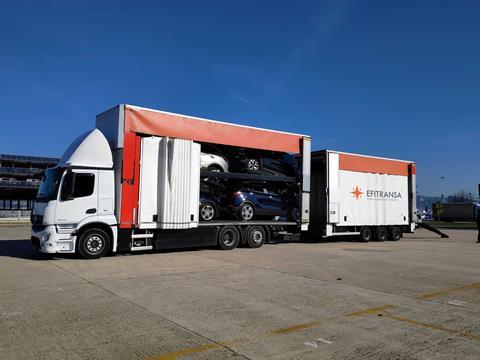 Other trucking technology will also help to reduce emissions. Renault is working with Efitransa, a logistics cargo equipment startup, which is developing a trailer – called the Polyvalent Truck – that can carry parts and material on one leg, and finished vehicles on the return, with the potential to reduce empty loads. According to Efitransa, it has already developed prototypes, and will put newly manufactured trailers into operations later this year.
Over the medium term, however, the logistics and heavy goods industry will need zero emission technology, such as electric and hydrogen fuel cell trucks. "It will be a long journey, but we have to start as soon as possible, and we already have initiatives to work on innovations for such electrified trucks," Salles says.
However, the investments needed both in low-emission technology, as well as charging and fuelling infrastructure for electric or hydrogen equipment, are too high for any player to act in isolation. Salles calls for different companies to partner on investment and development, with Renault ready to work directly with stakeholders.
"We need to work together with other automotive players, logistics providers, charging and infrastructure companies and governments to develop the type of ecosystems that will be economic and viable," says Salles.
Partners sailing with the wind
Multimodal transport will also be important in Renault's supply chain emission reduction targets. Salles would like to see more automotive freight moved by rail across Renault's supply chain in Europe, but points to the need for significant investment in the network and policy changes at a European level to make rail freight more flexible and competitive.
The carmaker has also looked to new technology and fuel alternatives for shipping. In 2018, it partnered with French startup Neoline to support a deep-sea shipping vessel propelled partly by wind, with significantly lower emissions compared to those using bunker fuel. By the end of 2023, Neoline is expected to have its first sailing vessel in operation, which will be capable of moving nearly 100 cars per year. The ship will begin sailings from the French port of Nantes to the French-controlled island of St. Pierre, off the east coast of Canada.
Renault and the alliance have also partnered with other shipping lines using lower emission alternatives.
Salles recognises the importance of working with partners on the ocean side over the long term. Just as the Renault-Nissan-Mitsubishi Alliance is looking at longer-term contracts for deep-sea shipping to help mitigate against capacity constraints and service disruptions, such partnerships will also support longer-term efforts to reduce carbon emissions, too.
"We need to work together with other automotive players, logistics providers, charging and infrastructure companies and governments to develop the type of ecosystems that will be economic and viable."
-Jean-François Salles, Renault Group
Taking control of circular supply chains
Sustainability is set to become an integral factor in Renault Group's overall supply chain decision making, as well as in its business model. Salles thinks it is inevitable that carbon emission targets and regulations inevitably increase the costs of logistics. OEMs like Renault will need to consider these prices – just like the higher costs and lead times from supply chain shortages – in purchasing, manufacturing and logistics service KPIs.
"Companies need to anticipate the strong impact of CO2 regulations and emission targets in the never normal world," he says. "The cost will play a role in decisions. That doesn't mean a total relocation of parts, but the trade-off for logistics and sustainability will be different."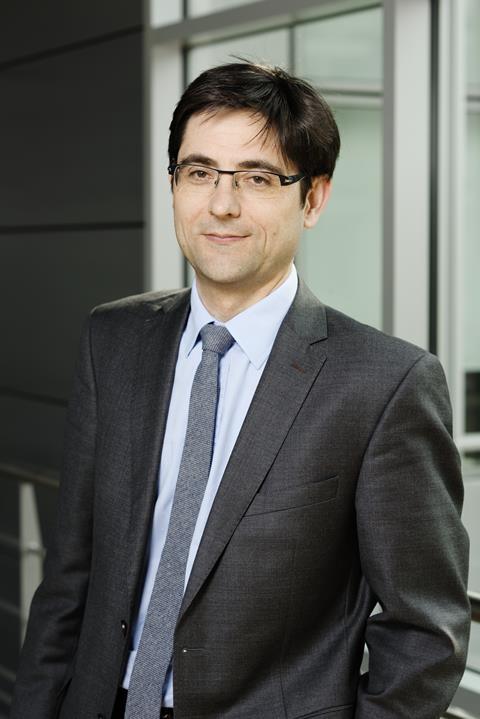 But Renault is also getting ahead of these shifts in its own business model. In France, it has begun by converting some industrial sites to operate directly as part of the circular economy. In 2020 the carmaker announced that, over the course of 2021 to 2024, Renault would convert its assembly plant in Flins, west of Paris, into a centre for recycling, remanufacturing and refurbishment. The 'Re-factory', as it is known, will include services such as reconditioning used vehicles and extending their lifecycles, including fitting petrol and diesel vehicles with hybrid and electrified powertrains.
Other activities will include repairing electric vehicle batteries, with Flins becoming a centre for recycling and repurposing batteries, including preparing them for second-life storage and power generation (the plant has been the assembly centre for the battery electric Zoe). The centre will carry out other recycling and end-of-life vehicle services.
The Re-factory is expected to open new revenue streams for the group in the circular economy – it is targeting €1 billion ($1.18 billion) in revenue by 2030, more than the factory generated when it built cars. But it will also be an important industrial supply chain and logistics centre, with Renault's supply chain management taking more control over managing return and recycling loops.
This activity is already beginning with used vehicles. According to Salles, the transport of used vehicles from the dealer network to the Re-factory for refurbishment began this past July
"We are going to support the Re-factory in all logistics activities and also in partnership with other actors," says Salles. "Flins is located in an advantageous spot along the River Seine, where there is the waterway, the railway and the motorway, offering a high potential for logistics development, which we are exploring."
"Companies need to anticipate the strong impact of CO2 regulations and emission targets in the never normal world. The cost will play a role in decisions. That doesn't mean a total relocation of parts, but the trade-off for logistics and sustainability will be different."
-Jean-François Salles, Renault Group
Such an active transformation in business models with clear logistics implications demonstrates the supply chain revolution at Renault, according to Salles. Despite challenges in profitability and ongoing disruption, he feels automotive supply chain and logistics management have a tremendous opportunity to reshape the future of the business.
"We are seeing changes everywhere, and not just in logistics, but in supply chain technology, S&OP and sustainability," he says. "It is a revolution with supply chain at the heart, and we should be the people making it happen for the next generation for this new world."
On the path to a net carbon zero supply chain
Read part one of our special Renault Group series, on the Renaulution strategy
The new 'never normal' needs a revolution in supply chain at Renault Group
1

2

3

4

Currently reading

Sustainable supply chains make for sustainable business models