The port of Zeebrugge in Belgium has seen a 3% increase in the volume of finished vehicles processed through 2021 compared to the previous year, bringing the number of vehicles handled to 2.26m.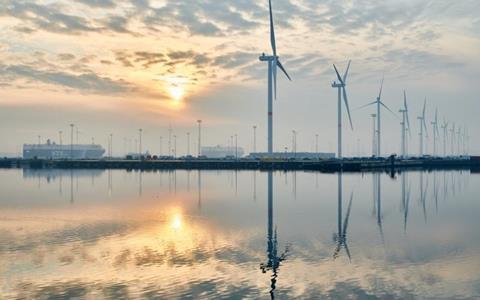 That figure was part of an overall increase in total tonnage handled of 4.6% to just under 50m tons.
Zeebrugge is one of the world's busiest ports handling ro-ro cargo, and its finished vehicle terminals processed the greatest number of vehicles amongst the European ports again last year.
The port has seen a number of investments designed to make operations more sustainable in 2021, as well as continuing with infrastructure developments to increase efficiency.
Terminal operators International Car Operators (ICO), C.Ro Ports and WW Solutions (WWS) have installed new wind turbines to power their respective operations.
ICO installed 11 wind turbines last year supplying 44MWh of power and is using them to sustainably power a mobile heavy-lift crane used for handling industrial equipment and other project cargo, as well as general cargo and containers.
Five more turbines were installed on a wind farm shared between the terminals operated by C.Ro Ports and WWS, representing a combined investment of €20m ($22.6m). The turbines will produce approximately 50 GWh of electricity per year, which will be used locally at the terminals with any surplus connected to the grid.
Those terminal operators are also investing in equipment to handle and charge electric vehicles.
At the Cop26 climate change conference in Glasgow last November, the port authority of Zeebrugge signed an agreement with the adjacent port of Antwerp and the Chilean Ministry of Energy for the supply of green hydrogen, for which the European ports will become a hub supplying wider Europe.
The ports of Zeebrugge and Antwerp are in the final stages of a merger that will lead to a new combined operation under the name Port of Antwerp-Bruges.
Meanwhile, the Zeebrugge port authority has also been working to increase rail connections in and out of the port, including an increase in the frequency between Zeebrugge port and Strasbourg rail hub for container shipments. The service, run in an agreement with Naviland Cargo, now offers a daily roundtrip with a stop in the adjacent port of Antwerp.
Terminal Container Athus and rail operator Hupac also started new rail services to and from Zeebrugge in 2021.
Zeebrugge has also completed work on the construction of a turning bridge over the connecting dock between the Hanze and Bastenaken terminals. The bridge will support the future increase of traffic within the port.
Read more about developments at the port of Zeebrugge and the other finished vehicle handling ports in Europe in our forthcoming annual review, which will be published in the spring digital edition of Automotive Logistics and Finished Vehicle Logistics magazine.