The volume of automotive components being imported into Russian assembly plants has nearly doubled over the past few years but the continued threat of secondary sanctions on the companies supplying them, combined with the impact of Covid-19 on the supply chain, means the Russian automotive industry could shutdown. What it needs for the future is a new localisation strategy, according to Vadim Sorokin, president of Russian vehicle maker Gaz Group.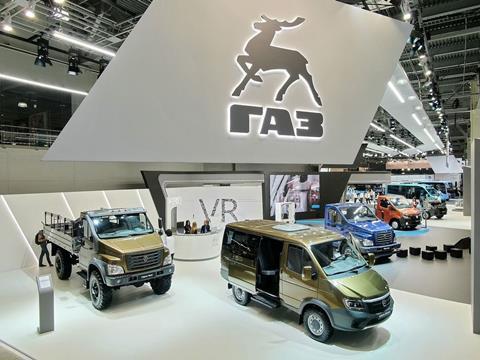 "The refusal to allow two or three global components suppliers to work with Russia could cause a simultaneous halt in production across the entire Russian automotive industry," Sorokin said during an online conference in early July.
Back in 2018 Gaz Group faced supply chain disruption because several European component suppliers ceased trading with the company following US sanctions on companies owned or controlled by Oleg Deripaska.
The biggest impact was on the production of Gaz's light commercial vehicle, Gazelle Next. As reported in June last year, Gaz purchased a broad range of components from Daimler and Volkswagen but those companies severed ties with Gaz when faced with secondary sanctions by the US. In addition, the Russian carmaker purchases some components from Cummins, Magna, Isri, Edag, Takata, Webasko, Delhi and other non-Russian suppliers.
That situation has been made worse by the impact of the coronavirus pandemic with the risk of supply chain disruption caused by plant and transport link closures.
In short, the Russian automotive components industry is in crisis, according to Sorokin. He said government policy on domestic car production attracted the world's biggest carmakers in the country, who brought their tier one suppliers with them. In 2005 Russia introduced special economic zones to attract foreign automotive companies and a lot of Russian parts suppliers were not able to compete.
"In fact, we have lost our automotive components industry," he said. "If nothing is done, two-thirds of the investment allocated in the Russian vehicle industry will have been spent on creating jobs in China, South Korea, the US and EU, but not in Russia," Sorokin added.
The government is yet to react to the Gaz Group's proposal for a new localisation effort.
No room for growth
Russian parts suppliers are also facing a tough market because of low sales on the domestic vehicle market, according to Igor Morzharetto, partner of the Russian consulting agency Autostat.
The investors who pumped money into new projects in the industry over the past decade had been counting on sales of between 3.5m to 4m vehicles per year but the actual figure is below 1.8m, said Morzharetto.
The industry is indeed in crisis because the government has no understanding of what technologies need to be developed in the first place, and yet some carmakers, including Renault, Nissan and Volkswagen, are exporting parts from Russia. For example, Russian components manufacturer Fritex has recently got a green light to supply some components to Volkswagen, Skoda and Faurecia in Germany, Slovakia, and the Czech Republic.
There are also new projects underway, including Hyundai's $230m engine plant in St Petersburg. The company disclosed that the engines could also be exported to some assembly plants in Europe.