Just because an electric vehicle (EV) has fewer moving parts that doesn't mean the supply chain and logistics planning behind its build is a simpler process.
Delegates at this year's Automotive Logistics and Supply Chain Global Live conference recognised that organising the supply chain and logistics for the future manufacture of electric and autonomous vehicles mean thinking about them as complex pieces of technology.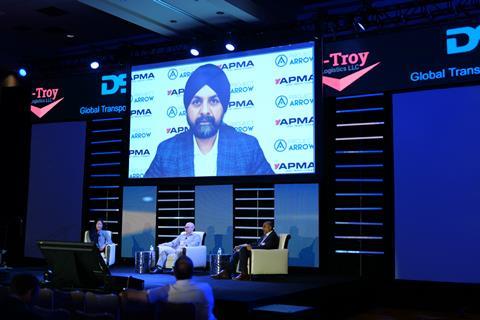 "We hear all the time that EVs have fewer moving parts so there is less for a freight forwarder to do and less logistics and supply chain involved," said Eva Ames, director of the Electrification and Mobility Competence Center at global logistics provider DSV. "I argue that vehicles have never been more complex and we need to think of vehicles not just for their physical components but also their software."
With the average vehicle now equipped with around 1,400 semiconductors, according to a recent report published by Bloomberg, components can have multiple levels of software included on them.
"You could have one physical component in your warehouse and a million different software levels on it [which for] the vehicle makes it a 1m different SKUs," said Ames.
She went on to say that supply chain professionals needed to incorporate such considerations into their plans but in doing so they could also better recognise the opportunities for redefining the supply chain. That extended to connecting the aftermarket to the production line and joining up the supply of components more comprehensively. The strategic advantages of such an approach were a way to better optimise time and cost, with better results for both the OEM, parts supplier and logistics partner.
Connected parts
One of the opportunities that software-rich components offer the logistics and supply chain part of the business is their potential for greater connectivity. For one thing that brings in advantages in predictive analytics for the service parts side of the business. It also means that vehicles can be update over-the-air.
"What is the value of having more intelligence on the vehicle and in its ecosystem if it doesn't benefit the serviceability and reliability of that vehicle," asked Colin Dhillon, chief technology officer at the Automotive Parts Manufacturers' Association (APMA) of Canada.
That advantages of vehicle-to-everything (V2X) connectivity is that you can include the network of service centres, according to Dhillon.
More accurate analytics on the performance of intelligent parts may become more important as patterns of mobility change. For one thing, a greater take up in the shared use of autonomous vehicles in city environments could mean a higher incident of replacement parts as those vehicles were used harder.
"There are companies that are pretty far along with the concept of fleet sharing," said Ames. "Is the future in cities one of autonomous vehicles in a fleet sharing system that has a really high utilisation rate that… [requiring] higher durability targets similar to the commercial heavy truck industry?"
One other consideration for the greater complexity involved in vehicle parts going forward relates to security. Colin Dhillon pointed out that the pace of the major advances being made in vehicle technology risked leaving supply chain planners behind the curve, something that raised the issue of cyber-security.
"The challenge we face… is that we have more than 100 ECU computers on an average premium vehicle today and there is a big push to use automotive ethernet," he said. "Think of cybersecurity alone and the challenges we are going to face through the supply chain, and how important it is for the supply chain to be cyber secure as we try to build the vehicles of today and tomorrow."
Watch all of the main sessions from this year's Automotive Logistics and Supply Chain Live conference