S&P Global used this year's Association of European Vehicle Logistics conference to highlight some automotive industry challenges just around the corner: income decline, rising vehicle prices, decarbonisation effects and market uncertainty
This year's conference held by the Association of European Vehicle Logistics (ECG), which took place between October 12-13 at The Hangar congress centre in Copenhagen, attracted a nearly 500 attendees and delegates. The event offered key insights into the state of automotive logistics in the region and beyond.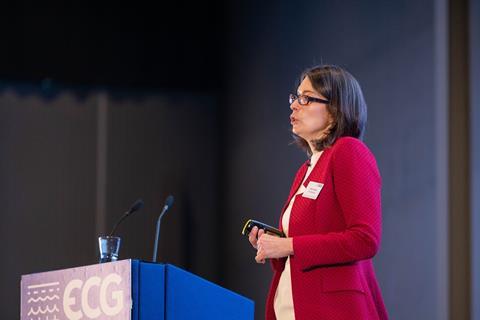 In her keynote presentation on the light vehicle demand outlook, Tatiana Hristova, S&P Global's director of light vehicle demand forecasts in the EMEA region, looked into the market dynamics influencing automotive production.
S&P highlighted there are major global automotive challenges as vehicle markets transition toward electrification. The automotive industry is currently grappling with significant challenges, primarily stemming from decreased incomes and escalating vehicle prices, sure to have a knock-on effect for auto production levels and strategies. This has led to a situation where vehicles, especially in the B-segment, have become less affordable in regulated markets. The affordability concerns have raised questions about the viability of certain market segments.
Segment and powertain structures
One of the pressing concerns is the impact of decarbonisation on smaller and simpler (often more affordable) vehicles, particularly evident in Europe. The A-segment has already experienced a decline, and the entry-level B-segment is also facing challenges. The question that emerges is whether there is a potential comeback for these segments through electrification, according to S&P.
Meanwhile, the analyst firm found that there has been a notable surge in demand for D-segment SUVs, primarily from financially solvent buyers with families. However, Hristova said the sustainability of this demand is still a subject of debate.
The shifting landscape of powertrains is predominantly driven by CO2 regulations in advanced markets. There is a clear global trend towards electric vehicles (EVs), reflecting a concerted effort to reduce carbon emissions, with hybrids increasingly seen as a transitional technology on the path toward fully electric vehicles. This is particularly the case in regulated markets such as the European Union. The variability in domestic market regulations further complicates the powertrain landscape, with regulations such as Euro 7 emission standards in Europe due in 2025 time covering cars, vans and commercial vehicles in a single legal act for the first time. It aims to further lower emissions from road transport and sets limits for non-exhaust emissions such as particles from brakes and tyres. It will also cover performance requirements for battery durability in electric cars.
There are similar regulations in the US, covered by the Environmental Protection Agency and the Inflation Reduction Act that are influencing carmakers' production strategies.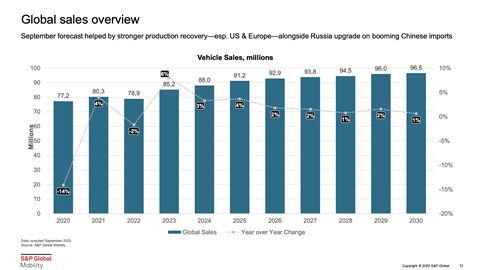 A shifting landscape
Established automotive manufacturers are facing an uphill battle in defending their market positions, particularly in regulated markets. The emergence of new brands with alternative business models, exemplified by Tesla, has disrupted traditional market structures worldwide.
Moreover, mainland Chinese OEMs are expected to expand their global presence and garner substantial market share with their battery-electric vehicles (BEVs) in the medium to long term.
This presents a significant challenge to the established players and further intensifies the competitive landscape in the automotive industry.
As the world entered 2023 fully open for business, it did so with some residual hangover effects from the Covid-19 pandemic. The recovery cycle from the pandemic continues to shape the automotive industry landscape. Supply chains have largely been restored, but there are still some residual supply constraints, notably in the semiconductor chip sector.
According to S&P, the market is evolving into a demand-led cycle, reflecting shifting consumer preferences and requirements.
New car prices may not return to previous levels as the market mix normalises in response to the easing of the chip crisis. Electrification remains a key factor, particularly in regions like Europe, where the electrification push is adding to the cost equation.
S&P pointed out that a potential price war among EVs in mainland China is also on the watchlist.
In terms of ongoing pent-up demand, the outlook for 2024 is mixed. Sluggish economies and consumer fatigue because of the rising cost of living are having their impact. S&P also looked at the issue of regional variations, with different regions exhibiting varying dynamics. It found that mainland China's comeback remains uncertain, and the issue of the US facing ongoing labour strikes continues to pose a challenge for automotive production.
Europe's recovery is influenced by a variety of factors that could limit the midterm outlook for the automotive market. These include concerns over energy security, geopolitical tensions, climate policy (especially related to net-zero initiatives), evolving auto regulations and the still-uncertain trajectory of electrification. These factors will undoubtedly impact the automotive market in 2024 and beyond, making them crucial to keep an eye o