On March 8, the Turkish Customs Service suspended transit of western-sanctioned goods to Russia, including finished vehicles and automotive components.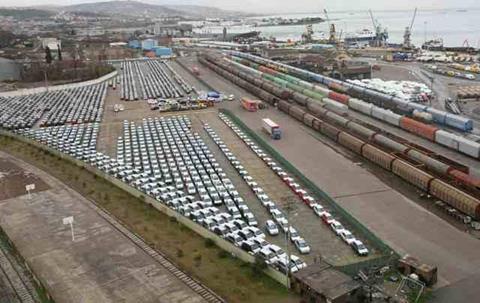 The restrictions were not confirmed publicly, but local market participants claimed the Turkish government handed companies a list of banned foreign goods and instructed them not to transship those to Russia, no matter from which country the goods originated.
Currently, hundreds of finished vehicles are stuck in Turkish ports waiting to be cleared for export to Russia, said Ararat Mardoyan, head of the Russian firm CoolCargo, which specializes in the parallel import of finished vehicles. Transit through Turkey is shut down not only for finished vehicles but also for automotive components and spare parts, he added.
In 2021, Turkey was the tenth largest supplier of automotive components to Russia, delivering goods worth $1.32 billion, according to Alexander Nosko, head of the service department of the Russian dealership Fresh Auto. Volumes increased significantly in the wake of sanctions against Russia and Turkey has become the key transit hub for European automotive components on their way to the country, though the concrete figures are not available.
Adding pressure
The restrictions could add pressure to supply chains in Russia that are already strained. Russian carmakers import a long list of automotive components through Turkey, and the new restrictions could force them to stop conveyors, Russian newspaper Avtovzglyad reported, citing sources in the automotive industry.
"As the players of the Russian logistics markets using the Turkish route report off-the-record, most of them are waiting for an official resolution of the situation," Avtovzglyad said, estimating that nearly half of the automotive components Russian companies expected to get in the past few weeks are stuck in Turkish terminals now.
Russian carmakers Avtovaz and Gaz have already experienced severe problems because of a lack of automotive components from suppliers in the west. Avtovaz has simplified its Lada models, abandoning critical components, such as ABS. In addition, the automaker has been assembling unfinished vehicles, which are placed in special parking lots to be completed when the needed components are available.
Loopholes remain
Some importers have managed to get their goods from the Turkish ports, sending them first to Kazakhstan, another country serving as a major transit hub for sanctioned goods imported to Russia.
However, the restrictions indicate that western countries have decided to crack down on parallel imports – the scheme Russian businesses actively used in the past few months to circumvent sanctions.
"The key factor in the current situation, obviously, is that the US is now actively putting pressure on Middle Eastern countries to encourage them to comply with sanctions," said Artem Adrianov, an analyst with the Russian Institute of International Studies.
"Turkey's actions are most likely associated with the recent expansion of the US export control list, which included consumer electronics," said Ivan Timofeev, program director of the Russian International Affairs Council. He explained that under the recently renewed sanction regime, the supply of goods through third countries, bypassing restrictions, "became a criminal offence in the eyes of American law, and everyone involved in such schemes became accomplices"