An escalation of the conflict between Russia and Ukraine promises to partly disrupt supply schemes in Eastern Europe, wreak havoc on new vehicle production in the post-Soviet space and even cause a global shortage of some automotive components. Vladislav Vorotnikov reports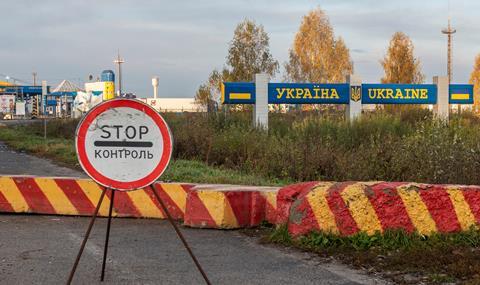 Tensions have soared in recent months in Eastern Europe as Russia reportedly massed more than 100,000 soldiers and heavy weapons at its border with Ukraine, raising fears of an invasion. High-stake talks between Russia and the West have so far failed to de-escalate a tense standoff between the two sides. Meanwhile, local businesses warn that a possible outbreak of violence in the region could be devastating for the automotive industry.
Political conflicts in the past decade have already taken a toll on the cost of automotive logistics in Eastern Europe, according to Alexandra Dubrovskaya, compound and vehicles operations coordinator at Chrysler Group in Russia. In the past, a substantial share of finished vehicles and automotive components were supplied to Russia from Europe via Ukraine. Now, it is not that much.
"Since 2014, transit supplies [between Russia and Europe] through Ukrainian territory have been shut down for us. Due to problems [with migrants] on the Belarus-Poland border supplies through Belarus have also shrunk. We are left with only a narrow corridor in the Baltic States, with which we also have tense political relations," Dubrovskaya said.
She added that adjustments to the supply chain in the past few years have caused an increase in distance, delivery time and logistics costs.
"Global turmoil on the logistics market because of trade wars and the coronavirus means supply schemes have been disrupted," said Dubrovskaya. "Unfortunately, because of political issues, these problems have grown like an avalanche. In Russia, we do not expect an escalation of the conflict on our part but the fears voiced by our partners mean they are making their own adjustments."
Mother of all sanctions
The US authorities are on the verge of approving "the mother of all sanctions" against the Russian economy, warning there would be no appeasement as the Russian president contemplates an invasion of Ukraine.
Among other things, the sanctions are expected to target US automotive components exports to Russia. The announcement has prompted some carmakers to urgently look into their list of suppliers, analysing the possible risks.
"We will be able to assess the depth of impact only after a deep analysis of the list of components obtained from the US and the possibility of replacing them with local components, or those from other countries," said Roman Skolsky, director of communications for Nissan RBU East.
"Given that our models are deeply localised [in Russia], we do not expect a significant impact on car production in Russia," Skolsky added.
"I won't say that restrictions on the supply of automotive components from the US will have a very negative impact on Russian companies," said Dmitry Babansky, head of Moscow-based analytical agency SBS Consulting. He added that Russia imports from the US – primarily fuel tanks, exhaust pipes, steering wheels and similar products – could be sourced elsewhere.
However, things are promised to get really ugly for the Russian automotive industry if the European Union joins the US sanctions, and even moreso if the country gets disconnected from Swift – the Society for Worldwide Interbank Financial Telecommunications is the global standard for payment and securities trade transactions.
"The Russian cutoff [from Swift] would terminate all international transactions, trigger currency volatility and cause massive capital outflows," a report from the domestic and foreign policy think-tank Carnegie Moscow Center indicated.
Russia established its own payment system, SPFS, after it was hit by Western sanctions in 2014 following its annexation of Crimea early that year. Its existence means that the trade between Russian companies would continue once the country is disconnected from Swift, but paying foreign companies for automotive components and logistics services would become virtually impossible.
"Major international restrictions on automotive components imported to Russia would virtually put an end to finished vehicle production in the country," commented a source in the Russian automotive industry who wished not to be named. The source pointed to Gaz Group as an example, a Russian vehicle maker that has remained under the threat of the US sanctions for several years. The company has promised to cease production if the restrictions are actually introduced.
Oleg Deripaska, owner of Gaz Group, warned in 2019 that the day that sanctions come into full effect could be the last functional day of Gaz Group's production operations.
Speaking during a meeting with the Russian Parliament at the end of 2021, the Industry and Trade Minister Denis Manturov estimated that the average localisation rate in the Russian automotive industry was 67%, reaching 75% on some particular models.
"Our authorities are proud of beating some localisation targets, but this doesn't matter whether you have 10%, 50% or 90% localisation. You cannot produce a finished vehicle using only 90% of components," the source said, adding that problems with withdrawing revenue from Russia would also push some localised western companies to leave the country, which would be like a domino effect, ruining the Russian automotive industry from top to bottom.
Back-up plans
On the other hand, Dubrovskaya expressed confidence that the extensive sanctions promised to be introduced against Russia are likely to have a short-term impact.
"Finished vehicles assembled in Russia are successfully exported back to Europe, and with the current shortage of finished vehicles, no one will refuse them," she said.
Over the past few years Russia has achieved some progress in finished vehicle exports. During the first nine months of 2021, the country exported 73,200 finished vehicles, 43% up compared to the same period the previous year. In monetary terms, exports jumped by more than 50%, reaching $1.1 billion. Most exported finished vehicles are assembled in the Russian north-west and exported to Europe through the St Petersburg's sea ports.
"Perhaps, for some period, the deliveries will be suspended to establish new schemes," Dubrovskaya said, adding that such things had already taken placce on the post-Soviet space when, in 2014, some goods subjected to economic restrictions were re-exported to Russia through Belarus.
"All these threats do not add stability but I believe that experienced people who have been in this business for a long time have already calculated the risks and outlined several backup plans in case of an unfavourable development of the situation," Dubrovskaya said, adding that, like always, there would be both losers and winners.
"Let's not forget that in business any circumstances can turn into both losses and profits; a lot depends on the managers," she added.
Money loves silence
The Russia-Ukraine conflict promises nothing good to Ukraine either. Anna Derevyanko, executive director of Ukraine's European Business Association, commented that the automotive logistics business now has to face considerable uncertainty because of the standoff.
"Without doubt, an escalation of the conflict would mean all industries are impacted to greater or lesser extent, including the automotive industry and logistics. However, the degree of that impact will depend on the size and the depth of the escalation," Derevyanko said, adding that the business has a cautious optimism in regard to the current conflict.
Derevyanko also admitted that the tension currently lingering in the region was impacting business and investment flows into Ukraine, including its automotive industry.
During the past few years, several major global automotive components suppliers launched production facilities in Ukraine, including Fujikura, Kromberg & Schubert, and Leoni, to take advantage of the cheap but experienced labour force and a free trade zone agreement with the EU.
"Potential investors can watch the situation in the country from a distance for the time being and not make serious breakthroughs to enter the local market," said Derevyanko. "As the saying goes: money loves silence."
Derevyanko said that the Ukrainian automotive industry was hoping that the current situation will not last for long, and no plan B or C would be needed.
A global shock
However, the hard-hitting sanctions could actually hit back at western economies, as Russia accounts for 45% of the world's palladium production. Restricting palladium imports from Russia could cause a global shock in the automotive industry, some analysts have claimed.
As sanctions were threatened, the global price of palladium jumped by 30% in January this year, from $1,750 per ounce to $2,400 per ounce, according to Dmitry Skryabin, manager of the Moscow-based financial firm Alfa-Capital. Coupled with the recovery in global demand for vehicles, export restrictions on Russian palladium could cause an acute shortage of some crucial components and drive palladium price to an all-time high.
"We assume that a fairly high pent-up demand for new vehicles has formed on the market over the past year and, with the normalisation of chip supplies, manufacturers can expect a record number in the demand for vehicles [in 2022]," Skryabin said.
Oksana Lukicheva, commodity market analyst at Otkritie Broker, said: "The [automotive] market is concerned about the possible cessation of palladium supplies from Russia due to new sanctions." She added that the degree of risk in the market was currently rather high.
On the other hand, a possible shortage of palladium on the global market could be met by producers in Zimbabwe and South Africa, according to Maxim Khudalov, director of the corporate rating department at Russian consulting agency Akra. Still, it would take time for other suppliers to ramp up production, and by that time, the damage to the automotive industry will already have been done.