Russia's military invasion of Ukraine has already had widespread repercussions across Europe's automotive supply chain and supporting multimodal logistics network.
All production in Ukraine has stopped and there have been plant closures in Europe because of parts shortages and disruption to the flow of goods. Carmakers, parts suppliers and logistics providers are looking for contingencies to navigate the disruption. Production in Russia is also being affected because of inbound supply problems.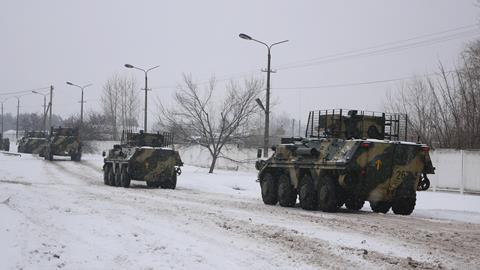 Insurance costs and coverage are also being affected and companies are reviewing the impact of sanctions against Russia on their operations there. Cyber-security breaches could also impact production and logistics, as has already happened with Toyota, though it has not been confirmed that the attack came from Russia.
Ukraine has 20+ global automotive companies resident within its borders and more than 30 automotive plants, with majority located in the west of the country. Many carmakers, suppliers and logistics providers are still working to get a clear picture of how the very uncertain situation is impacting their operations.
Skoda shortages
Eurocar is one of the biggest vehicle makers in Ukraine. It has a plant in Solomonovo, in the Uzhhorod district, and is the official manufacturer of Skoda passenger cars in the country. The plant, which has now been shut down, makes the Skoda, Superb, Kodiaq, Karoq and Fabia Combi models from imported semi-knockdown kits (SKDs) for the local market.
A spokesperson for Skoda Auto said the company's main concern was for its employees, including those at its headquarters in the capital Kyiv and those at its parent company's VW Group Rus plant in Kaluga.
As with the Eurocar plant, Skoda's suppliers in Ukraine have shut down and this is now leading to parts shortages at the carmaker's production elsewhere, including Skoda's Mladá Boleslav plant in the Czech Republic.
In a statement the carmaker said: "Skoda Auto is facing critical supply shortages of parts from several local suppliers that has had an effect on some of our models. This is the reason why we will limit production of the Enyaq iV from this week on [which is made at Mladá Boleslav]. To resolve this situation, our experts work hard finding available alternatives to help prevent adverse production impacts."
The invasion of Ukraine by Russia and the sanctions now being imposed internationally as a response has repercussions for Skoda's exports. According to the carmaker, the Russian market is one of its most important markets globally and in 2021 Russia was the second-largest market overall, with a total of 90,400 vehicles were delivered there.
Skoda also makes vehicles in Russia. The Octavia, Karoq and Kodiaq are produced in Nizhny Novgorod, and the Rapid at the VW Kaluga plant, though that could be in jeopardy now.
"Production at the Russian plants is still running but the impact of possible disruptions to the supply chains is being continuously analysed," said the company in a cautious statement.
Other carmakers have taken measures to halt vehicle exports to Russia, incluidng Daimler, GM, Jaguar Land Rover and Volvo.
Semiconductor sanctions
At Renault, meanwhile, production at the plant in Moscow has been suspended for one week (February 28-March 5) because of logistics issues and the supply of parts. Renault is also the majority stakeholder in Russian vehicle maker AvtoVaz, which has a big assembly plant in Togliatti. Renault's spokesperson said that plant closed on February 28 because of a shortage of semiconductors.
The supply of semiconductors has been cited as a source of potentially damaging sanctions for Russia. The US announced a programme of export controls on Russia last week to which global semiconductor manufacturers, including Intel, Nvidia and Taiwan Semiconductor Manufacturing, have agreed to adhere.
Talking to the Financial Times, Kevin Wolf, a former US senior commerce department official, said that the Biden administration had "set out a structure to cut Russia off from chips and said that this is a policy and a mission". He added that there was "massive allied cooperation" on the plan and it was not going away.
French logistics provider Gefco, which has operations in both Ukraine and Russia, said the recent sanctions imposed by the EU and US would impact its majority shareholder Russian Railways by limiting new financing. However, the company added that the sanctions would not impact Gefco's business operations and that Gefco remained "an independent, apolitical organisation".

The company went on to say that it is in close contact with Gefco teams in Ukraine and the region and is supporting them in any way it can. "Our local offices are also mobilised to help humanitarian organisations provide aid to the country and we are proud of their efforts," said Gefco in a statement.
Back at Skoda, the company was keen to outline the seven-step humanitarian programme it was putting into effect (see box), including a €400,000 ($449,000) donation to the Czech non-governmental organisation, People in Need. VW Group is also donating €1m to the UN Refugee Agency.
"If necessary, we will help any Ukrainian workers to build a safe life in the Czech Republic for their family," said Skoda. "Specifically, we will assist with visa applications, accommodation, language courses, health care, integration, education and ideally, also employment."
Read more about the impact of sanctions on component supply to Russia
Domino effect
Materials and parts suppliers have also closed operations in Ukraine. ArcelorMittal, the world's second largest steelmaker has stopped mining and production operations in the country. The company said it was looking at contingency plans to continue supplies.
Sumitomo, which supplies wiring harnesses to the automotive industry, has also halted all operations, as has Leoni, which supplies cable harnesses to carmakers in wider Europe. Those closures, and other parts shortages from Ukraine, are thought to have affected VW production at the Dresden and Zwickau plants in Germany. Dresden will shut down for three days next week and Zwickau, which now exclusively makes electric vehicles (EVs) will shut for four days.
Leoni said it was working to solve supply problems following the closure of its two Ukrainian plants.
"We are working at full speed, in close cooperation with our customers and suppliers, to manage the consequences of the current production interruptions at our two plants in Stryi and Kolomyja, triggered by the Russian war against Ukraine, as effectively as possible for all concerned," said the company in a statement.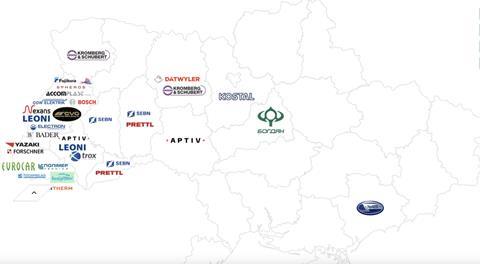 Leoni has set up a task force to analyse and evaluate "dynamic developments" and said it was currently examining every option regarding production. However, it admitted that there were problems with logistics to and from Ukraine. Leoni's other plants in countries neighbouring Ukraine and in North Africa are increasing production capacity to make up for the shortfall caused by the closures of the Stryi and Kolomyja plants.
Leoni said it was also giving Ukrainian workers the option of leaving the country with their families for the time being and offering them new jobs in Leoni plants in other countries, as well as providing administrative assistance in getting started.
As for its factories in Russia, Leoni said it was closely monitoring the effects of the war-related sanctions against Russia.
"We are also aware of our responsibility for our approximately 2,500 employees in Nabereznye-Chelny and Zavolzhie," said Leoni. "At the same time, there is no question that, as part of the international community, we will support and implement any political decision that is likely to strengthen peace, freedom and democracy in Europe, and the world – such as sanctions."
Russian consequences
Tier one supplier Bosch has also closed its facilities in Ukraine, which includes a manufacturing site refurbishing starters for the automotive aftermarket. The company said it was devoting all its energies to the welfare of its employees and their families. Bosch is making facilities in neighboring countries, including Poland and Romania, available as refugee accommodation, as well as donating food, water and fuel, and paying salaries in advance.
As with Leoni, Bosch has two plants in Russia making automotive parts and said it was currently evaluating the effect sanctions would have on its business there.
"We still have only a vague idea of the long-term political and economic effects," said the company. "However, it is clear that we can expect significant consequences for our operations throughout the region and beyond. Through our crisis team, we are keeping a close eye on the extremely volatile situation and developments, and preparing for possible scenarios."
For its part the European Automobile Manufacturers Association (Acea) said it was standing with a joint statement issued the Confederation of European Business (BusinessEurope), a lobby group representing enterprises of all sizes in the EU and seven non-EU European countries.
The group said it strongly condemned the invasion of Ukraine by Russia, which was a clear violation of international rules and posed a real threat to peace and security in Europe and beyond.
However, it warned that sanctions against Russia needed to be well targeted and coordinated across international business.
"Business is not happening in a vacuum and will stand behind the measures considered necessary by EU institutions, said the statement. "However, European businesses will be bearing the burden, including companies trading and operating in Russia. In this context, early guidance and as detailed as possible information about the economic sanctions together with supporting measures will be needed to mitigate the impact.
Freight forwarding and customs brokerage provider, Flexport, also said in a statement that widening sanctions against Russia could complicate customs and billing activities leaving many companies that are reliant on supplies from Russia without access to key materials.
Ports and shipping
According to Lars Jensen, CEO and partner at Vespucci Maritime, and a container and shipping advisor to the industry, the closure of Ukrainian ports will worsen the congestion problems in ports and terminals in the east Mediterranean and the Black Sea.
Prioritising the safety and wellbeing of its staff first, shipping giant Maersk made the decision as Russian troops crossed the border into Ukraine to stop all port calls to the country and to stop all orders to and from the country. Cargo currently en route to Ukraine is being discharged in Port Said (Egypt) and Korfez (Turkey), according to the company.
Maersk has now stopped all shipments to and from Russia by ocean, rail and air except for foodstuffs, medical and humanitarian supplies. It warned customers that Customs authorities in the EU and UK are now inspecting all units to/ and from Russia transiting their ports to identify sanctioned and restricted shipments.

"This is a direct consequence of the sanctions, but there are also indirect impacts as all cargo is getting delayed and our already congested transshipment hubs are getting more pressured," said the company in a statement. "This is a global impact, and not only limited to trade with Russia."
At the same time, CMA CGM is redirecting Ukrainian cargo to the ports of Constanza (Romania), Tripoli (Libya) and Piraeus (Greece).
Hamburger Hafen und Logistik (HHLA), which has invested $170m in operations at the port of Odessa in Ukraine, said it was particularly concerned about the 480 employees it employed at its terminal. The port was closed on February 24 by Ukrainian authorities and all employees left the terminal with a month's advance in salary. Cargo is now being diverted to other destinations. HHLA has set up crisis team on site, which is in close contact with the main international office in Hamburg, Germany.
The company said its business was not fundamentally threatened by the closure of the terminal at Odessa. Sanctions imposed on Russia since its occupation of Crimea in 2014 meant that trade with the country via the port had already fallen by a quarter.
Logistics provider DSV said it had also ceased all operations across the country.
In related news, a ship carrying finished vehicles bound for Russia was seized as it crossed the English channel last weekend (February 26) for being in breach of sanctions being imposed on the country. The Russian-flagged Baltic Leader was transporting the vehicles to the port of St Petersburg when it was intercepted by French forces and diverted to the port of Boulogne-sur-Mer in northern France.
Stay posted for updates to this story as the situation develops
Skoda's seven-step humanitarian aid plan
Donating €400,000 to Czech not-for-profit NGO, People in Need
Kovo MB trade union supporting fund raising efforts at Skoda plant in Mladá Boleslav with €40,000 donation and other fundraising actions. Refugees will also be provided with accommodation. Kovo KV and Kovo VR trade unions will be supporting local municipalities in Rychnov nad Kněžnou and Vrchlabí with other activities.
Help for Ukrainian workers to build a safe life in the Czech Republic for their family, including assistance with visa applications, accommodation, language courses, health care, integration, education and employment
Provision of €80,000 to the three towns of Mladá Boleslav, Rychnov nad Kněžnou and Vrchlabí to help in the provision of support for refugees from Ukraine – €40,000 to Mladá Boleslav and €20,000 each to Rychnov nad Kněžnou and Vrchlabí
Support for the fundraiser being organised by Mladá Boleslav authorities for the hospital in its Ukrainian twin town, Tiačiv. Skoda will be donating €40,000 and the Kovo MB trade union will be adding a further €40,000
Transport donated items via Skoda Logistics and provision of cars to Czech aid organisations to help with delivery of humanitarian aid
Encouragement of Skoda employees to donate to money and materials to three fundraising efforts: Mladá Boleslav fundraising, Mladá Boleslav material donations, Rychnov nad Kněžnou material donations