The renegotiated rules on free trade in North America, known as USMCA, have been in effect six months but are coming under stricter enforcement. Trade experts from Toyota and Canada's automotive supplier association point to risks around compliance and a lack of clarity in some rules, especially around 'alternative staging regimes' on localisation – with the risk that some suppliers could lose significant business.
For the automotive industry, the US-Mexico-Canada Agreement (USMCA) has made the rules on the content of a vehicle more complex. The regional value content (RVC) for passenger vehicles and light trucks will increase from 62.5% to 75% over the next three years. That means the content of the vehicles will require more parts and materials to originate from within North America to qualify for preferential treatment. For main components, the localised content increases to 70% from 65% over the same period, and for complementary parts the content moves from 60% to 65%. The added complication is that there are twice as many categories of parts required for compliance as before.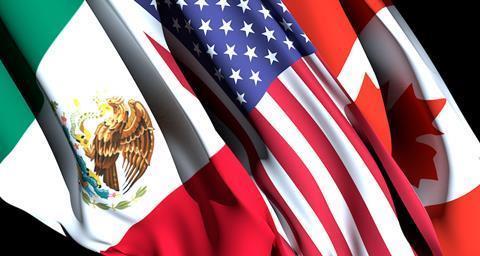 USMCA also includes a new labour value content requirement, meaning that to qualify for preferential trading terms, at least 40% of the content value of a passenger vehicle (and 45% for light truck) must be made in North American factories where workers make an average of at least $16 per hour.
"We went from one threshold of 62.5% RVC (regional value content) under NAFTA to several different rules: an overarching RVC rule, other thresholds that you need to meet for steel and aluminium core parts, core and complementary parts, and of course, a labour value content requirement – a wage rule for workers," noted Leila Aridi Afas, director of international public policy at Toyota Motor North America (TMMA), speaking at the Automotive Logistics and Supply Chain North America Live conference.
Mind the gap
Enforcement of the rules began on January 1 this year so that companies had a chance to get their paperwork in order but there are bumps in the road ahead for the automotive industry as the finer details are worked out. One of the major obstacles for tier suppliers in the region is a lack of visibility on sourcing guides for current and new vehicle programmes.
In the face of the Covid-19 disruption, suppliers have been working with carmakers on the required certification, identifying gaps in the legislation that need to be bridged.
"We are ongoing through that same gap analysis and we've seen a list now, from the supplier point of view, of 13 automakers with alternative staging regimes," said Flavio Volpe, president of the Automotive Parts Manufacturers' Association (APMA), Canada's national association of parts and equipment makers.
Carmakers can request an alternative staging regime (ASR) if the importer of the vehicles intends to make a claim of preferential treatment under the USMCA and the manufacturer has determined that it will be unable or unlikely to be able to meet the rules.
What that means is carmakers have permission from all three countries for a five-year extension on the transition to RVC in exchange for them submitting detailed plans for current vehicle programmes, including sourcing guides for those programmes and what the timescale is for the new programme rollouts.
However, according to Volpe, the suppliers don't know which of the carmakers' programmes have an alternative staging regime because they are not being published. Instead, it is incumbent on them to work with their individual customers about the details of each of the different regimes. To do that, companies need to dedicate resources at an intermediate level.
"Where the milk gets in the coconut is, how much leeway will the new administrations in Washington, Ottawa and Mexico City, give us to figure out this last element," said Volpe. "We don't have the new rules or dates, though we may have 13 sets of new rules and dates over the next eight years. You cannot take this one lightly. Once we figure it out, then prosperity for everyone, but there is a lot to figure out."
Supplier survival
Needless to say, USMCA requires a detailed analysis of sourcing and where things are coming from. Like other carmakers that is something Toyota is continuing to work on with its suppliers.
"For Toyota in North America, about 75% of our spend in building a vehicle is in our supply base," explained Afas. "We have over 500 suppliers across the US, Canada and Mexico, and it's a burden on them to do the certification and understand where things are coming in from; it is not only at the component level or subcomponent level but also raw material level."
Tier suppliers are good at working out the details and traditionally have a better understanding of regulatory obligations because of the amount of work they have internalised, according to Volpe. However, the transition period to the full implementation of USMCA requires more sophisticated nimbleness in working through the regulatory fine print than a supplier would normally have inhouse. Added to which, those suppliers are facing brand new requirements for the first time.
"Two thirds of the 500+ suppliers [Toyota has] are small to medium-sized firms," said Afas. "They don't have the armies of trade compliance folks that the bigger companies have and can't really do the scrubbing, and dig down deep in those sheets to find things out."
The situation has been complicated by Covid and the fact that administrative workers at the suppliers were either furloughed or working from home, with no access to files and consumed with securing supplies needed to meet contractual requirements in the face of supply chain disruption. For those smaller companies there is an external accounting and consulting sub-sector but the costs can be high.
"It puts [the suppliers] in a really difficult position and … one of our fears is not just long-term supply chain disruption but it might mean destruction and some suppliers just not making it through," said Afas.
That threat hangs over the supplier base at the moment. Most companies had enough money in their balance sheets to survive the two-month shutdown between March and May last year – the first industry-wide shutdown in the history of North American automotive manufacturing. The question is, could they survive another one?
According to Volpe, the USMCA has the potential to increase absolute growth in supplier purchases by 25% but that does not mean that an individual supplier is guaranteed 25% more business.
"The sector's volume will grow by 25% but you could be one of the suppliers that loses everything to a new entrant or the more sophisticated multi-stratified, multi-product platform tier ones, [who] will get a better opportunity to go for it and grow disproportionately against the smaller ones."
Priorities for the future
While USMCA remains a voluntary contract – carmakers can simply not comply and pay the tariffs, which would push up the price of the vehicle – robust enforcement is expected across North America.
In the US the revised agreement passed through Congress with strong bi-partisan support in large part because of strengthened rules and mechanisms. Katherine Tai, who was credited for her work in getting the agreement through, has now been appointed US trade representative in the new Biden administration, replacing Robert Lighthizer.
Under her direction the government will prioritise the control of the Covid pandemic as a means to recover economic growth before engaging in new deals. However, in the meantime, it will enforce the USMCA.
"The most critical thing is controlling the spread of this virus, getting people safely and sustainably back to work and school, and doing what we can to grow our economy to get out of the pit that we are in," said Afas. "That is really where trade is going to have a huge role to play."
Adding to her point, Volpe said: "We have a new president in Washington that understands that trade is little bit more than yapping and threatening but about opening those routes and I'm optimistic that there is a pent-up, go-global spirit of innovation in the US that will drive prosperity throughout North America.
All sessions from Automotive Logistics and Supply Chain North America Live are available to view on demand here.