Nashville, Tennessee-based less-than-truckload (LTL) shipping firm Yellow Corp has filed for bankruptcy under voluntary Chapter 11 Petitions, blaming losses from delayed operational changes and conflict with the Teamsters Union. Around 30,000 jobs are expected to be lost.
The company is the second largest provider of LTL freight in the US, including parts and materials for the automotive industry, as well as third-party logistics services through its Yellow Logistics division. As of December 31, 2022, the firm had a fleet of 12,700 trucks and completed 14.2m shipments in 2022. The company will now sell of these assets to competitors to start paying off its secured creditors.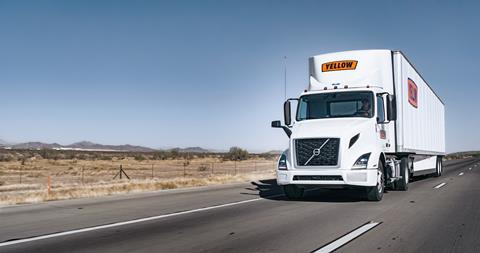 The company had already ceased many operations at the end of July, leading to LTL competitors like XPO ramping up capacity to meet the gap in the market that Yellow has left, leading to rises in freight rates. In its second quarter (Q2) results analysts call last week, XPO said volumes were up year over year already, and that it was handling 3,000 more shipments by the end of July than it was at the beginning of the month. During this time is when Yellow's union workforce said it would strike over missed payments. XPO said it is now looking at further capacity additions to meet the surge in demand caused by Yellow's collapse.
Other LTL competitors in the US, including ABF Freight, Old Dominion Freight Line and TForce Freight, are likely to vie for similar gains.
Although it was not clear from Yellow's financial reporting how significant the automotive sector is for the company, automotive has been grouped together with manufacturing and energy in its sales vertical. Yellow Logistics is also likely to have provided automotive manufacturers third party services, including intermodal, warehouse and cross-border logistics, for example.
On July 27, shortly before ceasing operations, Yellow announced that it was exploring opportunities to divest Yellow Logistics, which it described as "one of the fastest growing 3PLs" in the industry. At this time, it is not clear if Yellow Logistics might still be spun out post-bankruptcy.
The bankruptcy timeline
Yellow ceased operations on 30th July this year following financial problems, putting the blame on a failed attempt to restructure the organisation through its 'One Yellow' business plan. According to the company, this would make Yellow more competitive while strengthening jobs and improving customer service. It said employees' pay would be raised through the plan and more jobs would be created to make the firm "the industry-dominant company it once was".
This required International Brotherhood of Teamsters (IBT) approval, with 22,000 of the 30,000 staff being members of the union. The IBT approved the first phase of the plan but implemented a nine-month blockade which halted the plan's progress, which Yellow said "caused irreparable harm" including direct losses of $137m in adjusted EBITDA.
The trucking company also placed blame on the IBT, claiming it faced "months of public insult" from the union. In a statement following the bankruptcy filing, Yellow said: "IBT leadership spread false claims that Yellow was trying to extract 'concessions' from its union employees. Nothing was further from the truth. Combined with months of refusals to negotiate, IBT leaders' campaign against Yellow caused grave concern among investors, drove away customers and put 30,000 jobs at risk.
On 26th June, Yellow filed a lawsuit against IBT citing breach of contact and loss of enterprise value, which is still pending.
The statement added: "Yellow made it clear to IBT leadership that their blockade of One Yellow severely constrained Yellow's cash flow and its ability to refinance debt. Yellow was forced to take measures to preserve liquidity to give IBT leaders more time to finally engage. Instead, IBT leaders announced a strike against Yellow's then significantly wounded company. Customers fled and business was not recoverable."
Darren Hawkins, CEO, Yellow said: "All workers and employers should take note of our experience with the IBT and worry. We faced nine months of union intransigence, bullying and deliberately destructive tactics."
The IBT deny this and said that the firm has been financially struggling for decades and its members' loss of work at Yellow was "no fault of their own". The union said it denounces any attempt by Yellow "to evade its financial obligations through legal maneuvers".
Sean O'Brien, general president, IBT said: "Teamster families sacrificed billions of dollars in wages, benefits and retirement security to rescue Yellow. [Yellow] shamelessly pin their corporate incompetence on working people."
The IBT added that union members agreed to a pay cut in 2011 to keep YRC Freight in business. In 2020, the US government also gave the company a $700m pandemic relief loan in exchange for a 30% stake.
In its most recent published accounts for Q1 2023, Yellow reported outstanding debt of $1.509 billion. It had operating losses of $9.3m with an operating revenue of $1.16 billion. In comparison, the firm made an operating income of $9.2m in Q1 of 2022 and revenue of $1.26 billion. In the same period, net losses almost doubled, from net loss of $27.5m in Q1 2022 to $54.6m in Q1 2023. At the time, Yellow said the results were impacted by costs associated with the execution of the first phase of 'One Yellow'.