Shifts in consumer preferences, including more SUVs, have left the American rail industry struggling to catch up – but providers are investing in new technology and equipment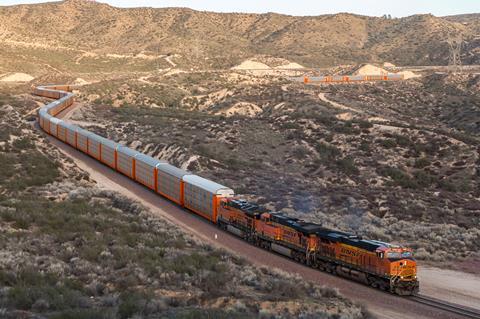 Rail transportation offers an efficient, reliable option for the distribution of finished vehicles, and in an age of increased concern over sustainability, it is also relatively environmentally friendly. This helps to explain why it remains a popular mode for moving vehicles, despite drawbacks such as limited flexibility.
According to the Association of American Railroads (AAR), rail moves nearly 75% of the new cars and light trucks purchased in the US. Rail serves most of the 70-plus vehicle manufacturing plants across North America, including in Georgia, Illinois, Indiana, Ohio and Texas.
For example, BNSF Automotive has a network that offers direct rail service to all major US West Coast ports and 23 automotive facilities. "This includes our inland port logistics parks, providing access to all major metropolitan areas in the western two-thirds of the US," says Dave Fleenor, the company's assistant vice-president. "Our rail network is a critical component of our North American automotive supply chain."
"From an OEM perspective, railroads are challenged with staying nimble when there are supply chain disruptions or changes" – Heather Gilhuly, VWoA
Heather Gilhuly, senior manager, port operations and metrics, vehicle logistics at Volkswagen Group of America (VWoA), believes that rail transport allows for efficient loading, is an economical alternative to trucking and limits vehicle transportation damages, all while offering a more sustainable mode of transport than road. "For long-distance destinations it reduces our carbon footprint compared to trucking miles," she says.
Yet US rail providers are facing increasing competition from trucks, with factors such as the reshoring of vehicle manufacturing expected to help boost the road segment's market position. This means that rail carriers must continue to modernise if they are to compete.
Declining market share
Although rail is the main mode of transport for finished vehicles over long distances, market share has been declining. "This is in part due to the movement of production to the southern states, where the population and demand for new vehicles has been growing the fastest, and the use of short-sea transportation from plants in Mexico into coastal population centers," says Jason Kuehn, vice-president of management consulting firm Oliver Wyman.
The issue of declining marketing share does not arise from an overall lack of railcar capacity across the US, but from shortages of the type needed to transport increasingly popular vehicle varieties.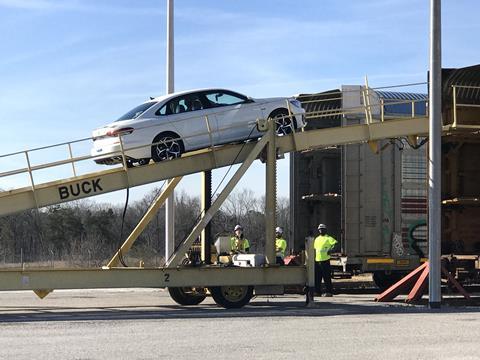 "From an industry perspective – both rail and OEM – there is no shortage of vehicle-carrying railcars," BNSF's Fleenor asserts. "This is evidenced by the fact that there are railcars in storage, ready to accommodate an increase in sales. Over the last eight years, the rail industry has added more than 20,000 railcars to the fleet, investing a significant amount in new automotive capacity. BNSF specifically has doubled our automotive fleet over the last eight years."
However, rail carriers take longer to adjust to changes and have not always been quick to keep up with fluctuations in demand by adapting their fleet and facilities. "Trucking can flex quickly to adjust to changes, whereas rail carriers take longer to adjust," says VWoA's Gilhuly. "Precision railroading implementation has been a challenge in that customers are not fully aware of how the changes will impact their business."
Slow to adapt to larger vehicles
While overall vehicle sales in the US have stagnated rather than grown substantially, Jeremy Berry, spokesperson for Canadian Pacific Railway (CP), explains that the industry has seen a significant shift toward larger vehicles, which must be transported in bi-level railcars, and away from smaller vehicles that can be moved in tri-level railcars. This is driven by market demand for vehicles such as SUVs and pick-up trucks.
"This shift requires significant investment industry-wide in a fleet that has a serviceable life measured in decades," says Berry. "We are starting to see more equipment added, and when we combine that with the precision scheduled railroading model, it leads to more efficient railcar cycles and more reliable transit times."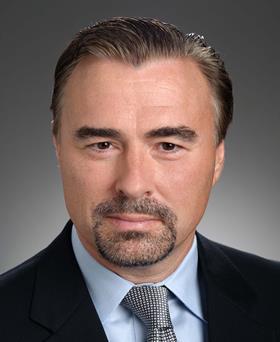 According to Gilhuly, this shift from SUV and trucks means that rail networks have not always been able to meet the demand for bi-levels. "They are converting some railcars to address this shift. However, it is taking longer than what OEMs need," she states.
Fleenor points out that this consumer trend has also impacted BNSF's trucking partners, pushing down their average load factor from eight or nine vehicles per truckload to five or six vehicles. "To overcome this challenge, we will need to see an increase in haul-away capacity," he says.
From an industry perspective – both rail and OEM – there is no shortage of vehicle-carrying railcars. This is evidenced by the fact that there are railcars in storage, ready to accommodate an increase in sales – Dave Fleenor, BNSF
According to Kuehn, one solution is to be found in the convertible railcars that have been introduced in the past five years, lending some flexibility to what is a 40-year asset. These can be changed from tri-level to bi-level and back again.
"Recently, most new production has been convertible autoracks which… will enable the fleet to adjust to respond more quickly to changes in vehicle production," Kuehn explains. "The shortage of railcars has largely been resolved by reduced vehicles sales, the introduction of convertible autoracks to better accommodate demand shifts, and improved service levels."
For Bill Reichard, assistant vice-president, automotive at transportation and logistics company CN, the way forward is to turn assets efficiently and meet customer orders, without having to acquire additional capacity. "This means consistent loading at the assembly plants, timely service by the railroads of both loads and empties, and the ability of the haul-away carriers to deliver vehicles to the dealers on a daily basis."
Fragmented supply chain
Another challenge is the irregularity of the supply chain across the US, with Oliver Wyman's Kuehn explaining that the handling of finished vehicles is very fragmented between OEMs, dealers and transport providers.
"This fragmentation leads to difficulties in accountability and incentives to meticulously plan and manage the supply chain," he says. "Unless all the parties come together to resolve the supply chain issues, I don't see significant changes."
VWoA's Gilhuly says that supply chain disruption is a challenge, but that there have been improvements over the past year. "From an OEM perspective, railroads are challenged with staying nimble when there are supply chain disruptions or changes," says Gilhuly. "I think 2019 was better for us in this regard than in prior years."
Rail carriers are keen to stress that this is an area which is being improved. BNSF's Fleenor says that the rail industry has made significant investments in facilities and capacity, and that the supply chain network is well-prepared for increases in demand and volume.
Berry adds that CP has a large compound network that it makes available for its clients. "We have capacity thresholds that we closely monitor to ensure fluidity and flexibility in case of any delays or disruptions that may occur," he says. "Space is at a premium in the automotive industry, so we work with our clients to understand and accommodate their needs anytime they face difficult or unexpected situations."
Fragmentation in the supply chain also complicates the need to hit limited dealer delivery windows. "The logistics industry runs 24/7/365, whereas many dealers have limited options for delivery outside of daylight operations," says Fleenor. "This limitation ultimately causes a loss of time and money for all partners involved due to network back-ups, dwell and overall loss of productivity. Expanding delivery times to nights and weekends would significantly improve the finished vehicle supply chain."
Dealing with fluctuations
Furthermore, vehicle shipments can be seasonal and demand patterns may dramatically increase at the end of the week, quarter or month, leaving rail providers trying to handle fluctuating volumes.
"There are one-month closures for plant changeovers every summer which idle most of the assets," says Kuehn. "There are plant quality holds which disrupt the vehicle flows. There is the end of the month surge to move cars out of the plants so they can be counted as sales. If you look at the historical origin-destination flows of vehicles from each plant, there is considerable day-to-day variation aside from the above factors. These factors make it very difficult to plan and manage a consistent finished vehicle supply chain. I am not aware of any major improvements to these issues."
Fleenor says that these surges put stress on rail and truck capacity. "Smoothing freight demand patterns would relieve the periodic stress in capacity and allow for improved delivery times," he says.
This fragmentation [in the supply chain] leads to difficulties in accountability and incentives to meticulously plan and manage the supply chain. Unless all the parties come together to resolve the supply chain issues, I don't see significant changes – Jason Kuehn, Oliver Wyman
One way that rail providers, OEMs and dealers can try to tackle the issues with supply chain and delivery times is through closer collaboration. "One area that is key to success is open communication channels," says Gilhuly. "We all do better when we understand each other's challenges and find solutions to the issues."
Fleenor believes that good communication between the different partners will always be key to effective supply chain management and ensuring the smooth running of the entire supply chain. "It is pivotal to match releases of cargo at all hand-off points to ensure fluidity and capacity across all channels of the automotive network," he says.
According to Reichard, CN eases the issue of network disruption and fluctuation in demand by providing off-site storage at many of its locations when there are surges. "Many carriers have worked with the OEMs to smooth out pipelines by metering traffic into destination facilities or holding vehicles at origin," he says. "When network disruptions occur, carriers work together to bypass problem areas where practical."
Weather-based disruption
Additional pressures on rail providers can arise from uncontrollable and unpredictable circumstances such as weather events, and the network did not avoid the widespread disruption caused by recent hurricanes and floods in the US.
"In the winter and spring of 2019, the freezing and flooding in the Midwest forced some embargoes, which did impact our ability to ship via rail to these destinations," says VWoA's Gilhuly. "Bridge outage due to the flooding caused rerouting, which delayed deliveries for several months."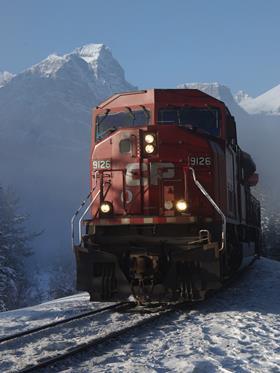 BNSF's Fleenor says that unpredictable weather challenges will always be a concern and a possible disruptor to its network, but that the company is continuing to put tools in place to meet these challenges safely and efficiently.

"BNSF saw historic flooding in the Midwest [in 2019]," he explains. "To address future flooding in this area, we raised the track on many of our Midwest subdivisions, and on the Napier Subdivision, we created a 3,000-foot [914-metre] causeway over a new lake that was created by the floods in Iowa."
Another example of how BNSF is trying to overcome the unpredictable nature of weather challenges is in the development of winter action plans. "Each year, our ten operating divisions create winter action plans to ensure that resources and procedures are in place to minimise winter's impact," explains Fleenor. "Each division has a set of unique challenges and weather patterns, so having the right tools in place is critical to successfully meeting our goals."
For example, in snowy Montana, BNSF works with the National Park Service and local state and federal agencies to deploy Daisy Bell technology – an exploding hydrogen/oxygen mixture transported in a metal cone – which supports its avalanche specialists in trying to prevent network disruptions.
Tapping into technology
There is growing potential for the rail industry to use technology to further improve interoperability between all partners in the supply chain, including digital innovations. For example, blockchain, the digital ledger technology, is one advancement which could enable a faster, more cost-effective and transparent freight supply chain.
Founded in 2017, the Blockchain in Transport Alliance (Bita) is working on developing new standards that could help to improve how freight shipments are tracked and how paperwork is handled between freight providers by enabling end-to-end shipment tracking and paperless interactions.
According to a report from market research company Technavio: "By enhancing the visibility, security, and accuracy of data, blockchain technology will help in streamlining freight transactions of finished vehicles logistics. Smart contracts in blockchain will also help in minimising goods processing times at customs checkpoints by enabling faster and efficient approvals and custom clearance."
Seamless systems that interface among providers with real-time data, updated forecasts and vehicle locations are a necessity for the future of service delivery. This will help all freight shippers – Bill Reichard, CN
Canadian Pacific, BNSF and Kansas City Southern (KCS) are among the railroad carriers which have already signed up to BiTA. KCS also launched a blockchain pilot in 2017 in collaboration with Maersk and IBM to speed up the transit of containers from Mexico through US customs.
Besides new and as yet unproven digital systems, the rail industry has invested $100 billion in infrastructure, equipment and technology in the last four years, according to the AAR. A whitepaper released by the organisation in mid-2018 identified how rail carriers are using technology to make the US network safer, more efficient and more reliable. The report details the benefits of real-time assessment of infrastructure and equipment, which has allowed rail carriers to "schedule and conduct proactive maintenance, which enhances safety as well as network fluidity and productivity".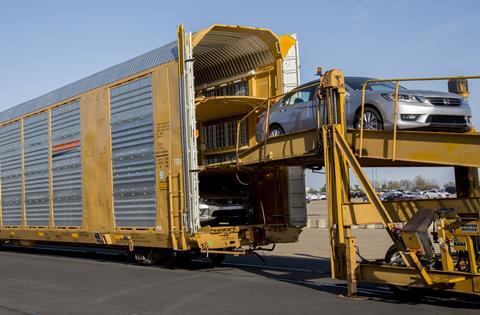 Reichard says that CN is investing in a wide range of innovative solutions that help to enhance the safety and reliability of our network: "I think we are going to see EDI [electronic data interchange] and GPS take a big step forward in the next few years. Seamless systems that interface among providers with real-time data, updated forecasts and vehicle locations are a necessity for the future of service delivery. This will help all freight shippers."

Rail network BNSF is also rolling out technological advancements at facilities across its network to enhance in-gate and out-gate performance (see box below for details).
Looking further ahead, the rail industry will be in a good position to keep a grip on its share of automotive business as autonomous technologies are developed. While the trucking industry is exploring the use of autonomous trucks, it is much easier to automate a vehicle moving on a fixed line than one which needs to navigate traffic on public roads. Rail looks set to retain its reputation for reliability.
Technologies introduced at BNSF
Electronic proof of delivery – eliminates the paper load sheet and provides carriers with the ability to submit damage details electronically
Automated gate systems – unmanned gates with 360-degree cameras allow truckers to get a comprehensive in-gate and out-gate inspection in a fraction of the time compared with previous methods
RailPass mobile app – allows trucking partners to move freight in and out of BNSF facilities faster and more easily, down from three to five minutes to 30 seconds per visit on average
Geo-baying – electronic assignment of parking bays according to OEM, destination and haul-away, allowing for quicker and safer truck operations inside BNSF's facilities