With VW's Puebla plant expected to return to full capacity soon and Audi's San José Chiapa facility poised to begin production, the Volkswagen Group in Mexico will be relying on its road, rail and port partners to meet future demand and quality standards
The long history of Volkswagen's plant in Puebla, Mexico can be read across its sprawling shape, where the pursuit of greater capacity has seen new buildings and warehouses added over the past 52 years onto the 3m sq.m campus. You get an impression of this extended layout when driving through its many naves (halls). An entirely new bodyshop, paint and assembly line were added for production of the seventh generation Golf, which started in 2014. Similar additions are happening now in a section of the plant that had been a parking lot, but where production of the Tiguan SUV will start next year. The halls in between continue to churn out the Jetta, Beetle and local Golf variants.
Likewise, the carmaker has expanded the plant's vehicle yards. Along with several crowded lots for vehicles bound for export, in 2013 Volkswagen opened an adjacent 270,000 sq.m patio central that combines vehicles built in Puebla for the domestic market with imports. With the Mexican market growing quickly and the plant expected to return to its maximum production capacity of 2,500 units per day over the next few years, more space may soon be required.
On a busy day here in mid-May, the yards are full, with 23,000 units glinting in the hazy sun. Market factors have caused some of the inventory build-up here: slow exports to the US following the diesel emissions issue and weak small car sales in export markets; preparation for seasonal sales rises; and surging import and domestic sales in the Mexican market. However, the volume also reflects constraints in the supply chain.
The nodrizas (Mexican slang for car hauliers) circling the yards and the graffiti-covered Automax rail wagons stretching across the middle just can't seem to get the cars loaded fast enough. With the Mexican market in its second year of 15-20% annual growth, there have not been enough trucks in particular.
"We already had a huge shortage of trucks at the end of last year that required a lot of attention," says Hans Dieter Wesche, head of group purchasing for logistics and general services at Volkswagen de Mexico. "It also takes about six months to receive a haulaway truck from when you order one."
There are shortages of truck drivers in parts of the market too, he adds. "In March, our carriers finally started to receive more equipment, but they were missing drivers. We are only now starting to catch up."
The full yards in Puebla are also a reflection of space limitations at the carmaker's main ports, including Acapulco on the Pacific coast, which handles exports to Asia, and especially Veracruz on the Gulf coast, Volkswagen's primary export and import hub. Acapulco has just 3,500 spaces and lacks a rail link. In Veracruz, Volkswagen is seeing a major change in yard and terminal management, as it will move from a dedicated parking garage to open yards even as volume at the port is rising.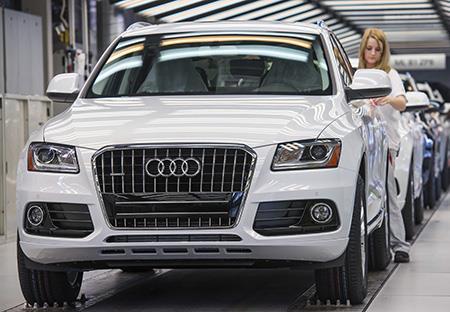 The port and truck shortages have, among other things, meant that Volkswagen consolidates all of its imported volume at the Puebla patio central, regardless of its final destination, whereas previously a share of imported volume was moved directly to dealers. "Before we had these constraints in port space and equipment we used to move, in a good year, around 30% of vehicles coming into Veracruz directly to dealers," says Alfonso Gutiérrez, head of inbound and outbound logistics planning for Volkswagen de Mexico.
Last year, Volkswagen Group imports rose sharply to reach more than 150,000 units, led in particular by the Vento subcompact from India; the estimate for 2016 based on current growth is for a rise of about 20% compared to last year, says Gutiérrez.
With production of the Audi Q5 set to start later this year 70km from Puebla at a new factory in San José Chiapa, these issues are being examined carefully by Volkswagen and Audi's logistics management, who are collaborating with the OEM's group logistics function in Germany to design and implement the premium carmaker's outbound logistics network in Mexico.
Some of this network will be shared. For example, Audi will join Volkswagen at Veracruz for exports, and both imported Audi models and those built in Mexico for the local market are stored at Puebla's patio central. However, there was no space in Acapulco, which Volkswagen shares with Nissan. The logistics planning teams at VW and Audi are instead setting up new operations for Audi in the Pacific port of Lázaro Cárdenas for export to Asia.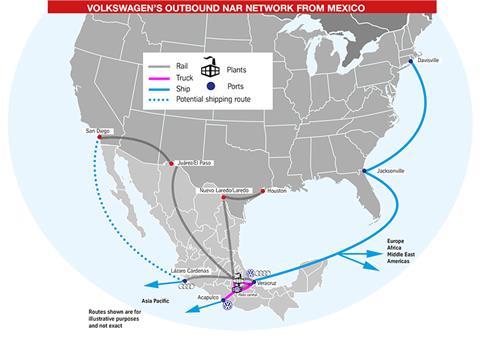 Railway capacity and service is another concern, especially for Audi's premium products. Volkswagen is already a substantial user of rail from Mexico; it moves vehicle exports in Automax wagons to the US and Canada via Nuevo Laredo to Houston, Texas and via Juarez to San Diego, California, as well as between the plant in Puebla and Veracruz. Audi will join it on the northbound flows, but its plant yard has been built with the capacity to move a higher share of volume by rail. For example, as well as moving to Veracruz by rail, the carmaker will take the train to Lázaro Cárdenas, according to Peter Koltai, director of logistics and production control at Audi Mexico. However, he sees risks, both in capacity and in terms of vehicle damage and security, notably the theft and vandalism common along certain routes in Mexico.
"We see the reports from Volkswagen and from other OEMs and we know that this is an issue," he says. "We are looking into extra measures to protect our vehicles and we are aware that we will have to react, including having truck options as a backup."
A source of solutions
If the crowded yards at Puebla reflect constraints and challenges in the wider Mexican vehicle logistics chain, with aspects of the network unwieldy, they also offer a glimpse into the creativity and the flexibility needed to overcome them. For example, Volkswagen manages the Puebla yards using German software provider Inform's Synchrotess yard management tool, which automatically calculates the best parking and load order for vehicles and optimises other aspects of distribution. Volkswagen has also implemented the system in Veracruz, and most recently at its yard in the port of Acapulco.
Other measures are also improving efficiency. Volkswagen is trying to help truck carriers respond to demand, including sharing more of its future planning, says Hans Wesche. It has already increased the number of truck carriers that it uses from four last year up to eight now because of the shortages in Puebla and Veracruz.
---
"We already had a huge shortage of trucks at the end of last year that required a lot of attention… In March, our carriers finally started to receive more equipment, but they were missing drivers. We are only now starting to catch up" - Hans Dieter Wesche, Volkswagen de Mexico
---
Together with Audi, Volkswagen is making important changes to deal with rail and port capacity shortages. As part of wider changes at Veracruz that will limit the number of days that cars can stay at the port free of charge, carmakers will need to move vehicles faster through the port. Among the ways it will achieve this will be installing specialised lighting both at Veracruz and in Puebla, allowing rail loading throughout the night in both locations. These extended hours will increase throughput of vehicles while also putting more traffic onto rail to and from the port.
"We are going to be the first OEM to achieve a third shift in a Mexican port," says Alfonso Gutiérrez. "It's going to improve efficiency and reduce costs, especially since it is cheaper to move to Veracruz by train rather than truck."
In Puebla, Gutiérrez also wants to take advantage of the rise in imports by synchronising rail flows for return journeys between the plant and the port to avoid moving empty in either direction. At Audi, Peter Koltai even wants to take advantage of having operations at Lázaro Cárdenas by looking at exports to the US west coast, a region Volkswagen has typically served from Mexico by rail.
"I can honestly say that the next year is mostly going to be about new processes, whether it's new ports or transport flows," says Gutiérrez. "After that, we are going to focus more on optimisation and integration across the group."
Shining a light on Puebla and Veracruz
While the inbound supply chain is vast and elaborate across North America for the group (see Volkswagen & Audi in Mexico part 1: Sharing logistics in a state of expansion for more), in many ways its recent and forthcoming outbound logistics projects have been the most complicated. They have involved everything from negotiating with government and port authorities to dealing with labour and union contracts and analysing rail versus short-sea shipping for some routes.
One of the most important changes has been at the port of Veracruz. Not only is Audi joining Volkswagen there for exports, thus testing the port's limited capacity, but Volkswagen is set to lose a dedicated, covered parking garage for 4,000 vehicles that it has used for 30 years, which the port authority plans to redevelop for tourism.
This change left Volkswagen facing a potential crisis. Along with its substantial exports from the port, Audi will send a majority of its current 150,000-unit annual capacity through Veracruz, including all exports for Europe. At the same time, import growth has strained the port further.
According to Gutiérrez, following negotiations between Volkswagen, the port authority at Veracruz and federal government officials in Mexico City, the port has agreed to provide space for the Volkswagen Group once its use of the parking garage ends.
With this agreement, however, have come fundamental changes to how Veracruz manages its vehicle business. The port authority will no longer have dedicated yards for vehicle brands, switching instead to a concessionary approach where the terminal operator, SSA Mexico, will have the opportunity – if not the necessity – of combining multiple OEMs within the same yard. It's a change that will require terminal operators to manage yards with more precision and visibility.
At the same time, the port is changing its inventory holding policy, according to Gutiérrez. Veracruz will only allow OEMs and terminal operators to store vehicles at the port for a limited number of days – roughly a week for imports and two weeks for exports. "We are going to have to move the vehicles pretty fast to ensure we can manage more vehicles with the same space for the same cost," says Gutiérrez.
---
"Before we had these constraints in port space and equipment we used to move, in a good year, around 30% of vehicles coming into Veracruz directly to dealers" - Alfonso Gutiérrez, Volkswagen de Mexico
---
One of the major strategies for Volkswagen following this change will be the aforementioned installation of lighting at the port and at Puebla to allow a third shift for loading and unloading. Such lighting has been long sought across the automotive industry in Mexico, including recent calls for it by the Mexican automotive manufacturers association, AMIA. Gutiérrez admits that it has been a complex negotiation.
"It is a very special type of lighting needed and one that we have had to work carefully on with both Veracruz and with Ferrosur [the local rail provider, a division of Ferromex] to make happen," he says.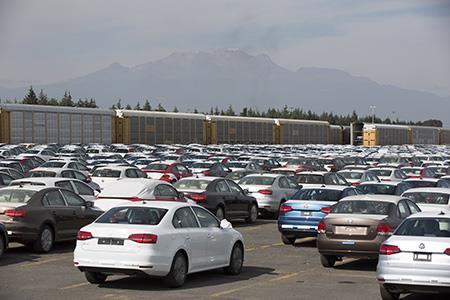 The move to a third shift is also a major change for the logistics companies and stevedores at the port. Previously, all vehicle logistics operations had to finish by 6.00pm each evening. Now, with night hours coming into force, the port authority is negotiating new terms with the local unions, as has Volkswagen with its logistics suppliers.
Gutiérrez is confident that the new arrangement will be a success and bring many benefits to both Volkswagen and Audi. The companies have also fully integrated Audi's planned volume into its service umbrella at Veracruz, using the same logistics providers to and from the port and the same vehicle handlers and shipping lines.
Hans Wesche suggests the move to three loading shifts will also improve the truck capacity shortages. Although the plant yards are technically open 24 hours to carriers, in reality drivers carry out inspections prior to leaving the yard for dealers and so also require adequate lighting.
With the prospect of extended shifts, Volkswagen has thus been exploring a more flexible approach to sourcing trucking services. Up to now, the company has typically contracted a fixed number of trucks across certain suppliers. But Wesche wants to establish flexible arrangements that could give the carmaker access to more trucks when it needs them.
"Today we work seven days a week in the yard, but with the switch to three shifts, we would like to work 24 hours across six days, and then have Sundays as a flexible option when we require more capacity," says Wesche.
Wesche and his team are also looking at different payment models that might entice carriers to allocate more capacity to Volkswagen. "Today we pay by the kilometre, however we are now exploring a model that pays a fixed amount by route," he says. "Carriers tend to be more attracted by this model, since it allows them to optimise the routes that they take to certain destinations and still get the same payment."
Another important strategy for Volkswagen currently is to synchronise rail and truck tenders across import and export volume between Puebla and the port so as to purchase more return journeys for both modes. "For many years we have had far more exports than imports at Veracruz. Now that our imports have grown so much and there is more balance, it gives us an opportunity to avoid paying for empty trips," says Gutiérrez.
Changes on the Pacific
The cooperation with Audi has led Volkswagen de Mexico into new territory. Because of capacity constraints at Acapulco, Audi is going to use the port of Lázaro Cárdenas to export vehicles from the Pacific coast. Volkswagen's logistics planning team has been leading the project to establish the new export operation.
"It's an interesting challenge since Volkswagen has never had operations at the port, and so we are developing stevedoring services, customs agents and yard capacity with the port authority," says Gutiérrez.
As well as exports to Asia, Audi would also like to take into account Lázaro Cárdenas to export vehicles to the west coast of the US and Canada, destinations that are currently served almost entirely by rail from Mexico.
"This is something that I believe we need to have a look into and we are in discussions with Volkswagen de Mexico together with group logistics in Germany," says Audi Mexico's Peter Koltai. "I believe it could help us with capacity issues or vandalism on trains bound for the US via central and northern Mexico."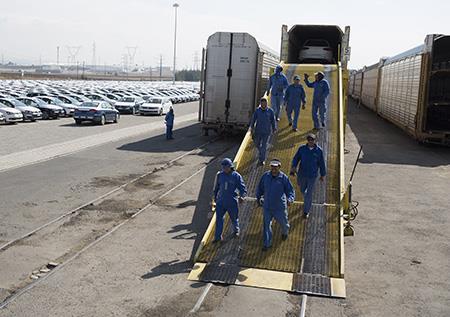 Short-sea shipping from the Pacific to the US west coast is somewhat less common from Mexico compared with using rail or east coast ports, although carmakers including Honda (from Lázaro) and Ford (from Mazatlan) either have or are planning regular services out of the Pacific.
It's an option that Volkswagen de Mexico is now also exploring for its own exports. According to Gutiérrez, the reason for doing so would be less about capacity shortages on rail and more about introducing competition (the same reasoning, incidentally, that Ford is using for its west coast exports – see Ford Mexico part 2: Accelerating the pace of vehicle logistics). "We want to challenge the status quo and show the rail companies that we have other options," he says.
"Damage on the railways has also been increasing," he adds. "Luckily, AMIA statistics show that we still have the lowest damage ratio. But we don't want our providers to sit still."
Moving volume by short sea out of Lázaro could also help support a business case for switching imports from India (which are now substantial) from Veracruz to the Pacific coast port. With vehicles sent from Puebla to the port, those vehicles could use the return transport. "That would relieve some volume in Veracruz," says Gutiérrez. "It is currently under analysis, though still something of a long shot."
Stronger over timeDespite port and transport capacity issues, VW and Audi are confident they will cope with the expected growth thanks to the changes in loading times and flexibility. Hans Wesche and Alfonso Gutiérrez also think that logistics providers are rising to the challenge. "In our current tenders, we are confident that our suppliers are better prepared," says Wesche.
"In Mexico, we talk about 'la última Coca-Cola del desierto' – the last Coke or drink in the desert," says Gutiérrez. "In the beginning, our logistics providers knew they were our only option but now they have understood the benefits of working with us over the long term."
Plenty of challenges lie ahead. Currently, visibility of vehicle deliveries within Mexico remains a black hole. While vehicles at Puebla – and soon San José Chiapa – are entered into VW's distribution system with barcode scans, once they leave the plant they are harder to track. The OEM uses no other distribution centres in Mexico, so vehicles are not typically visible again until after delivery. Often dealers don't officially notify the carmaker of arrivals until days afterwards, which not only creates uncertainty but also holds up cash flow, since delivery is the trigger for the factory and carriers to get paid.
---
"In Mexico, we talk about 'la última Coca-Cola del desierto' – the last Coke or drink in the desert. In the beginning, our logistics providers knew they were our only option but now they have understood the benefits of working with us over the long term" - Alfonso Gutiérrez, Volkswagen de Mexico
---
So far, suggestions for an electronic proof of delivery system have not been well received by carriers, who are reluctant to invest in new equipment; Volkswagen is also worried that if it pays for it, scanning equipment might be damaged or lost.
"Visibility is a huge challenge, especially as our domestic volumes are increasing," says Gutiérrez.
It is also unclear if ro-ro and vehicle-handling capacity at Veracruz will be expanded, for example. A new container terminal is under construction that will free up more than 40 hectares of existing land, but the port has yet to say if it will be used for vehicle yards, commodities or even tourism.
Hans Wesche would still like to see increased investment from the government more broadly, particularly across rail, road and seaports. "Puebla has actually been okay, as we have seen considerable investment. It is much worse in central Mexico, especially in the Bajío where so many new plants are going and which many logistics routes pass through," he says.
That infrastructure investment in the state of Puebla remains adequate and that issues in Veracruz and Lázaro Cárdenas have been resolved is partly thanks to Volkswagen's good relations with the local and federal governments. According to Gutiérrez, most of the company's problems have been heard and dealt with and he urges other manufacturers in the country to maintain close ties with officials.
"Every OEM should have a close relationship with the state and federal government in Mexico so that what is doable gets done," he says. "It's difficult, but such is life."
For more on the inbound network for Volkswagen Group in Mexico, see Volkswagen & Audi in Mexico part 1: Sharing logistics in a state of expansion. For more on Audi Mexico, see Volkswagen & Audi in Mexico part 2: Everything in its right place.
A new coming together
Logistics purchasing for all logistics services for Volkswagen and Audi in Mexico has been centralised in Puebla, led by Hans Wesche (right); in his team is also Gereon Hempel (left), responsible for inbound and outbound purchasing
The Volkswagen Group is in the midst of significant changes across North America, even excluding the trauma around its diesel emissions scandal and the looming recall of around 500,000 cars in the US. It is changing its management organisation, including the creation earlier this year of the Volkswagen North American Region (NAR) that includes a regional board covering production, purchasing, sales and marketing, among other areas.
The group had already been moving in this direction for logistics and purchasing. While operations between each country remain separate, including inbound and outbound logistics across Volkswagen de Mexico, Volkswagen Group of America (the sales and service arm in the US) and the Chattanooga plant, Audi's entrance to Mexico has prompted a deeper integration.
For example, all logistics purchasing for inbound, in-plant and outbound services for Volkswagen and Audi in Mexico has been centralised in Puebla. The Volkswagen de Mexico logistics planning team is also working closely with Audi's logistics department both in Germany and in Mexico to design the network, which for inbound now covers door-to-door deliveries for suppliers across all of North America as part of its 'inbound NAR network' (see Volkswagen & Audi in Mexico part 1: Sharing logistics in a state of expansion for more). Volkswagen Konzernlogistik (group logistics) is closely involved in planning and validating these processes; it has even established a regional NAR office in Puebla responsible for regional integration, including for outbound.
Volkswagen's US entities are cooperating with the projects. The Chattanooga plant, while not yet part of the inbound NAR network, is expected to join in future. For outbound, Volkswagen Group of America is a strong player for outbound and service parts logistics planning and purchasing, and its management and that of Volkswagen Canada are coordinating export and import flows together with the Mexico-based teams.
"We are communicating and streamlining our approach with Volkswagen Group of America and they are aware of our plans for rail and short-sea," says Gereon Hempel, who is responsible for inbound and outbound logistics purchasing in Hans Wesche's team at Volkswagen de Mexico. "And to make rail to Canada possible, we need to coordinate with those on the ground because there are lower bridge clearances and differences in equipment."
This cross-group collaboration has been critical, insists Alfonso Gutiérrez, and will deepen over time. However, given its long experience, Volkswagen de Mexico has taken a lead in planning, designing and negotiating when it comes to establishing logistics routes and services within, from and to Mexico, especially for outbound logistics.
This combined process has benefitted both brands. It gives Volkswagen more scale and clout when negotiating new port services as well as for customs clearance at ports and US border points – areas for which Audi's export volume will be significant.
For Audi, it also helps guarantee better prices and capacity, especially for services where its volume would represent only a tiny market share. For example, Volkswagen de Mexico is leading a truck transport tender on behalf of Audi. According to Wesche, Volkswagen de Mexico's daily requirements are currently around 130 per day for services out of Puebla and Veracruz. Audi, which intends to use rail transport for around 85% of vehicles leaving its plant yard, will require between 13-17 trucks per day after ramp-up.