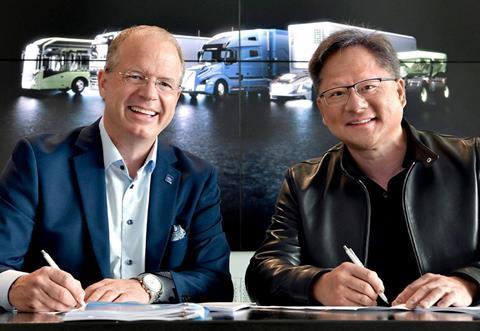 Sweden's Volvo Group is to develop an artificial intelligence (AI) system with US software company Nvidia.
The intended result is fully autonomous trucks capable of being driven on public roads, used in the freight transport sector, amongst others.
The companies will use Nvidia's AI platform for training, simulation and in-vehicle computing. The software will cover sensor processing, perception, map localisation and path planning.
"Automation creates real-life benefits for both our customers and society in terms of safety, energy efficiency and, as a consequence, productivity," said Volvo's president and CEO Martin Lundstedt.
"We continue to gradually introduce automated applications in the entire spectrum of automation, from driver support systems to fully autonomous vehicles and machines. This partnership with Nvidia is an important next step on that journey."
Jensen Huang, Nvidia's founder and CEO, added: "The latest breakthroughs in AI and robotics bring a new level of intelligence and automation to address the transportation challenges we face."
The companies' autonomous driving system is planned to be first used in commercial pilots before being introduced into commercial offerings from the Volvo Group.
Volvo and Nvidia predict their partnership will span several years, with personnel being co-located in Gothenburg, Sweden and Santa Clara, California.
The announcement comes days after Vera, an electric, connected and autonomous vehicle developed by Volvo Trucks, began transporting containers between a logistics centre in Gothenburg and a port terminal in the city.