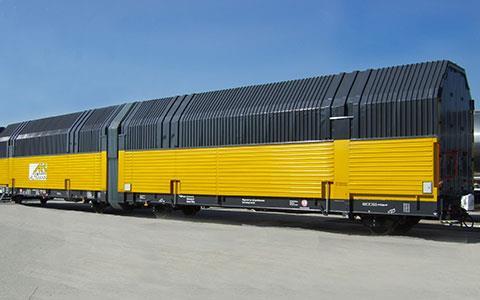 German vehicle transporter ARS Altmann and Intermodal Container Logistics (ICL), based in Austria, started running trains to transport cars between China and Europe this month.
The hybrid service combines the use of containers with double-deck rail wagons via Kazakhstan, Russia, Belarus and Poland. Designed to consist of two complete block trains per week, capacity is up to 40,000 units per year.
The aim of ARS Altmann and ICL, plus an OEM customer they are not naming, is to develop a consistent ro-ro service between Europe and China.
Since November, ARS Altmann has run what it describes as the first consistent automotive ro-ro train from Bremerhaven (Germany) to Chongqing (China) via the company's compound in Chernyakhovsk (Russia), which can be used both by European and Russian railway wagons.
"The concept of transporting and trading goods on the Eurasian continent by using container trains has been adopted by the automotive industry as the rail offers numerous advantages regarding costs and lead times, guarantees reliable routes and gives access to new and emerging regions," said ARS Altmann, based in Wolnzach.
"Utilising special car carrier wagons allows for a high loading factor and offers the advantages the railway exhibits in comparison to sea and air freight."
ICL describes itself as a supply chain service provider for container flows, focused primarily on the automotive industry.
The new ARS Altmann-ICL service is the latest overland automotive industry-related service taking advantage of China's infrastructure-led Belt and Road initiative aimed at developing central Asia and better linking China with Europe and other regions of the world by land.
German luxury carmaker Porsche has begun sending its cars in containers by rail to China, while Ceva Logistics North Asia and Xiamen International Railway Service (XMIRS) have started a weekly block train between Xiamen (southeastern China) and Duisburg (Germany).
French logistics provider Gefco has set up a dedicated subsidiary in Chongqing specialising in importing and exporting vehicles by rail between Europe, Russia and China.