In an era of trade disputes and coronavirus, there are many questions over how automotive logistics flows and trade will develop. However, despite the disruption, new trade opportunities continue to emerge, whether from a peace accord in the Middle East between Israel and UAE, or global routes in and out and Asia.
Watch this session to learn more about opportunities in how will trade networks will evolve in the near and long term to meet increased demand and fluctuations in capacity.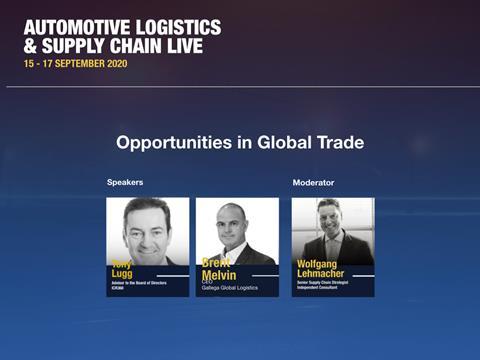 Featuring:
Brent Melvin, CEO, Gallega Global Logistics
Tony Lugg, advisor to the board of directors, ICR360
Moderated by Wolfgang Lehmacher, supply chain and technology strategist
This session was held on September 16th during the Automotive Logistics and Supply Chain Live virtual conference. Click here to view all videos from the conference on demand.