In this lively panel discussion at Automotive Logistics and Supply Chain Live, OEMs and packaging specialists share insights on the new materials, tracking technology, connectivity and product requirements that are transforming and optimising automotive packaging.
Experts discuss the innovation driving packaging sustainability, tracking and the need to collaboratively build standards.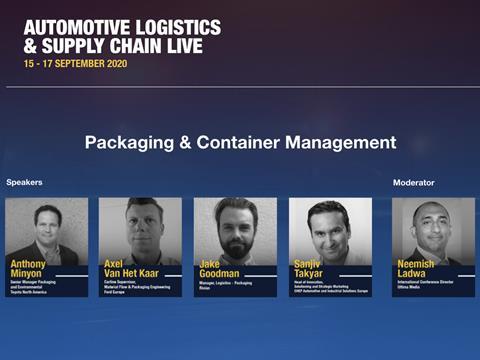 Featuring:
Tony Minyon, senior manager packaging and environmental, Toyota North America
Axel van het Kaar, carline supervisor, material flow and packaging engineering, Ford Europe
Jake Goodman, manager logistics packaging, Rivian
Sanjiv Takyar, head of innovation, solutioning and strategic marketing, CHEP Automotive and Industrial Solutions Europe
Moderated by Neemish Ladwa, conference and broadcast director, Automotive Logistics and Ultima Media
This session was held on September 16th during the Automotive Logistics and Supply Chain Live virtual conference. Click here to view all videos from the conference on demand.