OEMs and suppliers are transitioning more production and supply chain activities towards electrification as EV sales increase and governments push the industry towards zero emission vehicles. With challenges in producing and shipping battery cells, handling high-value batteries and equipment, as well as complex global trade flows, there are many considerations to make in optimising logistics and supply chain flows for battery and EV production.
In this presentation and panel discussion, industry experts dig into the detail in moving, handling and recycling batteries, and reveal why managing this efficiently will be key to effective supply and production of electric vehicles.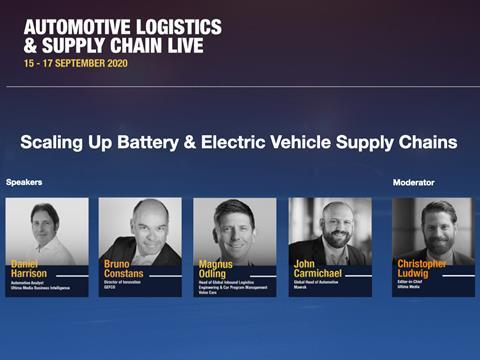 Featuring:
Bruno Constans, director of innovation, Gefco
Magnus Ödling, head of global inbound logistics engineering and car program management, Volvo Cars
John Carmichael, global head of automotive, Maersk
Daniel Harrison, automotive analyst, Automotive from Ultima Media
Moderated by Christopher Ludwig, editor-in-chief, Automotive Logistics and Ultima Media
This session was held on September 15th during the Automotive Logistics and Supply Chain Live virtual conference. Click here to view all videos from the conference on demand.