This panel delves into the challenges facing the North American supply chain. Demand is still recovering and the outlook uncertain. However, OEMs like Honda are seeing some plants producing at or above their pre-Covid levels. And logistics providers like Carter are managing networks with constraints in capacity in some areas, including ocean and air freight, as well as drivers. Meanwhile, the industry prepares to adapt further to changing trade terms, including the USMCA and ongoing disputes with China.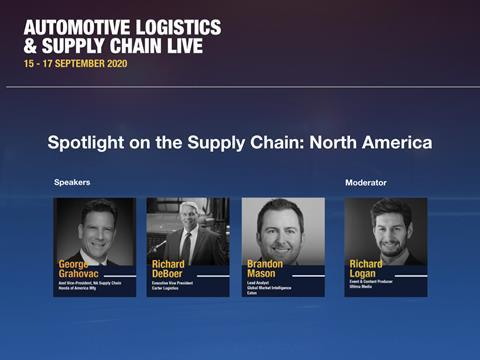 Featuring:
George Grahovac, assistant vice-president, North American supply chain, Honda of America Manufacturing
Richard DeBoer, executive vice-president, Carter Logistics
Brandon Mason, lead analyst, gobal market intelligence, Eaton
Moderated by Richard Logan, event and content producer, Automotive Logistics and Ultima Media
This panel was held on September 17th during the Automotive Logistics and Supply Chain Live virtual conference. Click here to view all videos from the conference on demand.