The EU's Green Deal and new climate legislation is set to bring even more emphasis on reaching zero-emission targets. In this session from Automotive Logistics and Supply Chain Live, experts look at funding, cost and competition implications across manufacturers, suppliers and logistics providers.
Through CSR Europe European Pact for Sustainable Industry, the session also explores what companies are doing to work together to promote and develop more sustainable logistics operations for the climate and for workers, including driver conditions.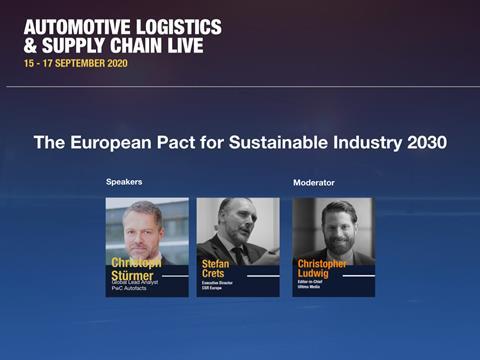 Featuring:
Stefan Crets, executive director, CSR Europe
Christoph Stürmer, global lead analyst, PwC Autofacts
Moderated by Christopher Ludwig, editor-in-chief, Automotive Logistics and Ultima Media
This session was held on September 16th during the Automotive Logistics and Supply Chain Live virtual conference. Click here to view all videos from the conference on demand.