In its 2023 Integrated Sustainability and Financial Report released this week, Ford outlines how it is making its electric vehicle (EV) and battery supply chain more sustainable, including through the direct sourcing of raw materials from mining companies aligned with its supplier auditing specifications.
Ford has reported investment of $50 billion between 2022 and 2026 to develop and manufacture EVs and batteries. It is aiming at targeted annual production of 600,000 EVs by late 2023 and more than 2m by the end of 2026. The carmakers aims to make EVs account for half of its global sales by 2030.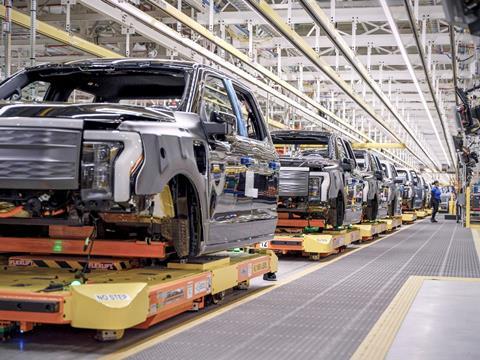 Carmakers around the world are looking to decarbonise the supply of materials used in their battery EVs at the same time as ensuring sources comply with ethical labour standards. Reducing overall vehicle lifecycle emissions includes cutting carbon from the supply of materials, which accounts for a sizeable portion of a battery EVs carbon expenditure.
The carmaker began an auditing and mapping project of the supply chain back in 2021 which it said would help it better understand the origins of raw materials used in making of lithium-ion batteries, including lithium, cobalt, nickel and graphite. Since then, Ford has carried out 30 such supplier audits.
In early 2023 the company also underwent an audit of its nickel, lithium and cobalt due diligence management systems, a process that also included its suppliers.
Based on those processes, Ford has introduced new environmental, social and governance (ESG) requirements into its sourcing agreements.
Ford said it was also working with third-party bodies, including the Initiative for Responsible Mining Assurance, Responsible Minerals Initiative and Responsible Business Alliance, to identify and address environmental and human rights issues in its supply chain.
Cynthia Williams, Ford's global director, sustainability, homologation and compliance said the company was creating new visibility and accountability for a global EV and battery supply chain.
Investment in Indonesia
Ford also signed an agreement last week with PT Vale Indonesia and China's Zhejiang Huayou Cobalt to secure more sustainable nickel supply from Indonesia. The companies are investing $4.5 billion in the Pomalaa Block High-Pressure Acid Leaching (HPAL) Project. The project aims to process up to 120,000 tonnes of nickel annually in the form of mixed hydroxide precipitate (MHP), a lower-cost nickel product used in EV batteries with nickel-rich cathodes. The HPAL process is a faster way of leaching nickel and cobalt from the ores mined and has a higher recovery of the minerals.
The ore is being at PT Vale Indonesia's Pomalaa Block mine in Kolaka. Ford said the move would make its batteries more affordable. Work has begun on the HPAL plant and operations are expected to begin in 2026.
In November last year, Ford joined Manufacture 2030, the online cross-industry platform that provides digital tools to measure, manage and help reduce carbon emissions produced in the supply chain. The carmaker made the platform available to its 5,000+ tier one supplier sites across the world.
In its report released this week Ford reported that between 2017 to 2022 it had reduced emissions from its manufacturing facilities by 40% and that last year, 60% of the electricity the company used was carbon-free.