Ford has become the latest carmaker to join Manufacture 2030, the online cross-industry platform that provides digital tools to measure, manage and help reduce carbon emissions produced in the supply chain. Toyota joined the initiative in July 2021.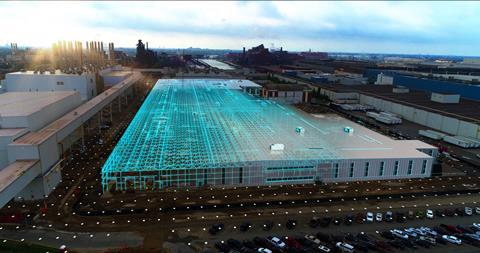 As part of its overall aim to become carbon-neutral by 2050, Ford aims to reduce emissions from its own operations and those of its tier suppliers and logistics services.
"Hitting our targets will require we cut emissions across our entire value chain, particularly from purchased energy, goods and services," said Jonathan Jennings, global vice-president of supply chain. "Manufacture 2030 is a key programme for Ford to help us all in not only reporting emissions but in forming realistic action plans and glidepaths to achieving our goals."
Manufacture 2030 helps companies gather detailed data on a company's environmental impact across three 'scopes' of carbon emissions ie emissions that are directly owned or controlled by a company (Scope 1 and 2), as well as those not directly owned but consequential to the activities of the company (see boxed text below).
The carmaker is making the platform available to its 5,000+ tier one supplier sites across the world. That includes suppliers that have yet to establish their own carbon-reduction targets. It said the platform can help those suppliers accurately measure the carbon being emitted across their activities as a first step toward reducing them. The platform also provides ways for those suppliers to reduce costs as they build their carbon neutrality plans, according to Ford.
BEV goals
The involvement of its entire tier one supply base will help Ford build on the sustainable goals underpinning its battery electric vehicle (BEV) programme and take carbon out of the supply chain supporting that. That is important for a car industry that is fighting to bring down the carbon produced per BEV lifecycle, including mining rare earth metals, making them into batteries and moving those batteries to production. There is currently a higher carbon output created by the sourcing, logistics and production of an EV that there is for a traditional ICE vehicle.
Ford has announced a series of initiatives for sourcing batteries and raw materials in support of its targeted annual production of 600,000 EVs by late 2023 and more than 2m by the end of 2026.
Last year it said all its vehicles for sale in Europe will be pure battery EVs by 2030 and it is investing $1 billion in its Cologne plant to make that a reality. The carmaker is also set to electrify its production and sales in North America.
As Ford creates a new EV supply chain that upholds its commitments to sustainability and human rights, the company continues to plan for more than half its global production to be EVs by 2030.
Ford said the initiative with Manufacture 2030 will also support its commitment to the First Movers Coalition, a global initiative to create early markets for innovative clean energy technologies. As part of the coalition, Ford committed to purchase at least 10% near-zero carbon steel and aluminium by 2030.
Manufacture 2030 counts the Suppliers Partnership for the Environment and the US Department of Energy among its partners.
Scope of emissions
Scope 1 indicates emissions from sources that an organisation owns or controls directly, such as tailpipe emissions from directly owned transport powered by internal combustion engines
Scope 2 are emissions that a company causes indirectly when the energy it purchases and uses is produced. In contrast to the above, for example, the use of electric trucks for deliveries requires the generation of electricity to power them from a plant.
Scope 3 are those emissions that are neither directly produced or the result of activities from assets owned or controlled by a company, but rather indirectly caused further up and down the supply chain, such as through the use or disposal of supplier products.