In an effort to secure its own battery supply chain, GM has agreed to invest with mining company Lithium Americas in the development of the Thacker Pass mine in Nevada, reportedly the largest known source of lithium in the US.
Production at Thacker Pass is projected to begin in the second half of 2026.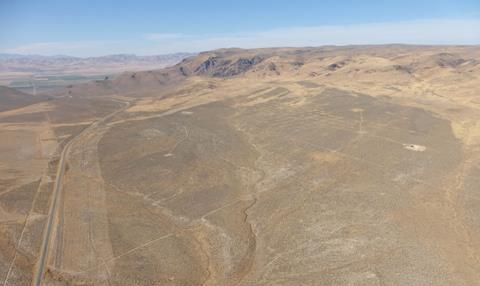 The lithium carbonate mined from the Thacker Pass mine will be used in GM's Ultium battery cells. GM set up Ultium Cells with LG Energy Solution back in 2019 with a subsequent investment of $4.6 billion in two battery cell manufacturing facilities in the US. The first plant in Warren, Ohio is up and running and the Spring Hill plant in Tennessee is due to open this year. It has since announced a third facility in Lansing, Michigan, with an investment of $2.6 billion, which is due to open in 2024.
Critical materials
Under the new agreement, GM will make a $650m equity investment in Lithium Americas, the largest-ever investment by a carmaker to produce the raw materials for lithium batteries. The partners report that the project at Thacker Pass can support production of up to 1m EVs a year.
"GM has secured all the battery material we need to build more than 1m EVs annually in North America in 2025 and our future production will increasingly draw from domestic resources like the site in Nevada we're developing with Lithium Americas," said GM chair and CEO Mary Barra. "Direct sourcing critical EV raw materials and components from suppliers in North America and free-trade-agreement countries helps make our supply chain more secure, helps us manage cell costs, and creates jobs.
GM is rapidly scaling EV manufacturing, with more than 50% of its factories in North America and China meant to be capable of EV production by 2030. Prior to that it intends to have 30 new EV models for the market by 2025. To realise those goals the carmaker needs to localise lithium-ion battery supply. The US administration has its own stated goals of making 50% of overall vehicle sales in the country electric by 2030.
Lithium battery production is largely concentrated in Asia and the materials used to make them are spread further, from China to Africa, Australia and South America.
Two-stage investment
GM's $650m investment will be split into two parts. The first tranche will be kept in trust until certain legal and regulatory rulings are finalised with the US District Court and the required conditions are met, when it will be released and GM will become a shareholder in Lithium Americas. That first phase is expected to be complete by the end of 2023.
The second part of the investment is expected to be made into Lithium Americas' US-focused lithium business following the separation of that from its business in Argentina. That depends on similar conditions, including Lithium Americas securing sufficient capital to fund the development expenditures to support Thacker Pass.
Lithium Americas expects Thacker Pass to create 1,000 jobs in construction and 500 in operation.
In related news, GM also recently signed an agreement with Vale for the supply of battery grade nickel sulphate from Vale's proposed plant at Bécancour, Québec, Canada. GM said it secured supply of nickel sulphate to support its fast-growing EV production needs in North America. That included the equivalent to 25,000 metric tons per year of contained nickel, for use in GM's Ultium battery cathodes.
Read more about GM's goals for electric and autonomous vehicle production in North America