General Motors is looking for supplier partnerships and digital tools to secure the localised supply of semiconductors and lithium-ion batteries in North America, currently two of the most critical products needed in vehicle production in the region.
The global semiconductor shortage crisis has led to a total reevaluation within the industry and a search for new partnerships between the automotive and semiconductor industries. The automotive and electronics supply chains are increasingly interconnected but there still needs to be greater transparency beyond the tier one supplier level.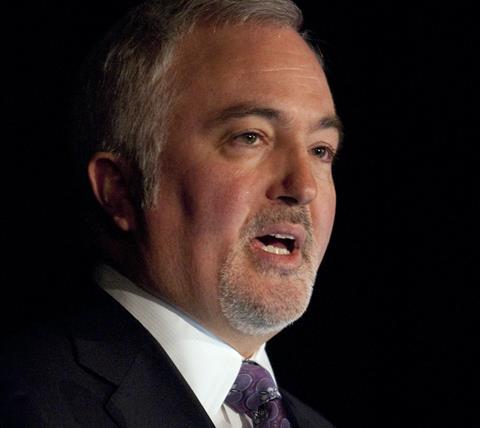 Speaking at the recent JP Morgan Auto Conference, Steve Carlisle, GM's executive vice-president and president of GM North America (pictured), said the company would be seeking to use technology and build partnerships to avoid future supply problems.
GM is now reorienting its production strategy with greater transparency in mind and as a means to secure essential materials and components.
"It really is an end-to-end, total value chain look that we're taking to position ourselves for the future," said Carlisle. "Partnering makes a lot of sense if we can work that out, but all of that is a live discussion."
Cutting out the complexity
The other end of that value to chain is the delivery of the vehicle to the end customer, something that carmakers are struggling with as inventory shrinks and assembly is halted by inbound bottlenecks.
Carlisle said that GM's days of vehicle supply has plunged to the mid-teens because of production delays caused by the chip shortage. It is therefore focused on filling the pipeline while maintaining strong pricing and turning inventory quickly amid the ongoing shortages.
The company will not be returning to its pre-pandemic supply of 90 days and will ideally arrange 30- to 60-day allotments at dealerships.
GM will prioritise fast-selling vehicle configurations, reducing the available options and decreasing build complexity, requiring fewer incentives to sell.
"We can do a lot better business with a lot less complexity from a configuration point of view," he added
According to Carlisle, the company has time to determine the ideal inventory level and has the tools available to help dealers track vehicles in transit. Those tools also allow for more-sophisticated ordering decisions.
Localising supply
The strategy of prioritising fast-selling vehicles with less complexity comes at a time of radical change in the automotive industry. Carmakers are now running against the clock to switch their vehicles to battery electric power, while at the same time striving to reduce battery costs – the largest expense when making an EV.
Like other carmakers in North America, GM is aiming to make its products exclusively electric by 2035 and is backing recent moves by the Biden Administration in the US to localise the supply of lithium batteries and the materials out of which they are made. Earlier this year President Biden has signed an executive order designed to fortify US supply chains, including those supporting the production of EV batteries and semiconductors. He has also committed the automotive sector to a goal of having half of all vehicles sold in the US by 2030 to be EVs.
Those EVs are going to require higher electronics content and GM has a $35 billion electric and autonomous technology development budget through 2025. As the first stage of the process, the Detroit automaker is developing its own battery cell manufacturing capacity. Carmakers are forging new partnerships with battery makers and GM has signed an agreement with LG Energy Solution in which the partnership has invested $4.6 billion in two battery cell manufacturing facilities in Lordstown, Ohio and Spring Hill, Tennessee through their Ultium Cells joint venture.
Furthermore, GM is also accelerating plans to build two new battery cell manufacturing plants in the US by mid-decade to complement those two plants.
However, these battery making partnerships still need access to crucial raw materials such as lithium, nickel, manganese, cobalt and aluminium. Mining them in US promises a reduction of overall costs compared to importing from overseas and one of the partnerships GM is looking to secure for the local supply of lithium for EV production is with southern California's Salton Sea.
"In regards to raw materials' supply, GM has also formed a strategic investment and commercial collaboration with Controlled Thermal Resources (CTR) to secure local and low-cost lithium from CTR's Hell's Kitchen Lithium and Power development in the Salton Sea Geothermal Field, located in Imperial, California," said a spokesperson for GM.
While the vast majority of lithium is currently mined elsewhere, as are the other ingredients needed to make a battery cells, partnerships like these indicate the direction GM and its rivals need to take to secure the materials they need to make the North American industry's EV goals come to fruition.