As Europe develops an appetite for battery electric vehicles (BEVs), with Volkswagen's ID.3 even becoming the second-best selling car overall in December, North America continues to lag behind. Although it is unlikely to catch up to Europe any time soon, things are beginning to move when it comes to local manufacturing, with some major OEMs and some credible start-ups announcing big investments for new models.

The big factors in the difference are the financial incentives in Europe and the consistently low fuel prices in North America, which explains why most of the forthcoming EV manufacturing in North America focuses on luxury vehicles, rather than models intended to appeal for their value, as with the European market.
General Motors (GM) has some of the most ambitious plans for a legacy OEM, even renaming its Detroit Hamtramck plant to 'Factory Zero', as it is planned to become the carmaker's base for zero-emission, zero-accident cars. The facility used to make some of the company's most traditional vehicles, the Chevrolet Impala and Cadillac CT6 petrol sedans and was destined for closure, but is instead getting a $2.2 billion investment to build the 2022 Hummer EV and the Cruise Origin autonomous test vehicle.
The Cadillac Lyriq, another luxury SUV slated to hit showrooms in 2023, will be made in GM's Spring Hill plant in Tennessee, which will also get a $2 billion upgrade and will lose production of the conventionally-powered SUVs. GM's plant in Ontario, Canada, will pivot to making a new range of electric commercial vehicles under the banner of Brightdrop.
GM is also making a push for its own battery cell manufacturing, setting up a joint venture with LG Chem called Ultium Cells and starting construction on a plant in Lordstown, Ohio, to supply its North American EV plants with batteries. It's not just battery pack assembly, either – it's making the individual cells as well, a step that is often still delegated to partners in the Far East (read more about GM's zero emission targets).
Ford production strategy
Ford is hot on the heels of GM, but with a slightly different strategy. The Mustang Mach-E, a mid-size electric SUV that is more affordable than GM's headline offerings will be, is sold around the world. It was originally planned to be manufactured in Michigan, but Ford ultimately decided to make it at the Cuautitlán, Mexico, plant, where it used to make the Focus and Fiesta hatchbacks, which were slow sellers in the SUV-mad US.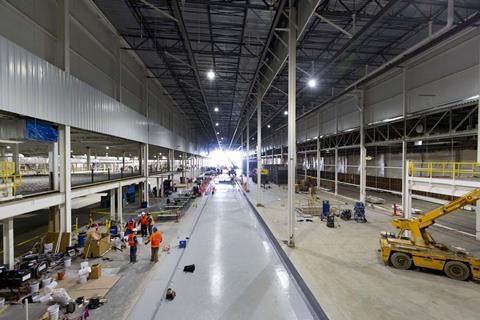 Ford's US best-seller, the F150 pick-up truck, is set to get an EV version as well, and will be made alongside the combustion-engine versions in Dearborn, Michigan. Ford, too, is looking at electric commercial vehicles, and will be electrifying the Transit van. Ford will make the Transit for the North America market at its Kansas City assembly plant, with electric motors and transaxles supplied by the Van Dyke transmission plant in Sterling Heights. Ford's Canadian plant in Oakville, Ontario will also receive a $1.35 billion refit to start production of an EV that is yet to be announced
Unlike GM, however, Ford has not announced plans to manufacture its own battery cells locally. It is expected to source them from Korean supplier SK Innovation, which is setting up two plants in Georgia, due for completion in 2022 and 2023.
The third of the old big three, the various brands under the former Fiat Chrysler Group (now part of Stellantis), are clearly very sluggish in pivoting to EV manufacturing. There are reportedly plans for an electric version of the Ram pick-up truck, but very little is concrete. Fiat recently launched the electric 500e city car in Europe but has no plans to bring that to North America.
However, through Stellantis Fiat Chrysler is merged with the predominantly European Groupe PSA brands, which are building up a strong EV range – both in passenger cars and in light commercial vehicles – in Europe. That opens perspectives to bring some of it to North America, but no official announcements have been made as yet.
European lead
With that said, a big part of the EV push in the US is coming from European manufacturers. Volkswagen is making big investments in its Chattanooga, Tennessee, plant, to wind down production of the slow-selling Passat sedan and replace it with the ID.4 SUV, a competitor for the Ford Mustang Mach-E. The ID.4 has already started production in Germany alongside its ID.3 hatchback sister model and is being imported into North America until local production gets going. The plant upgrades include a battery pack assembly facility, and while it doesn't manufacture the cells itself, they are sourced from the US, from SK Innovation's plants in Georgia, which will also be supplying Ford.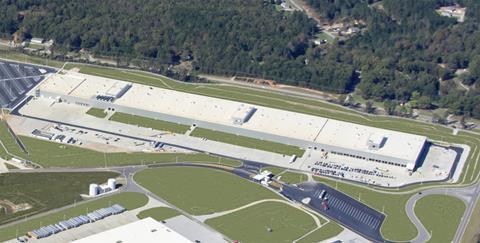 Some of the other European OEMs have big plans for EVs in North America as well. Volvo is planning to add a pure-electric version to the next generation of its popular XC90 SUV. It recently opened a factory in Charleston, South Carolina, which currently only produces the S60 sedan in petrol and plug-in hybrid guises, but this facility will also get the new XC90, including the EV derivative. It has started construction of a battery assembly line in preparation.
Mercedes-Benz is planning an electric model offensive, adding EQ versions of several of its conventional cars to the line-up. Its Tuscaloosa plant in Alabama will be part of that plan and and make the large EQS SUV and EQE SUVs from 2022, while sedan versions are produced in Europe. A battery assembly plant is currently being built in the vicinity and will supply battery systems for both models. Work on the building has already been completed, with the systems to be installed in the coming months.
Nissan has been a quiet presence for a long time, making its electric Leaf hatchback in Smyrna, Tennessee, since 2013. It seems to make a point of producing the Leaf locally, as it is also assembled in the UK for the European market, and in Japan for the rest of the world. The upcoming Ariya SUV, which is likely to be much more to American tastes, however, will be made only in Japan for the whole world.
The other two major Japanese brands with a presence in North America, Honda and Toyota, are quite slow to start making EVs in general, with Toyota sticking to hybrids. Honda will be introducing EVs to the North American market, with both a Honda model and an Acura EV. However, these will both be manufactured by GM. The Honda EV will reportedly come out of GM's Ramos Arizpe, Mexico plant, while the Acura EV will be made alongside the Cadillac Lyriq in the Spring Hill plant.
Watch analysis and data on the the EV battery chain in North America from Daniel Harrison, automotive analyst at Ultima Media, at the Automotive Logistics and Supply Chain North America Live online conference.