LG Chem has signed an agreement with American mining company Piedmont Lithium for the supply of spodumene concentrate, which is used to extract lithium.
The Korean battery materials supplier has also invested $75m in Piedmont for a 6% stake in the company. As part of the investment LG Chem has secured priority negotiation rights for 10,000 tons of lithium hydroxide per year produced by Piedmont Lithium in the US.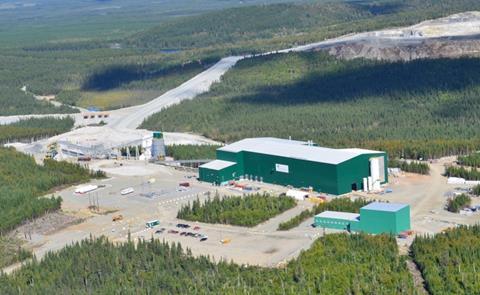 From the third quarter of this year Piedmont Lithium will provide LG Chem with 50,000 metric tons per year from a mine in Quebec, Canada, run by North American Lithium, in which Piedmont has a 25% stake.
LG Chem said it expects to extract 30,000 metric tons of lithium hydroxide using the spodumene, enough to support the production of batteries for 500,000 electric vehicles (EVs). The North American Lithium mine is the only lithium mine in North America capable of commercial production this year, according to the company and extraction is expected to start in the first half of 2023.
"This agreement allows LG Chem to provide differentiated values to North American customers with products that satisfy [Inflation Reduction Act] standards by pre-emptively securing raw materials in the US, our key market," said its CEO, Hak Cheol Shin. "We will lead the battery material market by building various partnerships, including joint metal investments with automotive OEMs and battery makers."
In August 2022 the Biden administration in the US signed the Inflation Reduction Act (IRA) into law – a wide-ranging $750 billion health care, tax and climate bill. Of that overall figure $369 billion is directed at energy security and climate change, with the aim of localising and promoting clean energy, including through incentives for the production of battery EVs. The act aims to accelerate investment in domestic production, reduce vehicle and component imports, and open new jurisdictions to service the EV infrastructure.
Keith Phillips, CEO of Piedmont, said: "We are pleased to partner with LG Chem to supply lithium resources produced in North America. As LG Chem has a strong commitment to US EV battery manufacturing, Piedmont looks forward to discussing additional potential cooperation with LG Chem in North America."
The Piedmont deal is the latest move by LG Chem to secure stable raw materials supply for battery production in North America. Last November it signed a memorandum of understanding to invest more than $3 billion to build cathode manufacturing facility in Clarksville, Tennessee, which will be the largest such facility in the US. The company is aiming at producing of 120,000 tons of cathode material per year by 2027, enough to power 1.2m batter EVs.
The company said it plans to continue its investment to secure key battery materials that satisfy criteria laid out in the US IRA legislation and that outlined in the Critical Raw Materials Act in Europe.
LG Chem also recently invested $18.4m in Korean battery recycling company Jae Young Tech and said the two companies planned to establish a battery recycling joint venture in North America by the end of 2023.