Mercedes-Benz has opened a battery logistics facility near its plant in Bremen, Germany, that it will run with its logistics provider DB Cargo.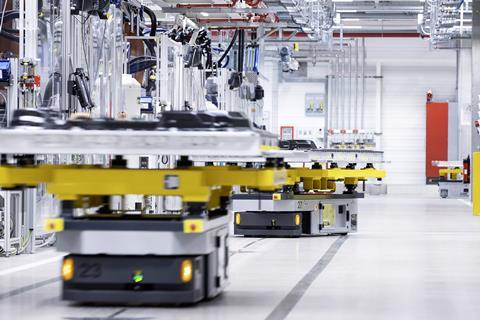 According to the carmaker, the delivery and management of the battery modules, which are being fitted to the new Mercedes-Benz EQE being built at the Bremen plant, will be carbon neutral.
Starting this year, DB Cargo will transport battery modules over a distance of 650km into the logistics centre from the Mercedes-Benz plant in Hedelfingen near Stuttgart. DB Cargo is using rail to move the batteries to the centre, cutting emissions by the switch from road transport.
"A single freight train can carry the freight of up to 52 trucks and automatically saves 80-100% of CO2 emissions compared to road transport," said Dr Sigrid Nikutta, DB Cargo's head of freight transport (pictured). "We are proud that Mercedes-Benz entrusts us not only with the delivery of new vehicles to all European countries, but also with the supply of the plants with the new heart of the e-cars – the vehicle batteries."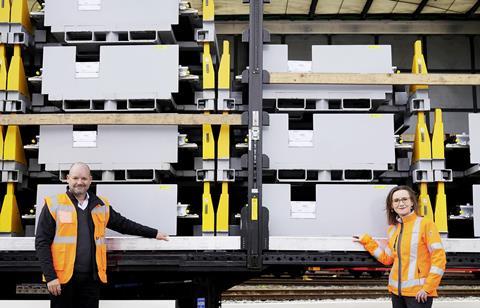 At the same time, DB Cargo is in the process of replacing all of its diesel locomotives with more sustainably driven engines powered by alternative drive systems. The logistics provider currently has 300 new shunting and bi-mode locomotives in the pipeline, with the first going into service this year. The company has long-term plans to replace around 900 older diesel locomotives in total.
Nikutta went on to acknowledge that the heavy batteries had to be handled with sensitivity and transported carefully up to the assembly line. "A DB Cargo train is quite naturally the best climate-friendly mode of transport for the job," she said.
The lithium-ion batteries will be temporarily stored in a battery hall at the logistics centre, where they are prepared for delivery to the assembly line. DB Cargo is using electric tractors to handle the battery systems on-site and is also using trains to move the batteries from the logistics centre directly to the assembly halls.
"Carbon neutral transport logistics is an important step for us to take towards a climate-neutral vehicle fleet and its production," said Jörg Burzer, head of production and supply chain management at Mercedes-Benz. "For our global production network, we rely on a sustainable and environmentally friendly transport mix. The intelligent combination of sustainable transport modes, like at the Bremen battery logistics centre, is a key prerequisite for this.