Stellantis has signed an MoU with Orano to form a joint venture for the recycling of end-of-life electric vehicle (EV) batteries and scrap from gigafactories. The reclaimed cobalt, nickel and lithium will further the carmaker's circular economy goals and meet the European Union (EU) 2031 battery directive to use recycled materials in new batteries.
Orano, a French company which has a history in nuclear fuel cycles, has in recent years become involved in the recycling of lithium battery materials. It launched a pilot project in 2021 with industry partners called Recyvabat to test a process for recycling battery metals.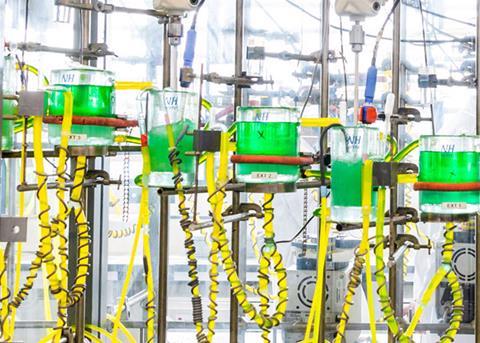 Stellantis said the process enables the recovery of all materials from lithium-ion batteries, and the manufacturing of new cathode materials. The joint venture will also refine the 'black mass' resulting from mechanically processed end-of-life lithium for reuse in batteries, effecting a circular economy for battery production. Recovery rates can reach 90% according to Stellantis. Orano is building a hydrometallurgical plant in Dunkirk, France to process the material.
Stellantis said its Circular Economy Business Unit is pushing to increase recycling revenues by ten times and achieve more than €2 billion ($2.1 billion) in total circular economy revenues by 2030. That effort is part of its Dare Forward 2030 strategic plan.
"The United Nations' Sustainable Development Goals has confirmed the need to find solutions like this one with Orano to meet the challenge of natural resource scarcity and sustainability," said Stellantis' senior vice-president of the Circular Economy Business Unit, Alison Jones. "Guided by our Dare Forward 2030 strategic plan, Stellantis is committed to shifting its production and consumption model by fulfilling its circular economy commitment."
The recycling joint venture will also provide Stellantis' aftersales network and partners, and other OEMs, with a service to manage end-of-life batteries and gigafactory scrap.
The new commercial recycling entity will also provide Stellantis' partners, its after-sales network, and other OEMs with a solution to manage end-of-life batteries and scrap from gigafactories. Production will begin in the first part of 2026, reusing existing Stellantis facilities.
Earlier this month Stellantis announced that its joint venture with and Samsung SDI –StarPlus Energy – will build its second US gigafactory in Kokomo, Indiana.