Toyota is adding $8 billion of investment to its Toyota Battery Manufacturing North Carolina (TBNMA) facility in the US, which is currently under construction. It brings total investment in the plant to $13.9 billion and the creation of 5,000 jobs.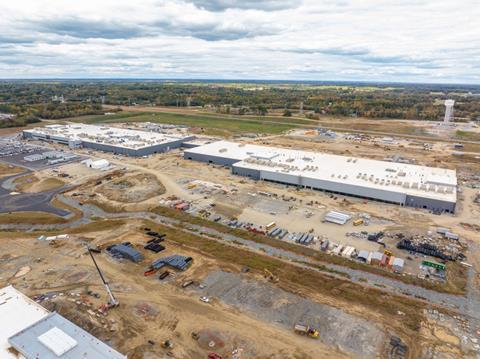 An additional eight battery lines will be installed to the two previously announced for the production of batteries for battery electric and plug-in hybrid electric vehicles (BEV and Phev). The plant, which is located in Liberty, will also have four battery lines for hybrid electric vehicles (HEV).
The carmaker said line launches were planned in a phased approach up to 2030, beginning in 2025 with three of the HEV lines. That ties in with the beginning of EV assembly at Toyota's manufacturing plant in Kentucky. The carmaker plans to start with a three-row battery electric vehicle at the plant and HEV batteries from Liberty will be shipped by truck to Kentucky.
When all the battery lines are operating at TBMNA annual production will reach more than 30GWh and the plant will cover 65 hectares of land.
Batteries for EV production in Kentucky will also be supplied by LG Energy Solution from its plant in Holland, Michigan. Toyota previously told Automotive Logistics that "in preparation for the growing demand of EVs in the coming years, Toyota is following a strategy that includes both in-house production and third-party procurement to ensure a robust supply of batteries for future products".
Localising supply
Toyota said it originally chose the location in Liberty because of its extensive and well-maintained highway system for overland logistic, onsite rail links, and vicinity of four international airports and two ocean ports.
The move to localise battery production is also informed by the conditions of the US Inflation Reduction Act (IRA), which offers tax credit incentives, equal to a maximum of $7,500 for vehicles complying with rules on local content. The act stipulates that the minimum percentage of domestic content must be 40% for projects on which construction starts by the end of 2024, 45% for projects starting construction in 2025, 50% in 2026 and 55% thereafter. Furthermore, battery EVs need to have a battery in which 80% of the market value of its critical minerals is sourced from within the US.
"We expect these batteries to qualify for IRA, which will ultimately make BEVs and PHEVs more affordable to our customers," a spokesperson for Toyota told Automotive Logistics.
Sean Suggs, president of Toyota North Carolina, said: "Today's announcement reinforces Toyota's commitment to electrification and carbon reduction, bringing jobs and future economic growth to the region. We are excited to see the continued energy and support of this innovative manufacturing facility."