Battery cell maker AESC has signed a deal with Umicore for the supply of cathode active battery materials in North America. AESC will in turn be supplying battery cells to BMW and the deal with Umicore furthers the carmaker's effort to regionalise its battery supply chain.
Umicore is building a new 35 GWh battery materials production plant in Ontario, Canada from which to supply the materials beginning in 2026. The company said the plant will complete the missing link in North America's EV battery value chain, from natural resources to EVs.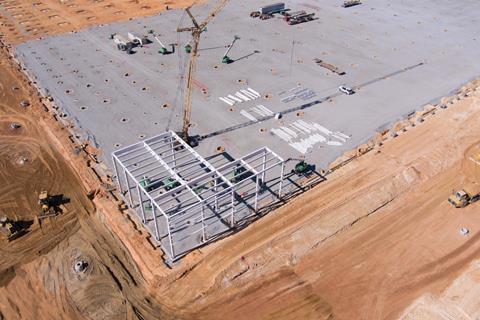 "The plant will be fully equipped to produce the most advanced high-nickel technologies and is prepared for future battery chemistries, including manganese-rich HLM and solid-state batteries," said the company in a statement.
Prior to that plant's completion Umicore will supply materials from Cheonan, Korea.
AESC is building a 30 GWh battery cell plant in Florence, South Carolina, approximately 280 km (170 miles) from BMW's Spartanburg assembly plant. The 140,000 sq.m plant is expected to come online in 2026. AESC already has one plant in Kentucky and another in Tennessee.
"Our battery cell supplier in the US will source key primary materials from Canada going forward," said Joachim Post, head of BMW's Purchasing and Supplier Network. "We are pleased that Canada is playing a strong role in establishing a robust and efficient battery cell supply chain for the BMW Group in North America."
As announced in June, BMW is also building a battery assembly plant in Woodruff, South Carolina, just a 15-minute drive from Spartanburg, which is set to be an important hub in BMW's integrated and localised supply chain for electric vehicle (EV) production. The $700m Woodruff plant will provide high-voltage batteries for the forthcoming fully electric BMW X models.
BMW said the 93,000 sq.m Woodruff facility will produce sixth-generation battery modules that will increase energy density by more than 20% and improve charging speed and range by up to 30%.
BMW plans to launch six EVs from Spartanburg by 2030.
Read our special series of features on BMW's logistics in Spartanburg
Last month BMW announced it was investing €100m ($105.4m) between now and 2026 in a battery testing centre in Wackersdorf, Germany. The 8,442 sq.m facility, which will be located in a remodelled part of the Wackersdorf site, will make high-voltage batteries and other electric powertrain components for future BMW Group models.
Structural work is already underway at the site, including installation of a new floor slab for the building. In mid-2024, with commissioning of the first section, battery testers will be put into service, said BMW.