The carmaker's battery assembly plant in South Carolina will be key to reducing logistics costs and risks in EV production.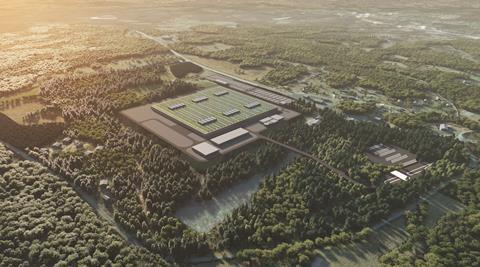 When BMW Group starts production in 2026 at a new battery assembly plant in Woodruff, South Carolina, where executives broke ground this week, the plant will be an important hub in an integrated, localised supply chain for electric vehicle (EV) production for the carmaker globally.
It will also be part of a strategy that the carmaker's leadership expects to both help scale EV manufacturing and to avert supply chain and logistics disruptions.
Plant Woodruff will build packs of BMW's sixth-generation, cylindrical EV batteries that will then be delivered just-in-sequence to the Spartanburg plant, which is located just 15 minutes' drive away, for electric vehicle production. BMW plans to launch six EVs from Spartanburg by 2030.
The battery cells, meanwhile, will be supplied by battery manufacturer AESC from a new gigafactory that will be located two hours' drive away in Florence, South Carolina. AESC broke ground on the factory in early June and will launch production at the plant by 2026, when it is expected to have capacity to produce 30 GWh of cells per year.
"This partnership [with AESC] is essential because it strengthens our regional supply chain and furthers our 'local for local' strategy," said Dr Robert Engelhorn, president and CEO of BMW Manufacturing, during the ground-breaking ceremony.
AESC is also building a gigafactory in Kentucky, from which it will supply Mercedes-Benz battery production in Alabama.
The 'local for local' approach is a pillar of BMW's 'iFactory' production and supply chain strategy, with a focus on building vehicles close to customers, and sourcing suppliers as close to production as possible, including as a means to mitigate trade barriers and geopolitical unrest.
"Woodruff is a perfect example of 'local for local'. This will strengthen our local supply chain, which means short distances, sustainable solutions," said Ilka Horstmeier, member of the board of management at BMW Group responsible for human resources and real estate, speaking at the ceremony. "It leads to a reduction of geopolitical dependencies and greater resilience to unforeseen events. As the world is changing quite fast, you never know what could happen."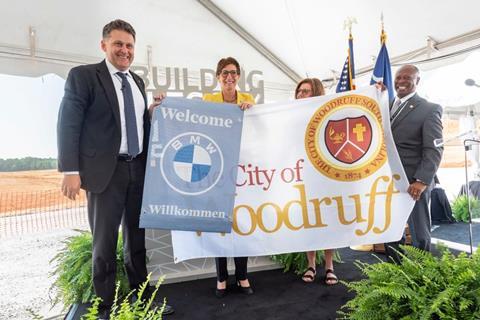 A more local approach for EVs than ICE
The new battery plant is part of a $1.7 billion regional investment that BMW announced last year to prepare Plant Spartanburg to produce electrified versions of its X models. BMW committed $700m to battery assembly, and $1 billion to upgrade the vehicle plant.
The decision to assembly batteries close to the plant is a notable step in localisation for Spartanburg compared to combustion engine vehicle production. Although it is BMW's largest vehicle assembly plant – with capacity for 450,000 vehicles per years – the plant never had localised ICE powertrain production. That has likely been because of the extreme variation at the plant, which currently produces 10 models across SUV and coupé variants, including the XM which started production in December 2022. That includes three PHEV versions of the X3, X5 and XM, which made up more than 16% of production in 2022 and is growing, according to Engelhorn.
However, the weight, cost and value of EV batteries have clearly driven BMW to localise battery production (it already has local PHEV battery assembly); regional sourcing of batteries and battery cells will also help the carmaker to meet content requirements for trade deals and US government incentives.
BMW will follow a similar strategy in other regions. It has said that it would produce the sixth-generation batteries in Germany, Hungary and China. Earlier this year, it also announced that it would produce electric vehicles and assembly batteries at its plant in San Luis Potosí, Mexico.
Local for components, local for sustainability, local for global
Batteries are not the only area in which BMW has sought to simplify supply chains and reduce logistics costs, however. Along with localising battery cell and module production, BMW is also building the first press and stamping plant at Spartanburg, which is set to open in 2024 to serve new models. Two regional suppliers supply most of the plant's current press and stampings.
Late last year, meanwhile, BMW opened a new $100m logistics centre at the Spartanburg plant that consolidated two offsite locations, as well as creating more efficiencies in handling parts for export.
Sustainability is another key driver in BMW's 'local for local' strategy, as it aims to reduce emissions in the production and supply chain for vehicles by 40% by 2030 compared to 2019 levels. Dr Michael Nikolaides, senior vice-president of supply chain and production network, told Automotive Logistics earlier this year that logistics is playing a key role in these decisions. "BMW achieves sustainability goals in part through influencing local supply and manufacturing decisions, such as sourcing and logistics engineering to reduce transport distances. Every kilometre avoided is a CO2-free kilometre," he said.
Such decisions are also apparent in planning the battery supply chain for Woodruff and Spartanburg. Along with reducing distances between battery cell and pack production, BMW points to opportunities in battery materials; for example, it aims to reduce emissions together with AESC through the partial use of secondary lithium, cobalt and nickel material.
While local for local is a key pillar, that does not mean BMW is abandoning global supply chains. It continues to import engines and powertrains from Europe. BMW has for years been the largest exporter of vehicles by value from the US, and the company expects that to continue.
At the ceremony, among those he paid tribute to, Engelhorn pointed to important partnerships with the South Carolina Port Authority, which runs the port of Charleston, where BMW exports most of its vehicles from Spartanburg, and also imports containers of material. SC Port Authority also runs an important inland port in Greer, very close to the plant. Local for local – but with global connections.
Automotive Logistics will publish exclusive interviews with leading executives at BMW's Spartanburg and Woodruff operations in the coming weeks, including with vice-president of production control and logistics, Oliver Bilstein.
Oliver Bilstein will also be a speaker at the Automotive Logistics & Supply Chain Global conference in Dearborn, Michigan September 26-28. Find out more here