Valmet Automotive has begun assembly of battery systems at a new 11,500 sq.m facility in Kirchardt, near Heilbronn in Germany.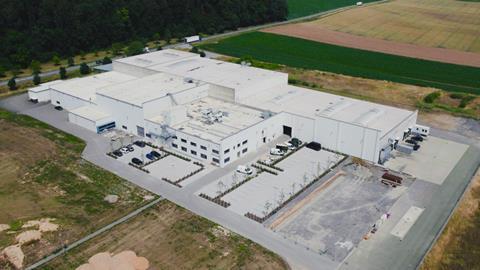 The Finnish contract manufacturer is beginning by assembling battery modules, packs and the management system for the plug-in hybrid version of a sports car from an unnamed vehicle manufacturer.
According to Valmet, that initial business will be followed by a higher volume contract this summer with another German carmaker, also unnamed.
The Kirchardt battery plant is the first Valmet has opened outside of Finland. It has two domestic plants, at Salo and Uusikaupunki. The battery modules for Kirchardt are currently manufactured at Uusikaupunki.
Valmet Automotive said its decision to build a battery assembly facility in Germany followed its nomination by a German carmaker as the system supplier for its new battery programme. That programme requires battery assembly to take place close to the OEM to save resources and minimise transport.
While unnamed by Valmet, the nearest sports car manufacturing is carried out by Audi at its Böllinger Höfe facility 20km from Kirchardt. The plant makes the Audi R8 and Audi e-tron GT. Audi also makes a range of vehicles, including the A4, A5 Cabriolet, A6, A7 and A8 at its nearby Neckarsulm factory.
The company said another important reason for the choice of Kirchardt is the proximity to its development sites in Munich and Bad Friedrichshall, where Valmet Automotive operates a full-scale high-voltage battery test centre.
"Since the start of production at our first battery plant in Salo, Finland, in 2019, we have delivered over 1m battery systems for our customers' hybrid, plug-in and fully electric vehicles," said Jyrki Nurmi, senior vice-president of the EV Systems (EVS) business line at Valmet Automotive. "The plant in Kirchardt, our first in Germany, will further strengthen Valmet Automotive as a leader in the production and development of battery systems."