The electric vehicle revolution has reached some countries sooner than others, both in terms of customer uptake and manufacturing. As a result, outbound import and export flows are changing.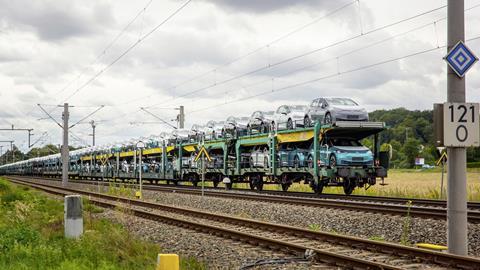 These shifts have a number of implications. Some ports and storage facilities will be better prepared with charging infrastructure. Other ports are looking at a change in the proportion of vehicle imports versus exports. On the roads, finished vehicle carriers need to consider the higher average weight of EVs.
Hybrids and full EVs still make up a minor portion of the global vehicle trade but their share is growing rapidly, as shown by the new report by Automotive from Ultima, the business intelligence arm of Automotive Logistics.
Download the full EV and lithium-ion battery supply chain analysis report
On a macro level, Europe is likely to see a much larger influx of Chinese-made cars than before. Volvo, Polestar and BMW are already building a number of vehicle for the European market in China and once the global aspirations of the Chinese OEMs start gaining momentum, that flow is only going to increase. MG already has already gained a good foot in the door with its keenly priced EV offerings.
Manufacturing majors
A trend over the last few years is that some smaller manufacturing countries have become major exporters when it comes to EVs. Belgium, for example, was the second largest exporter of EVs in 2019 by value, thanks mainly to production and export of the Audi e-tron SUV. Volvo Cars' recent launch of the XC40 Recharge EV is giving that a further boost for the coming years. Sweden, meanwhile, is the third largest global exporter of plug-in hybrids thanks to the wide range offered by Volvo.
Download the complete battery supply chain report for more data
The US is normally more focused on producing for its home market as the cars it makes are not suited to the European market. However, in 2019, it was the largest pure EV exporter in the world, and the third largest for EVs and hybrids combined, thanks in large part to Tesla. While Tesla continues to increase output, it is also notably expanding its global footprint, having already launched production in China and looking now to start production in Germany.
Germany was in second place with decent EV output, but also buoyed by the popularity of the German premium brands' many plug-in hybrid models.
A similar trend, but amplified, was visible for Japan, which was the leader in electric and hybrid vehicle exports, despite very low numbers of pure EVs leaving the country.
This was the result of the many Toyota, Honda and Mitsubishi full hybrids manufactured in Japan. Hybrid giant Toyota has been reluctant to move into EVs and was vindicated in that strategy in 2020 as it met the EU's fleet CO2 cap with relative ease. Meanwhile, Nissan's popular Leaf EV has always been built locally, in Sunderland for Europe, in Tennessee for North America, and in Japan only for the Asian market. That may change in the coming years, as Toyota starts taking EVs more seriously, Nissan's upcoming mainstream EV SUV, the Ariya, will be built in Japan.
According to the report, exporting electric vehicles may not happen in as large a volume as they do for internal combustion engine (Ice) vehicles. The logistical concerns and the high cost of production and components will likely encourage more OEMs to localise EV production. It is also probable that as battery plants and capacity increase, OEMs will produce EVs on a highly regional strategy, so the export champions of the Ice age might have to give way to new regions when EVs become dominant.