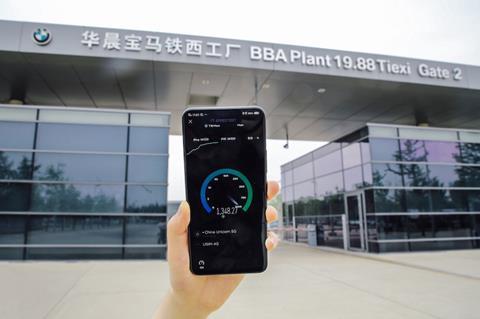 BMW Brilliance Automotive (BBA) said this week it has become the first carmaker to enable full 5G wireless at all of its plants. BBA has two assembly plants in Tiexi and Dadong, as well as an engine plant in Shenyang.
The joint venture said the new wireless standard allows data to be transferred at a rate of one gigabyte a second, using small, high-performance computer centres directly on site. It means that networked machines and systems can exchange data in real time.
BBA said the technology had a number of possible applications, including augmented reality, cloud-based control of autonomous transport systems and human-machine interaction using mobile smart devices.
"5G is a ground-breaking technology with the potential to revolutionise industrial production," said Johann Wieland, president of the joint venture between the BMW Group and its partner Brilliance China Automotive Holdings. "BBA is taking a leading role in testing the use of 5G and developing new innovations and procedures to improve industrial productivity."
BBA said it was the first company in Shenyang to begin developing a 5G network for its three plants in October 2018. It has been working with China Unicom and China Mobile to build the necessary infrastructure and 5G connections. The companies completed construction of the 21 mobile phone masts and 35 5G base stations in April this year, giving the assembly and engine plants 5G network coverage.
BMW Group is now preparing to set up local, private 5G networks at its plants in Germany.
"The benefits of the new technology are not just in its high data rate and rapid response time, but also in the reliability and security of the network," the carmaker in a statement, adding that it saw applications for the technology in widescale networking of machines and the use of autonomous logistics fleets.